Ultimate Guide: How To Get Started In Property Development?
There is a common belief that property development requires a lot of money and comes with inherent risks. Well, yes and no.
Driving is also risky as there are no guarantees that you'll never be in an accident, even if you are following the rules to the letter. Then what do you do… stop driving. Risks are inherent with any entrepreneurial endeavor.
Property development is exactly that - entrepreneurial. You have to take risks, solve problems, find solutions and keep going. However, property development is a lot easier than running a business.
Specially if you choose your strategy carefully, take calculated risks, don't make property development mistakes in your projects and always have a buffer.
This is the ultimate guide on how to get started in property development. In addition, you can also download our Property Developer Blueprint & don't forget to checkout why investors fail at property development?
How To Get Started In Property Development?
Forget about conventional property development courses.
Sure, they'll teach you about some of the nuts and bolts and what is involved in property development, but there's a whole lot more that is required for you to know before getting started in property development.
It is not just what? But the exact How to become a property developer?
Our Property Developers Course - Property Development System, on the other hand, takes a much more holistic approach, providing novice developers with a complete step-by-step guide to development, from start to finish, that any beginner can follow.
Property Development System mimics the way an actual development project unfolds.
Conventional property developer courses dictate that there are only five stages in the property development process:
Vision
Concept
Consultants
Construction
Completion
As you can see, this starts with a vision of what you will do with a site, without telling you how you're going to find and acquire that site so you can have a vision in the first place.
There are many more steps beyond the five basic stages that are essential for every property developer to take if they want to successfully execute a development project on time and under budget.
My flagship property development course called Property Development System looks at how to get started in development, beginning from making the decision to be a developer.
Getting Started In Property Development With Financial Feasibilities
The Right Mindset Required For Getting Started In Property Development
The property development process starts well before you even secure a site and can formulate a vision or concept about the type of project you want to undertake.
Unfortunately, most property investment courses or property development courses out there are dictated by marketing firms and their marketing is slick enough to make newbies believe that the only thing standing between them the riches is their "property development course".
However, before you enroll yourself in any property development course, you first need to determine whether property developing is for you, and to do that you need to identify what type of person you are.
To be suited to property development you need to be prepared to commit to the process fully and decide you're going to forge ahead no matter what happens. You'll do whatever it takes to make it a success.
If you don't have this mindset you'll quit halfway through, which will be a waste of your time and money. You also need to have an appetite for risk and be willing to embrace uncertainty, as you'll experience both in property development.
Anytime you are uncomfortable with uncertainty, remember this, what you think is SAFE is risky.
That job that you have is anything but SAFE. Your internal growth is not in the safe house, it's out there & will happen when you challenge yourself and embrace uncertainty.
Some people embrace risk because it keeps them on their toes and pushes them to work hard, but a lot of people don't like that sort of pressure.
If you don't like, that sort of pressure, but only want your money to work for you, check out our Property Mogul section by clicking here.
You are missing out if you haven't yet subscribed to our YouTube channel.
In A Nutshell, Property Development Is All About Becoming Comfortable With Being Uncomfortable.
For those who wish to learn property development themselves and still want certainty to a degree, you should check out the various property development courses available on this website.
And for those of you who have been brainwashed with slick marketing about property investment and how they will get a pay cheque in their pocket every month, property development is not going to be a suitable vehicle for you in the short-term.
When I say short-term, I mean the time it will take you to turn over at least 2-3 development projects, depending upon where you are starting from in property development journey.
If you are starting from nothing, it may take up to 4 projects before you can start seeing the fruits of your labour or if you are starting from a good position, it may even take you less than 2 projects to starting generating passive income from your "Develop and Hold" strategy.
Property development in the short term will not give you cash-flow, however, property development is the fastest way to generate wealth via property, create passive income safely and exponentially grow your property portfolio.
You might be thinking, that I am contradicting myself, in the statement above. I am not. I am only trying to show you what the reality is. Let me explain, depending upon, the kind of project you are in, it usually takes about 12-24 months to turn over your first project.
For that duration, a developer needs to fund and service the project's equity requirements – so there is no cash-flow during that period.
However, the moment, you complete your development, you get windfall profits which surpass any modest or high paying salary and are far greater than any "Buy and Hold" capital gain, that you can enjoy within 12-24 months.
So, depending upon, your personal starting financial position, it may take you anywhere between 12-60 months to achieve financial freedom via property development.
If you consider only 5 years to financial freedom, isn't it the shortest amount of time to generate wealth and achieve financial freedom?
So would you consider, knowing the right system and the steps and having the complete knowledge to find and execute profitable property development projects valuable? If your answer is yes, then continue reading the rest of this article.
Many property investors indeed do not adopt this mindset and are overcome with fear, which is why more than 70% of investors fail to get past their first property.
Learn More
Knowledge Is Power
Once you have established that you have – or can adopt – the right mindset and property development is for you, the next step is to get educated.
This will help you choose the right site and project, and will significantly improve your profit margin at the end of the day.
Firstly, it's important to get an understanding of the property development industry and the factors impacting upon it.
You'll need to understand the fundamentals of property economics including new government policies, interest rates, the inflation rate, unemployment rate, population growth, the house price index and the Australian dollar.
Novice developers don't need to be professional economists but it's important to have at least a rudimentary understanding of these things to make more informed decisions and predictions.
It's also crucial to understand statistics and listen for signals indicating a potential change in the market – these can come from the media or the property market cycle, for instance, – and again, can help developers make the most educated decisions.
3 Basic Stage Of Property Development
Development projects require teamwork, proper organization, and a lot of patience. Before the first shovel goes into the ground, any real estate project requires extensive preparation and legwork.
To plan and execute your next development project flawlessly, you need to understand the three main phases of property development.
Pre-development - the riskiest phase of a project, accounts for only 5 to 15% of total costs.
Development - Construction in the development phase accounts for 80-90% of total project costs.
Close-out and operations - include the work post-development. It consists of marketing, leasing, and other management tasks. The last stage of property development accounts for only 5 to 8% of project costs.
Learn More
Stage 1 – Pre-Development
The pre-development phase is where the most important ideas and plans behind the project are developed and finalized.
It's one of the most time-consuming stages of the property development process because you'll be planning, strategizing and structuring your project here.
Begin by conducting a thorough evaluation of your property. You may have done this at the time of your purchase, but you will now do it differently.
Put another way, you must examine the property with a critical eye to determine how you can add value.
80-90% of the project's value is created during pre-development. The developer acquires land, develops the project and secures financing commitments.
The tasks performed in pre-development shape the subsequent phases, such as the tactics employed to respond to market and funding environment changes.
Raise and address any issues you see so you can deal with them before you start the actual development.
Don't worry if you're confused or have doubts; these are signs that you're attempting to figure out you're the potential of your project.
In property developer FAQs, I attempted to address queries often raised by novice developers.
Understanding The Market
Understanding the market is crucial as it forms the basis for all your assumptions used in your project feasibilities.
Quick Tip

For instance, while investing, you will consider costly markets with low cap rates that give you stability but lower returns. about.

While for more risk and more significant returns, you will consider less expensive secondary or even tertiary markets with higher cap rates.
Finding And Vetting A Property
Once you have developed sufficient knowledge of the real estate market, it is time to find and vet the property. While vetting the property, you will need to pay attention to zoning policies of the local government, tenant agreements, design & construction.
Stage 2 - Development
Even though the development phase has high project expenditures, the outcome primarily depends on the quality of the pre-development work.
You're more likely to have problems during construction if you don't complete your pre-development work seriously.
If the developer has managed the pre-development tasks well, competent management and funding can control the risks during the development stage. Following are some issues that can delay or derail your project during the development phase.
Unexpected Site Conditions
Poor soils, hazardous materials, and archaeological artefacts can be discovered during construction. This is due to the preliminary site analysis.
These conditions can lead to costly delays in remediation and archaeological research. This may result in redesigning the project, which could cause higher-than-expected costs and a threat to project viability.
A Sudden Increase In The Cost Of The Material
Prices can vary depending on the market for materials. The timing of construction material orders such as concrete and steel may have an impact on their costs. An optimal ordering strategy is possible by monitoring material costs to get the best pricing.
Expensive Design
There is no doubt that the design of your development can affect the cost. A high-rise condominium project with many units may have higher construction costs than anticipated.
This could lead to delayed delivery and increased construction time. You can avoid this problem during pre-development by working closely with the architect, contractor, and marketing consultants.
The goal is to streamline the design process and reduce construction time.
Change In Market Conditions
A project may fail if there is a sudden drop in the market of buyers and tenants. It is difficult to observe and understand the frequent changes in the market.
To save yourself from any such issue, I recommend looking at the market conditions before starting your development project. Make sure to have contingency plans before starting your projects to better respond to possible changes in the market conditions.
To avoid the above issues, a property developer must work with a team of professionals. It may include contractors, engineers, marketing and financial experts, etc.
You can bring your real estate projects to fruition with a well-engaged property development team.
Stage 3 - Close-Out And Operations
After developing a building, you will be left with two primary choices. The first is to sell the building and the second one is to allow businesses to lease and manage the asset.
If you plan to lease and manage the property, you need to have some clients lined up. If the site is large enough to accommodate an anchor store or many business tenants, you should have them lined up already.
To prepare a proper close-out strategy for your project, you should understand customers' profiles, funding requirements, and characteristics.
You can minimize the time and capital involved in the project by opting for close-out strategies - plan to start the pre-leasing, pre-sales, or passive marketing campaigns as soon as possible.
A critical aspect of the close-out and operation phase is "Asset management". It begins when the construction is completed. The property is your responsibility.
You must maintain it, make repairs and keep it in good repair. This is the time when you will be responsible for all taxes, loans, and any other fees, regardless of whether the property is making money.
If you want to sell the building, you will be able to make quick money. This also allows you to jump right onto the next project.
Bonus tip for every successful property development project -
Effective communication is essential.
Maintain a code of honor.
Don't make hasty decisions.
Due Diligence & Site Acquisition Process - Getting Started Guide
After getting educated on the property market and the factors driving it, developers should then look to undertake thorough research to determine where and what they will buy.
Read More about Property Development Due Diligence Checklist, site acquisition process as well as property options.
Location, Location, Location
When it comes to property investing and developing, selecting the right location and property is crucial. The old adage of 'location, location, location' still rings true; it's one of the most important factors to get right as it really can make or break a development and your profit margin.
Ideally, you'll pick an area to buy in that is either heading into an upward growth cycle or is in the early stages of one, so you can benefit from this growth.
This will also help to determine what you should do on completion of the project, such as selling to realize a profit or holding onto your assets, or even whether to increase your debt to develop again.
An area that is up-and-coming, or a 'hotspot', is often one where a new major announcement has been made, such as a new infrastructure project, which will attract more people to the area.
Another good indicator is an area that is surrounded by other blue-chip suburbs but is still seen as a less desirable area, albeit improving.
Property Clock
The property clock gives a good indication of when it's the 'right' time to buy in any given market.
At the bottom is when you should borrow more to invest in areas primed for growth. Property is more affordable, but prices can't fall any further, and the market starts to pick up again and prices begin to recover.
The next phase – the growth phase – is a vendor's market, which is the time for property developers to be aggressive.
While these are the ideal times to be investing and developing, it's virtually impossible to pick the market and determine where the bottom, recovery and peak is, until it's in hindsight. See property market cycle.
For developers, there is no perfect time to buy – if a deal stacks up, it stacks up – but certain indicators enable you to make a more educated guess when it comes to which areas are on the upward phase of the growth cycle. (link again to blog).
Since different markets around Australia will be at different phases of the property clock at any one time, you should be aiming to choose one that is growing, or about to, and then you need to drill down to a local level to find a particular suburb and area within the suburb to invest in.
Supply And Demand
Supply and demand will be crucial indicators here. Find an area that has high demand, which will be enhanced due to its proximity to amenities and infrastructure such as schools, public transport and even employment.
Demographics
You'll also need to consider demographics; is the population increasing, with more people moving to the area? Also, consider what type of people live in the area.
This will determine the type of development you undertake and what property type is most in demand – for example, if the demographic is dominated by families, houses will be in demand, while if it's young professionals, units or townhouses will likely be in demand.
And if the site is close to the city, there could be demand for higher-density residential development.
Site Selection & Analysis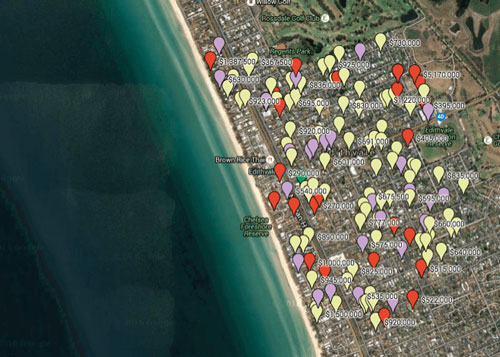 After you've identified the location in which you want to buy and undertake a development, the next step will be to choose an appropriate site on which to do your project.
When it comes to property development it's crucial to buy the right to make sure you can undertake not only a development on the site but the right development.
There is a multitude of factors to consider when doing your due diligence in finding a suitable site, but the factors you absolutely must consider before buying include:
Size: How big is the block? The total area of the site must be checked carefully, as a few extra square metres could mean the difference between building three or four townhouses.
Setbacks: A developer won't be able to build on the entire block due to setbacks, so while it's important to consider the total area, you also need to consider the total usable area. It can vary depending on the density, but for medium-density areas, it's usually around 60% of the total area.
Orientation – Which way is the site facing? Consider factors such as whether the development will allow for a sunny northerly aspect in the backyard, which is desirable to maximize light, and how it can maximize views. Also, avoid negatives such as a site that faces traffic or doesn't allow for privacy.
Slope – When it comes to topography, the ideal site will be flat with a slight fall allowing for stormwater run-off. A sloping site will cost more, as expensive retaining walls should be accounted for.
Other crucial factors to consider under site acquisition process – as they may restrict the development potential of the site – include:
Zoning: Zoning is a planning control that allows local councils to determine the appropriate use of land. Check the planning issues and the local council's current zoning to determine if your proposed development is allowed and whether there are any old development consent conditions that apply.
Overlays: An overlay is an additional layer of planning control that allows the local council to determine the type of development that occurs. If your property has one you may be required to adhere to other conditions and comply with certain restrictions. You should look into council overlays that govern the site before you get into the project.
Financial Feasibility - Getting Started In Property Development
Getting started in property development requires that you have a strong grasp of property development feasibility.
You should know how to conduct a quick feaso using a feasibility calculator as well as a detailed property development feasibility using a feasibility software.
When you've found a site that you think is suitable for development, and you've got a vision for the type of development you want to undertake on that site, you will need to determine if the project stacks up from a financial point of view.
How do you do that? You conduct a property development feasibility study analysis, considering all the costs of the development, including the purchase price of the site, as well as the gross realisation value (GRV) – or the selling price – of the end product to determine what your profit will be.
Conducting a financial feasibility study is one of the most important steps in the development process as it will determine whether you will, in fact, make a profit and if so, what your profit margin will be.
There's no point in undertaking a development and spending precious resources, including your time and money if the profit is not going to be worthwhile.
Even though the potential development site might tick all the boxes including being in a great location, being the right size and having the right zoning, a development on it still might not stack up financially, so it's essential to crunch the numbers before you buy.
Don't jump in head first; careful planning is needed in development because the risks are much greater than undertaking a buy and hold strategy.
Calculating Your Development Profit
There are no set profit margin developers must make from a project, but as a general guide, many aim for at least 15% to 25% (and lenders may require this).
You'll need to determine the profit margin you're comfortable with, and in doing so it's important to consider what you are going to do with the product upon completion.
If you're going to hold on to your developed property as an investment, you need to consider the equity you'll have in the property, as well as rental returns.
The most important concept developers need to grasp when conducting a financial feasibility is that the price you pay for the development site is going to determine your profit upon completion of the project. The key, therefore, is to buy the land at the right price.
Usually, everything remains constant except for the land value and GRV. The constants include costs such as professional fees, construction, permits and selling costs.
Just because you have paid more for your land does not mean that you can get more for your developed product. The market will determine what the end value is and buyers won't pay more simply because you need to make your predicted profit.
If you overpay you'll need to recoup that extra cost in the end value, but you likely won't be able to and hence your profit margin will be eroded.
Since it's so crucial to buy at the right price, it's a good idea to start at the end and work backwards by determining what type of development you're going to do and what the end value of the project will be in your chosen market.
Once you allow for costs you'll know what you need to buy the land at in order to make your desired profit. Stick to this figure and don't go over it.
To be a successful property investor and developer you need to keep your emotions out of the deal; it's all about the numbers. If they don't stack up walk away and find another deal. And there will be one.
Conducting Property Development Financial Feasibility Analysis
Preparing a comprehensive financial feasibility analysis will be time-consuming, but it's essential if you want your development to be successful.
It will help you determine the highest and best use for the property and maximise your profits. Learn More: How To Conduct Property Development Financial Feasibility?
Property Development Costs
The first crucial step is to understand the various property development costs, which include:
The purchase price of the land
Acquisition costs – including stamp duty, legal fees, rates and taxes
Finance costs – including application fees, establishment fees, bank valuations and legals, as well as interest charges on your borrowings.
Professional fees – Consultant's costs such as architects, town planners, engineers, project managers and surveyors.
Construction costs
Council contributions – including application fees for development approval and building permits. Could also be fees for land subdivision, strata title and rezoning, development contribution and private open space levy.
Utility connection fees
Selling costs – including the agent's commission, marketing costs, legal fees, government fees.
Insurances – Everyone involved in the development must be covered due to the risk involved. As a developer, you'll be liable for insurance when the buildings are handed over, including public liability and insurances against fire, storms etc.
GST / VAT (If Applicable) – You must pay your GST/VAT obligations on the sales of the developed properties at the end of the project.
In your property development, financial feasibility, you also have to account for any income from the sales and any potential rental income.
You should also include any bonus sources of income, where you can generate some extra cash, such as selling plants, soil or existing buildings.
The financial feasibility is not an exact science, as you can't know the precise costs until the development is complete.
You can, however, make some assumptions after doing thorough research, and it's best to be as accurate as possible by estimating the right costs and then allowing contingencies.
Can You Afford It?
Once you've completed your financial feasibility using a property development feasibility software you'll be able to determine how much capital you'll need for the project, and hence, whether you can afford to undertake the project.
You'll be able to borrow some funds of course, but there are certain things you'll have to pay for upfront, out of your own pocket.
You'll also need a contingency amount of 3-5% in case something goes amiss.
Thorough planning through a financial feasibility study will provide you with the confidence you need to progress with the project, especially if you're inexperienced.
It will also provide banks with the confidence they need to expend funds for your development.
Property Development Feasibility Study Bundle

Download Free

Includes 5 x detailed eBooks (193 pages)

✓ Property Development Feasibility Study [THE KEY] - (45 pages)
✓ Real Estate Development ProForma - Ultimate Guide - (39 pages)
✓ Residual Value Of Land Vs Profit Margin - The Winner - (24 pages)
✓ Preliminary Development Feasibility Assessment - (35 pages)
✓ How To Choose a Property Development Feasibility Template? - (50 pages)

Download Free
Continued at…
Ultimate Guide To Getting Started In Property Development [Part 2-2]