7 Property Development Mistakes & Pitfalls And How To Avoid Them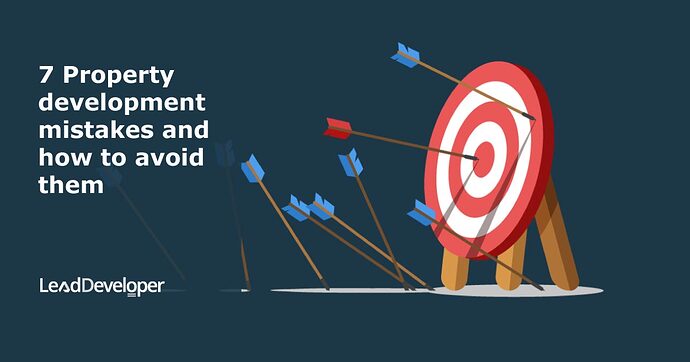 Property development can be a very exciting and challenging career choice and also a highly rewarding one, if you play your cards right. Like any business, real estate development also has its risks.
You can call them pitfalls of property development if you prefer. However, the opportunity to make massive property development profits over a very short frame of time makes it the oldest and one of the most sought after property development strategy.
To ensure that you do not expose yourself to disproportionate risk, it is important for you to invest in property development training where you can learn how to balance risk and reward.
However, even the most experienced developers encounter heavy losses if they succumb to one of these mistakes that are so common in this arena:
Mistake 1: Not Canvassing The Neighbourhood
Maintaining good relations with the neighbors is very important because ill- feeling in community can hinder your project when it comes to approvals and permissions from the local council.
Keep in mind the councilors are elected by the community so they will be inclined to give the voters' preferences a great deal of importance.
Communicate with the neighbors well in advance to get a feel for the neighborhood's stance about your development project and invest in building good relations with them.
One objection from your immediate neighbor can stall your development for months.
Learn More
Mistake 2: Overlooking The Feasibility Check
A feasibility study tells you whether the price you are set to pay for a property is really accurate.
A common mistake is to underestimate the cost of constructing your project while overestimating the price you can get on your completed buildings.
Undertaking a feasibility analysis right at the beginning helps you make a purely objective, accurate financial assessment. As a matter of fact, I often do two Financial Feasibilities.
The 1st one being a one minute feaso or quick feaso that I conduct using my Smart Feasibility Calculator just to quickly vet the deal.
The 2nd financial feasibility that I conduct on a project is a full scale financial feasibility eyeing out the all the possible costs involved in the project.
You are missing out if you haven't yet subscribed to our YouTube channel.
No matter how complex or time consuming due diligence is going to be, there is never a good excuse for ignoring this critical step.
If you are still exploring how to get started in property development, keep in mind that during your initial projects, you should consider either calling in a qualified expert to handle this part of the process or you should undertake a property development course.
The money is well spent because you uncover hidden problems and pitfalls well before you commit to the project.
Mistake 4: Lacking A Qualified Team Of Professionals
A property development team of skilled professionals lays the foundation for a profitable, successful property development venture. You need a solicitor, architect, financial expert, town-planner etc… to advice you on various aspects.
Choosing the wrong people for these key roles can result in either skewed numbers or plans that set your project on the track for disaster right from the beginning.
Property Development Feasibility Study Bundle

Download Free

Includes 5 x detailed eBooks (193 pages)

✓ Property Development Feasibility Study [THE KEY] - (45 pages)
✓ Real Estate Development ProForma - Ultimate Guide - (39 pages)
✓ Residual Value Of Land Vs Profit Margin - The Winner - (24 pages)
✓ Preliminary Development Feasibility Assessment - (35 pages)
✓ How To Choose a Property Development Feasibility Template? - (50 pages)

Download Free
Mistake 5: Choosing An Unreliable Builder
Having to replace your builder while your project is midway can be a costly affair that can cannibalize your profit margin drastically or leave you with huge losses. Avoid choosing a builder just because they are the most affordable. Reliability, experience, commitment and reputation are all key factors to consider during builder selection.
Mistake 6: Not Paying Attention To The Site Purchase
Sites that present build-ability issues, that have legal or regulatory complications, that are in a disaster prone area can all spell doom for your property development project.
In fact, even buying a site that is simply unattractive can force you to sell your completed building at a far lower price than you want to. Invest enough attention in assessing a site, its potential and possible issues before you purchase it.
Learn More
Mistake 7: Ignoring The Legalities
Going through the legal stuff can be tedious and time consuming but it is a necessary part of the property development activity.
Legal agreements like option agreements, building contracts, pre-lease agreements, JV agreements safeguard your interests in the development project. Loopholes in these can prove to be very costly indeed.
Bonus Mistake 8: Never sell your land to developers
There are pitfalls of selling land to developers, because if there is a developer available to purchase your land, it means that your land is worth more than what eyes can see.
So why would you sell your land to a developer when you can develop your land yourself. if you don't know how, checkout some of our property development courses.
FAQs

What can go wrong with a real estate development?

Real estate developers buy land and turn it into residential or commercial buildings. Many property developers begin as dealers, while others begin their careers in construction.

Reading the market, local resistance, and design flaw losses are all challenges in property development.

What makes a successful property development?

Experienced property developers understand that money is generated when bought initially.

They attempt to negotiate reasonable acquisition pricing using their local market expertise and negotiation abilities, from which a well-executed project may yield above-average profits.