How To Become A Property Developer?
How to become a property developer? or for our readers from United Sates… how to become a developer real estate? The questions and answers will remain the same, so I request that you substitute or read the word property as real estate.
Please use the table of contents above to quickly navigate to all frequently asked questions on how to become a property developer? You should also check out What Does it take to be a property developer?
How To Become A Property Developer In 10 Actionable Steps?
Without A Degree…
How To Become A Property Developer & Other Similar Questions answered in this section:
How to be a property developer?
How to be a real estate developer?
What does a property developer do?
In order to become a developer real estate, you have to be an entrepreneur who understands the complete property development process as well as the financial and development related issues.
Possess knowledge and skills to conduct financial feasibilities, due diligence, organize development finance, setup development entity structures, conduct market research and understand property economics, i.e. the demand and supply of stock surrounding the development.
Before we find out, about how to become a property developer, I think we should first understand…
What Is Property Development? / What Is Real Estate Development?
What is Property Development?
Definition
Property Development, also known as Real Estate Development is a process that is both, a science and an art incorporating a large number of interrelated & interdependent parts that come together to respond to the demand and needs of the society by creating and utilizing the factors of production.
Factors of production, as defined in property economics are four essential resources: land, labor, capital and entrepreneurship.
A Property Development project can only come together when the entrepreneur i.e. the property developer uses his/hers entrepreneurial skills to bring together land, labor & capital in order to make a profit.
Of all the property investment strategies I have studied, I believe that property development is the best property investment strategy under the sun.
You can pursue property development around the year and through all market conditions - as long as you know how to change gears in your property development business.
Property Development is an industry with high stakes where fortunes are made and lost every year, **irrespective of the market cycles.
IMPORTANT

Property development requires entrepreneurs i.e. the property developers who must be ready to put their skills to test and make hard and swift decisions.

With no barriers to entry, property development is now accessible to everyone, mums and dads and property investors who can use property development as part of their property investment strategy to exponentially grow their property portfolios.
LET ME SPILL THE BEANS AND LAY IT OUT FOR YOU, HERE ARE MY 10 STEPS ON…
How To Become A Property Developer?
Step 1: Workout Your Borrowing capacity
Before you can even think about getting into property development, you as a property developer must determine your current financial position. Your property development financial position is the sum of cash that you have in your bank & your total borrowing capacity. To determine your borrowing capacity, you must answer the following questions:
How much equity do I have?
What is my borrowing capacity, i.e. how much serviceability (your capacity to service the debt) do I have?
How much money do I have?
For Some, A More Appropriate Question Would Be…
How Much Money Do I Need To Start Property Development?
You can be part of a development with other property investors and in this scenario, you may only require $100,000 to $150,000 or even less in some scenarios, specially if you are part of a property syndicate and depending upon the financial compliance requirements in your country.
However, if you are planning on doing your own developments, your equity or cash contribution will depend upon your borrowing capacity and the size of your development. A developers money requirement for a project depends upon the maximum amount they can borrow for the development, in other words the Loan to Value Ratio offered by your lender for your development.
For example, let's say the total development cost of your project is $1000,000 and the maximum that your lender will borrow you is $700,000. This means that you will need $300,000 of your own money to get into your development project.
For more details, please read How to finance your property development project?
Step 2: Determine The Scale Of The Project That You Can Undertake
The above questions will help you determine the size of your development financially. It will help you determine, whether or not you can initiate a 2, 3 or 10 Townhouse / Apartment / Unit development.
This will also be a deciding factor when selecting the location for your developments. The scale of your project constitutes the total costs which include land value.
By determining the size and scale of your development depending on your financial position (total cash in bank + borrowing capacity), you will be able to determine whether you can develop in a low, medium or up market location.
Step 3: Understand The Development Potential Of A Site
Understand the difference between the value of a site that has a DA (Development Approval aka Town Planning Permit) and the site without one. You can increase your understanding by studying the local zoning maps.
The development potential of property, whether its residential, commercial or industrial - will be determined based on its location or suburb, improvements made or potential for improvements, zoning and overlays, local employment and unemployment, and the availability (or lack of availability) of other similar properties i.e. supply and demand of competing stock.
Step 4: Suburb Selection - Property Development Hot Spots
Your next step is to determine the right suburb or location for your development. Will you be targeting a location for its capital growth potential or rental yield? To find out the best location or your property investment hot spots, get a list of suburbs with Capital Growth Potential and overlay it on a list of suburbs with high rental growth. You will find your Hot Spot, where you should be developing.
Short list 2-4 suburbs and farm them. Farming a location means that you monitor these locations for price fluctuations, design intent, neighbourhood character, what's selling, what's not and the historical sold prices in the area.
Step 5: Study Zoning
Spend some time to study your local town planning and understand the zoning determined by your LGA (Local Government Area) or council. A good understanding of your local town plan will help you determine the highest best use for your development site and its potential.
Step 6: Contact Local Agents
Find out who are the agents, who sell development sites in your area. Get rental and market appraisals for similar kind of properties that you are planning to develop. This exercise will you give you a very good understanding of the potential sites available on the market as well as the end sale value of your developed stock.
Step 7: Attend "Opens" For The Product That You Are Planning To Develop And Sell
You must attend the opens for the existing stock that on sale in the market. This will give you an understanding of what your target audience / potential clients are looking for. You can very easily determine the type of kitchen accessories liked by potential buyers as well as colour schemes, preferred streets, design and floor layouts.
Step 8: On-Market Strategies
When looking for potential sites, you can go with two options. First one being, the On-Market Strategies. These are potential development sites that are available on the market and are up for grabs publicly.
The downside is that you will be competing with other people who also wish to become property developers and are looking for their first development.
The upside is that although the site is publicly listed on property selling websites and with agents, more information about the property will be available publicly. You can approach buyers agents, real estate agents and check out the property listing websites in your area.
Step 9: Off-Market Strategies
You can also try off-market strategies to acquire a site by contacting architects in your area, flippers (people who acquire a site, add value and simply flip them), word of mouth and by doing a letter drop in your area.
The biggest upside to this strategy is that you have the time to negotiate price and favorable terms.
Here you are, you have just acquired your first property development project and are now truly on the way to becoming a property developer.
However, you now need to spend some time and invest in property development education. Property development is very similar to a business venture, only more lucrative.
And we all know the success rate of most businesses. Since you are going to have a considerable amount exposure in terms of your money invested and the debt required to complete a development project, I would highly recommend, that you spend some time in learning everything about property development.
If you are merely starting out and are looking for a short course in property development, I would recommend my Quick-Start course.
List Of Property Development Courses Online
Checkout a catalogue of my property development courses before deciding which one helps you the most now.
However, if you think that you are ready and would like to know everything there is about doing small and medium size development, I would recommend my Property Development System course, which not just teaches you the complete property development process in detail, it also gives you the two financial feasibility tools that you need in order to become a property developer.
This is a complete course in property development that simply makes you a property developer.
You are missing out if you haven't yet subscribed to our YouTube channel.
Frequently Asked Questions On How To Become A Property Developer?
What Does A Property Developer Do?
What Does A Real Estate Developer Do?
Real estate developers are like symphony orchestra conductors who unlock hidden profits in sites (land) through their effort, vision & entrepreneurship… bringing together the individual instrumental parts of real estate development to create a new symphony.
A real estate developer or property developer is an entrepreneur because they combine the skills and resources, i.e. land, finance and labor to create a finished product whose value is greater than the sum of all input costs.
A property developer will take the risk by getting into the project (business venture) with an expectation to achieve an economic return that adequately rewards them for taking the risk.
So to become a property developer, you must understand the overall picture of what needs to happen as well as when and what you have to be careful of, i.e. have a thorough understanding of the property development process.
You need to understand how everything comes together to profit from your business venture.
What strategies to use and when? When to get a development approval or planning permit and flip & exit, how to control the property without ever owning it and when it is beneficial to go all the way and get your development built and then cash out.
A property developer must then be able to make the right decisions based on all this information, due diligence and financial feasibility.
What Qualifications Are Required To Become A Property Developer?
Property developers or real estate developer come from varied backgrounds in terms of education and industry. There have been property developers with no education at all who have done well.
And there have been property developers with all the relevant degrees who have failed. What separates the failed property developers from the successful ones are their entrepreneurial qualities & their level of education.
Does A Property Developer Also Need To Be A Builder?
There is no rule mandating that a property developer must be a building contractor as well.
A property developer does not have to be an architect, building or land surveyor, construction contractor or builder, a quantity surveyor, a geotechnical expert etc. or an economist.
I haven't heard of rich economists, architects or builders as much as I have heard of wealthy property developers. Having a background in any of these professions is a plus, but not necessary.
How To Become A Developer Real Estate?
To become a successful property developer or to be a successful property developer you must have the following:
Property Developer's mindset - You must be driven, in terms of your desire to achieve your financial goals, troubleshoot problems and have an obsession to keep going forward. This becomes a lot easier if you really enjoy property development. Because, property development is full of challenges and problems that need to be resolved and or contained. If you don't really enjoy what you do, inevitably you will not last very long in this industry.
Life Long Learner - Irrespective of your educational qualifications & experience, you must be willing to learn everything about property development. This education will never stop as property development requires and involves many disciplines, so chances are that you will come across something new in every development project.
You must have the right Property Development Team for the kind of project your are undertaking. You don't have to have the most expensive consultants, you just have to have the right consultants and professionals for the size of your project.
A Property Developer needs to understand all facets of the property development process. From conducting property development feasibility, determining the highest best possible use of the site to identify profitable opportunities. Understand the property market cycles, conduct market research & due diligence, to engaging the property development team and orchestrating & facilitating the entire development process from inception to delivery.
Before you enter into the realm of property development, I strongly recommend that you assemble a team of property experts and knowledgeable consultants.
Why Do I Need A Property Development Team?
Property development is complicated and covers multiple disciplines. You can't possibly have all the knowledge yourself.
Even after you have become an experienced property developer, you will still rely on the skills and knowledge of qualified and experienced property development consultants.
Who Should I Include In My Property Development Team?
As a bare minimum, your property development team will include the following consultants and professionals:
Accountant
Finance Broker
Land Surveyor
Architect
Structural Engineer
Quantity Surveyor
Civil Engineer
Mechanical Engineer
Geotechnical Engineer
Building Surveyor etc. to name a few.
How Do Property Developers Make Money?
Other Similar Questions answered in this post:
How do real estate developers make money?
Property developers make a margin on the cost of the development called the Development Margin. It is no different than a manufacturer making a margin on the cost of producing "xyz" product.
The Total Development Costs (TDCT) include the land, government taxes like stamp duty, GST or VAT as well as development and construction costs.
When the developed units, townhouses or apartments are sold, all costs are deducted from total sales or the GRV (Gross Realization Value) and what is left is the property development profit.
Property development profit can then be expressed in a percentage, which is the Development Margin.
Typically for small to medium size developments the property development profit can range from $30,000 to $200,000 per unit. In the example below, the per unit profit is $100,451.40 with a development margin of 18.4%
How Much Money Can You Make From Property Development?
How Much Does A Property Developer Earn?
The amount of money a property developer can earn varies depending on the size of the development. Your earnings as a property developer will vary based on the project profit.
Smaller projects can return about $100,000 in 12 months and larger projects don't have a ceiling. Every property development project is different. In fact, the financial feasibility that you start off with will rarely be exactly the same at the end of the project.
The amount of money that you can make from a project is not always the correct measure of a successful property development project.
Quick Tip

Unless you are a development manager working for a company for a wage, which can range anywhere from $80,000-$150,000 depending upon your experience.
How Much Money Do Real Estate Developers Make?
The amount of money real estate developers can make depends on 3 things:
1) What Real Estate Developers can charge the project as a development management fee?
Real estate developers, also known as General Partners or GP would normally charge a development management fee to the project for managing the project.
2) Project Performance Based incentive
Often general partners, GP or real estate developers will also be paid based on the project performance based on IRR hurdles, minimum desired returns for investors, cash on cash return or a combination of both.
3) Property Development Profit
Depending upon the equity held by real estate developers, they will also be entitled to a share of the project based on the percentage of equity held by them in he project.
If the project is owned by them 100%, then the entire project profit is for them to keep.
Property Development: Measures Of Success
There are two main measures of success. The first one is Development Margin and you should strive to make sure that your projects makes a minimum of 10% development margin on cost.
The second measure is Return on Equity (ROE) or Cash on Cash Return (COC).
This is the amount of profit you make the money that you invest from your pocket. This does not include the money that you borrow from the bank.
As a thumb rule, I never take on projects with less than 20% ROE.
This is the reason, that in order to become a property developer, you need to understand the property development feasibility study as well as the sensitivity analysis.
Continuing with the example from the image above, below is the Sensitivity analysis that both my property development feasibility softwares and training courses include.
In the above example, if everything goes right the project makes $100,451 per unit as development profit, 18% as Development Margin and the Return on Equity will be 45% or 61% depending upon whether the LVR or LTV (Loan to Value Ratio) was against the Total Development Costs or Gross Realization Value.
This means, that you managed to borrow more money and your maximum loan was determined against GRV your ROE will be 61% and if you were allowed a lower maximum lend, i.e. your LVR was determined against TDC, your ROE will be 45%.
You will be make 61% return on your money if you borrow against GRV and 45% return on your money if you borrow against TDC. The sensitivity table below shows how your profitability, development margin and return on equity will be impacted if your Sales and Costs were to fluctuate in 5% and 3% slabs.
How Much Does A Property Developer Earn A Year?
Other Similar Questions answered in this post:
How much do property developers make?
How much do property developers earn?
How much money do property developers make?
How much money does a property developer make?
How much does a property developer earn a year?
How much profit do property developers make?
How property developers make money?
A good property developer can earn anywhere between $80,000 - $200,000 per annum doing smaller townhouse developments. If you are looking to for a career change and are looking to replace your income doing property development project part-time, you should get my Property Development System that not only shows you how I did it starting from zero, but also gives you a system that you can follow.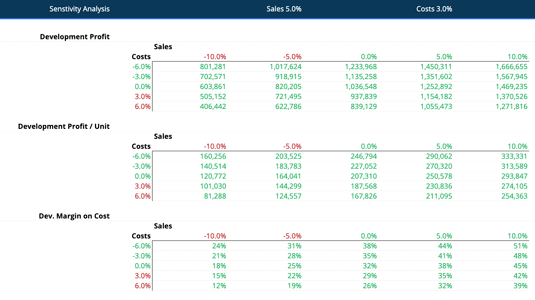 Property Development Feasibility Study Bundle

Download Free

Includes 5 x detailed eBooks (193 pages)

✓ Property Development Feasibility Study [THE KEY] - (45 pages)
✓ Real Estate Development ProForma - Ultimate Guide - (39 pages)
✓ Residual Value Of Land Vs Profit Margin - The Winner - (24 pages)
✓ Preliminary Development Feasibility Assessment - (35 pages)
✓ How To Choose a Property Development Feasibility Template? - (50 pages)

Download Free
How To Become A Property Developer With No Money?
I discuss the answer to this question in detail in one of my other articles Property Development With No Money & through my extensive property development course "How To Become A Property Developer With no Money?"
How Do I Get Into Property Development?
If someone ever asked me what is that "One thing" that has helped me become successful Property Developer, I would say it's my property development mindset.
Property Development is the most lucrative and the fastest way to generate equity that I know.
I have been to many seminars and completed various property development courses, studied many different property investment strategies & even obtained diplomas in the field of property.
If there is that one strategy that gets me results, the quickest, it has to be Property Development.
However, because of its very nature, it requires a very strong mindset. Because it is full of problem solving, trouble shooting and managing risks.
However, I can guarantee you that if you have the right mindset, you will be very successful in this industry.
If you already have the right mindset there is a very good chance, you may be underestimating the power it can bring to the table or the level at which it is required in property development.
Let's find out whether or not you have the right mindset for property development. Ask yourself if you suffer from the following:
You Have a "Fear of Success"
You Dwell on Too Many Options
You Quit When the Going Gets Tough
You Don't Take Your Money Situation Seriously
You Let Others waste Your Time
You Avoid the Hard Work
You Tell Yourself Negative Stories
You Don't Take Responsibility – you look for someone else to blame.
What would you rather do? Get Ahead or Get Even.
You Spend All Your Time Planning
You Don't Cut Yourself Any Slack
You Talk yourself down.
You have poor self-image.
If you have answered yes to any of the above, my guess is that you self-sabotage yourself.
Your behavior is said to be self-sabotaging when it creates problems and interferes with long-standing goals. It's when part of your personality acts in conflict with another part of your personality.
So in order to get into property development, you must have a very strong mindset. There is an old African proverb, "If there is no enemy within, the enemy outside can do you no harm".
Continued at…
How To Become A Property Developer? In 10 Easy Steps [Part 2-2]