Property developer FAQs - Who, What, When, How?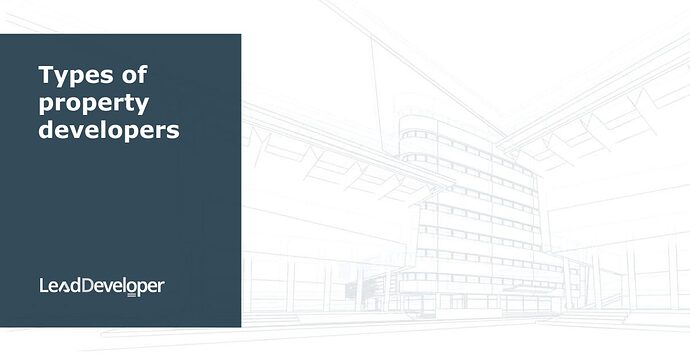 You might have heard the term "Property Developers" several times. Probably you have seen or thought of them as a suit-wearing, slick-haired fast talker who always drives a posh car. This might be the case for some highly successful developers.
If this is what you imagine for yourself, then I must say it could be true. Yes! You can become a successful property developer and transform your income into huge profits.
I know a lot of questions are juggling in your mind. Who is a property developer? What does a property developer do? How can you become a real estate developer? What are the skills required to become a property developer? And so on…
Hold your horses! Take one step at a time. Today, I am answering all the property developer FAQs. Be with me till the end; I am ready to help you become a successful property developer.
All types of property developers work towards a common objective of completing the development projects successfully. But the style and form of development they do may vary. Let's start with understanding the different types of property developers and their roles.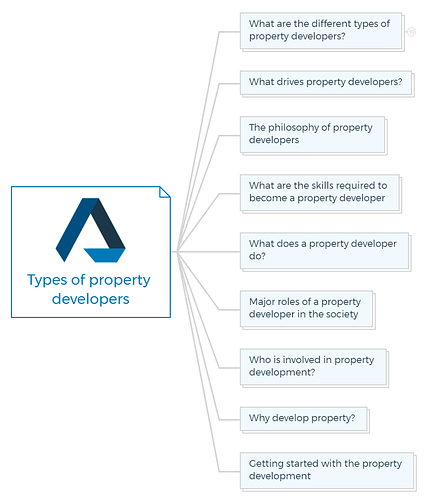 You are missing out if you haven't yet subscribed to our YouTube channel.
What are the different types of property developers?
If you're serious about pursuing a career in property development, grasp a thorough understanding of all the different types of property developers.
You can pick one or enrol in my FREE Property Development Courses to get started. Yes, with my comprehensive course and detailed videos, you can handle any property development project. But first and foremost, get yourself aware of different types of property developers.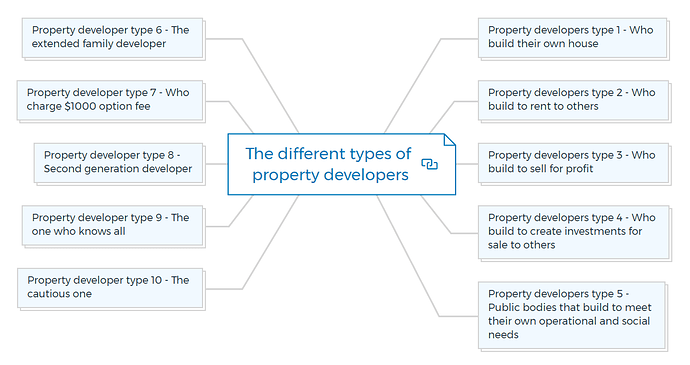 Property developers type 1 - Who build their own house
The type 1 property developer who builds their own house has a primary objective to ensure that the development is perfectly tailored to their requirements. Whether the development is for their own needs, they ensure that the design has a good market appeal.
These types of property developers include companies that build for their own operating needs and people that make dwellings for their own occupation.
Property developers type 2 - Who build to rent to others
The property developers who develop a property to rent to others are expected to be heavily influenced by the type of property preferred by most renters.
As a result, depending on market conditions, they may choose to build to a very high grade of design and construction or to build to a more fundamental level of the design if those desiring to rent a property have limited finances.
Keep an eye on the 8 critical aspects of the property market cycle to gain a thorough grasp of the market.
These property developers must perform exhaustive market research to determine what the market wants, referred to as demand-led development. It is the development that happens when the market's actual unfulfilled demand is identified.
On the other hand, when a real estate developer tries to predict what "the ordinary person in the market" (if such a person exists) would like to rent or buy, and create such buildings with stringent cost restrictions to control the project's potential "down-side." This development is referred to as supply-led development.
If you want to be a type 2 property developer, ensure you access advanced property development software. The most popular tools for accurately examining property development systems are the Smart Feasibility Calculator and One Minute Feaso.
Property developers type 3 - Who build to sell for profit
Real estate developers who develop to sell for profit naturally strive to make the most money possible from a quick sale. Short-term considerations may have a more significant influence on them than long-term considerations.
The latter is more effective for those who keep holding their properties as assets.
Property developers type 4 - Who build to create investments for sale to others
Such property developers will have to take into account not only the needs of potential lessees but also those of long-term investors. They'll start a project and rent it out before selling it to a long-term investor.
Suppose they want to attract a long-term investor. In that case, they must ensure that the development's design and quality of construction, the tenants to whom the property is rented, and the lease conditions are all likely to be acceptable to an investor.
Before starting a scheme, such a developer should try to find an actual investor-purchaser and construct the scheme as precisely as possible to meet the investor's needs.
Property developers type 5 - Public bodies that build to meet their own operational and social needs
Their primary objective is to satisfy their operational and social needs. Although the profit motive may not be a factor, they will almost certainly need to develop to keep their expenditures within an acceptable budget.
In some cases, public agencies may undertake development to increase employment in a given area. The reduction of the social costs of unemployment might be a profit component of such a venture.
They'll have to operate the same way commercial developers do to identify and satisfy average market demand.
Property developer type 6 - The extended family developer
Sometimes you will find groups of developers that are almost like a big family, with people from different generations and different levels of experience. Sometimes a site in a development hotspot is left to the kids, and the family decides to work together to try to develop the site themselves instead of selling it to a developer.
As with most things involving family, there is always the chance of a disaster if emotions and other (sometimes hidden) reasons take precedence over practicality. These developers in the real estate industry can be difficult to work with because they don't have a clear plan and can't make decisions quickly.
Not only that, but their property development projects almost never reach their full potential without a lot of compromise and the help of strong, impartial advisers.
Property developer type 7 - Who charge $1000 option fee
These brave people are always out on the street, pounding the pavement, trying to hold onto development sites for a long time for a very small option fee.
If they can get a vendor to agree to this strategy, they have to figure out how to develop the site with little (or no) equity, or they can just take a fee for selling the concept and site to someone who sees the value and has the means to carry out the development project.
A challenge indeed! I know a few wealthy passive investors who help these would-be developers by providing equity shortfall. However, the optioning developer gives away a good chunk of the profit as a trade-off and to show that they have less "skin in the game."
Property developer type 8 - Second generation developer
"My dad was a developer, so I am too." Let's hope Dad was a good developer who taught them well. If so, they have a good chance of being successful.
Property development can be hard, so it helps to know a lot about the business, but being a second-generation developer doesn't mean they will be successful. Even though it might make things easier, especially when it comes to equity!
The smart second-generation developer listens to their father's mistakes and learns from them. They also build on their father's relationships, contacts, and equity base to continue the family's success.
Property developer type 9 - The one who knows all
They are always positive and think that if they have anything to do with a property development, it will work no matter what the market, location, or type of development is.
They don't see the value in doing thorough research, and they don't hire experts who could help with the development. If they do, it's usually not in the early stages of the development when such advice would be most useful.
This type of developer doesn't need any help because they think that building houses is easy and is a good way to add to their retirement fund or meet other needs. It's important to know that property development is a skill just like any other.
Just because they've been successful in one area of business doesn't mean they'll be successful in another.
Property developer type 10 - The cautious one
The Cautious Developer is the one who looks for potential problems right away and finds ways to reduce them as much as possible. This kind of developer thinks that the success of each project depends on how well they handle risks.
They also know that they don't know everything and won't be afraid to use the skills of others when they don't have something. In reality, they are the "Smart Developer," they will continue to make deals for a long time.
What drives property developers?
Property developers are business owners who provide completed property developments, similar to how entrepreneurs manage their businesses and offer goods and services.
If properly managed and handled, a property development business can be a cash cow. In the entire process, you should not miss a single step. You can take help from the detailed and well-designed property development checklist that I always use before beginning any of my projects.
Be it Sydney, Melbourne, Brisbane, Australia, the UK, United States, or any other country, this checklist always works like a deal maker for any of your projects at any place.
Always remember -
A successful business requires one simple thing - PASSION.
You should be serious and passionate about your property development work and success. Real estate developers acquire undeveloped land or existing land developments that have reached the point of economic obsolescence.
Using their entrepreneurial abilities, they develop or redevelop the site in a way that they believe will appeal to potential buyers.
Property developers have too many irons in the fire. Any success they achieve will be contingent on their ability to perform various tasks, including locating land suitable for development or redevelopment, assembling land into feasible development lots, and envisioning appropriate forms of development for specific sites.
A developer also accurately analyses market demand, plans schemes, arranges appropriate financing, manages developments, and effectively markets them.
Learn More
If you genuinely want each of your development projects to be a success, you must develop lands in a way that meets market needs.
Are you unsure how you'll accomplish this? Enrol in one of my property development courses, where I'll reveal my winning formula.
You can also join my property development mentorship programme, which has changed the lives of many people who had never done any property development before.
Property Development Feasibility Study Bundle

Download Free

Includes 5 x detailed eBooks (193 pages)

✓ Property Development Feasibility Study [THE KEY] - (45 pages)
✓ Real Estate Development ProForma - Ultimate Guide - (39 pages)
✓ Residual Value Of Land Vs Profit Margin - The Winner - (24 pages)
✓ Preliminary Development Feasibility Assessment - (35 pages)
✓ How To Choose a Property Development Feasibility Template? - (50 pages)

Download Free
The Philosophy Of Property Developers
Developers' fundamental philosophy is that development propositions must be financially viable, or else they will refuse to work on them. Developers cannot afford to engage in projects that are likely to fail; they view property development as a commercial venture, and a successful firm must make profits.
Furthermore, these profits must give an acceptable return on the capital invested in any venture, as well as an additional return to account for the level of risk.
Suppose a development is to be deemed a success from the developer's perspective. In that case, it must produce an appropriate return on the developer's equity (the developer's own money put in the enterprise).
What are the skills required to become a property developer
Property development is a thrilling and challenging industry. You can experience a significant return on investment if you play your cards well and develop some skills.
Let's quickly understand such qualities that you need to develop to be a successful property developer.
Optimism
Practical Vision
Complete understanding of the property market
Thorough knowledge of the construction process
Working knowledge of finance and the ability to raise funds on the open market: Developers must persuade potential financiers to trust them.
The ability to manage development projects and, in particular, the ability to respond to changing situations that are unavoidable over time
The ability to make decisions and act upon them
"Thick skin" means the ability to handle criticism.
Courage
Above all these, what I forget to mention is a strong SENSE OF HUMOUR. One of the essential skills that help real estate developers to survive in the competitive commercial environment.
What does a property developer do?
A property developer adds value to land or property in terms of design, functionality, location, price, etc. So, how does a real estate developer add value? There are several ways to do it, all of which are referred to as "Responsibilities of a Property Developer."
To complete a project on time, a real estate developer must be well-versed in market conditions and maintain a positive relationship with local authorities. Property developers are known for bridging the gap between the construction ability and investors' needs.
Those who aspire to be successful property developers should prepare themselves to work as part of a large team. Architects, contractors, real estate brokers, landscapers, and other real estate experts together build the team.
Major roles of a property developer in the society
Property Developers strive to understand market needs and develop suitable properties to satisfy client needs.
Property Developers seek to be successful by delivering adequate properties in suitable locations, at appropriate times to meet demand as it arises, with the right design, acceptable quality, and a fair price for individuals who want to buy or rent the properties.
They assist their clients in focusing their minds and efforts on their respective areas of expertise.
Real Estate Developers relieve the burden of people finding suitable homes.
Real Estate developers and investors solve property management issues for those who are not experts in property matters.
Developers also undertake the risks of property provision and, by doing so, take those risks off others' shoulders.
By using high levels of skill, property developers can improve the quality of the products they produce for the benefit of all.
They aid in the reduction of waste as well as inefficient resource utilisation.
Therefore, property developers and investors provide a pool of appropriate properties to allow other members of society to pursue the whole range of human activities with greater efficiency.
Who is involved in property development?
Property development is a vast industry and calls for the involvement of lots of people. I usually refer to this group by AN ARMY OF PROPERTY DEVELOPMENT SYSTEMS. The development team is made up of -
A planning consultant
A quantity surveyor
An accountant
A solicitor
An architect
An interior designer
Housebuilders
Contractors
Manager – overseeing the project
There is only one person who needs to contact all of them, and that is YOU. I mean the PROPERTY DEVELOPER.
The property developer himself sometimes performs some of the duties stated above. However, the prominent role of the property developer in the complete procedure is to organise and coordinate the overall project.
Why develop property?
We've already looked at the many types of property developers. Some people develop the property to meet their own needs, such as expanding their living space or making their current space more functional. Other developers do it for a variety of reasons. Whatever the case may be, the primary goal of property development is to generate a profit; after all, it is a business.
Getting started with the property development
Once you've determined that becoming a property developer is the right career choice for you, it is time to start with property development quickly.
From which country will you start your property development career? Is it Sydney, Melbourne, Brisbane, Australia, the UK, United States, or others? Your answer doesn't matter; what matters is - how you will do that.
Allow me to assist you! First and foremost, you must educate yourself about the property you are purchasing, the surrounding market, finance, economics, town planning, and the construction process.
I have a list of structured property development courses to help you make your next development project a success.
Whether you are a beginner, intermediate, or expert, I have something for all. You can get access to advanced software to crunch the numbers in just a minute.
Furthermore, I will always be there to look over your shoulders.
FAQs

How do property developers make money?

People's most typical type of property development is purchasing a residential property for renovation and eventual disposal or sale.

And, when correctly developed and implemented with the appropriate property development financing in place, it may provide incredible profits!

What are the responsibilities of a Property Developer?

They manage development efforts through organizing productive resources, directing resources, and coordinating development strategies.

The developer creates and specifies the project, establishes contact with project participants, and maintains relationships till the property is handed over, and the project is completed.