Continued from…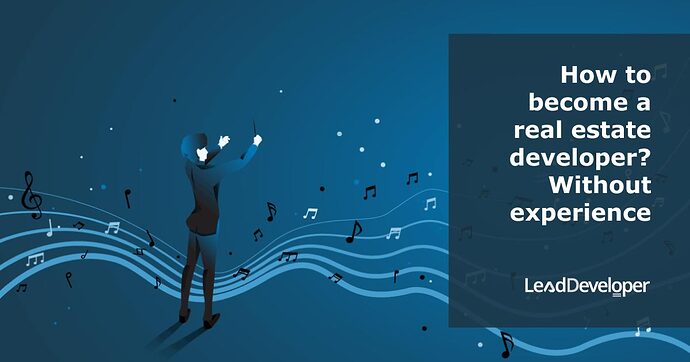 Types of Real Estate Development
If you believe you have the qualities to be a successful real estate developer, carefully consider the market conditions, your own business experience, and your financial resources before deciding on the type of development, you want to pursue.
The following list is a brief description of the numerous types of real estate development projects:
Residential
The majority of property developers began their careers in the residential sector. It can be a single-family home (new or renovated for resale), a unit, a duplex, triplex, or quadruplex, as well as strata unit developments like townhouses, villas, and retirement villages.
Learn More
Apartments
Flats and condominiums are other names for apartments. This category includes anything from simple two-story flats to multi-storey mixed-use structures. Here is a [beginner's guide to Apartment development]https://edge.leaddeveloper.com/t/a-beginner-s-guide-to-apartment-development-part-1-2/882).
Offices
The size and quality of commercial office buildings might vary depending on the finishes ( which include wall and floor tiles, carpets and partitions).
Renovated residences, strata-titled high-rise complexes, and low-rise commercial parks are all examples of commercial offices.
Retail
Small corner stores, strata-titled showrooms, neighborhood shopping centres, community centres, and regional retail centres fall within the retail category.
Industrial
Simple in design, industrial buildings provide big, open spaces for manufacturing or storage.
Industrial developments can range from light industrial (including warehouses and small factories) to heavy industrial (generally planned away from residential areas). A petrochemical plant is an example of this type of development.
You are missing out if you haven't yet subscribed to our YouTube channel.
Land
A subdivision of raw agricultural land or a subdivision of an older property both falls under the land category. Changes in urban planning as a result of population growth create a demand for new land.
Accommodation
Motels, hotels, and vacation apartments that cater to temporary accommodation are typically located near holiday resorts that cater to temporary lodging.
Recreational
Entertainment centres, casinos, golf courses, sports stadiums, and waterfront complexes fall under the recreational category. They can be stand-alone buildings or part of a mixed-use complex containing retail establishments.
Learn More
The size of your real estate development
Your financial resources will determine the extent of your development project. Although mortgage financing helps you leverage your investment for a larger project, you must be careful not to 'over gear' your equity position.
Start with a smaller project if your resources are restricted. As your experience grows, you'll be able to reduce your equity contribution by utilizing creative financing and savvy bargaining.
Location
If you're a first-time developer, look for development opportunities near your home or place of business.
This will allow you to understand the local market better and visit the property more frequently (and therefore keep your building contractors under control).
You may opt to look at other areas where you might uncover more profitable chances after you have a good understanding of the bigger market.
Development profit
Because one of the essential driving elements in property development is the return on investment. It is the most crucial component to consider when selecting whether or not to proceed with the project.
The profit from development will vary from project to project and should be calculated based on the risks incurred.
Before deciding on a plan of action, you should research the returns on other investments.
Do you want to rent or sell?
Your overall development and investment strategy will determine whether you rent or sell your final development.
Many developers will construct and sell, but others may prefer to own the structures and expand their property portfolio.
Your tax situation should factor into whether you rent or sell, and your accountant is the best person to advise you on this.
Make time for real estate development company or your project
Ensure you have the time to oversee and supervise your project if you are currently employed elsewhere or company if you own it. Alternatively, hire a project or development manager to protect your interests.
Although, having two occupations at the same time is not a good idea because one of them may fail.
Do you want to become an active or passive property developer?
You can join a property syndicate or invest in a development firm that already has management in place to oversee its numerous projects as a passive developer.
This is a terrific approach to get your feet wet in the programming game because you'll be able to learn a lot about the industry before going out on your own.
The passive developer does not own the land outright; instead, he owns a stake in a business or a fund that develops property.
How You Can Become A Real Estate Developer?
Growing up, I was one of the cool kids, had average grades, played a lot of sport and was my school's head boy in year 12. In reality, I think I am a nerd and a geek. Maybe at the time, I wasn't, but I am now.
I guess what gives that extra edge is that I take massive action. I go out of my way to apply to what I learn.
And if I come across anything new that I've learned or read about, I try and implement and use it in my projects. And if it turns out to be purely theoretical, I discard it.
I recently got a call from a lady in Melbourne, who went through a 3-year degree in real estate and development related discipline at a renowned university but cannot apply anything in real life.
She was so upset because she couldn't think of anything that she could use to find, stack and execute her developments.
Here's the deal with a university degree in real estate development, it is only useful if you wish to get a job in the corporate world & work for a development company. If yes, then get a degree in construction and get a job.
But if you wish to generate wealth and exponentially grow your portfolio, your university degree in real estate or any other related industry will be of as much use as an ashtray on a motorbike.
Here's another thing I would like to add, people who call themselves Real Estate Developers, but all they have done is work for a development company in a corporate environment, are not entrepreneurs and hence not real real estate developers.
Because they have never had their skin in the game, they have merely worked for KPI's, never risked their money and have no mental toughness simply because they have never handled the swings, that are inherent with real estate development.
Over the years, I have come to know a Quantity Surveyor with over 40 years of experience in this industry. Has a wealth of knowledge, but never did a single development his entire life.
Not even a small duplex, why? Because he wants to live a risk-averse life. He has a wealth of knowledge but has never applied that knowledge to generate wealth for himself.
There is no harm in wanting a risk-averse experience, and if that's what you want, you should consider becoming an armchair investor.
Armchair investors must also have the knowledge and skills to be able to recognize the right deals as well as the abilities of the entrepreneur who will manage their investment.
So stick with me because this website has everything you are looking for, whether you wish to become a full-time developer or an armchair investor.
Application & Action
There is absolutely no point in going through seminars and workshops & taking courses if people will never apply or act on that knowledge. You don't want to be the most knowledgeable, broke retired person.
For example, I know for a fact that I offer the best course in real estate development, that is designed to take anyone from knowing nothing about real estate development to finding and executing their first boutique development, which will quickly make them a minimum of $50,000 - $150,000.
However, if people don't act on that knowledge or freeze when it's time to take the leap - they will never achieve their goals.
So the take away for you is to make sure that you take action, you apply the knowledge in my property development courses. Go out and try and verify that learning - as that's where your real growth & transformation will take place.
Industry Insiders' Secrets To Managing Risks & Avoiding Mistakes & Pitfalls In Property Development

Get the Risks & Mistakes Bundle Now

Download Free

Includes 5 x detailed eBooks [120 pages]

✓ Risks In Property Development - Industry Insiders Guide (26 Pages)
✓ 10 Big (Financial) Property Investing Mistakes Made By Investors (58 Pages)
✓ 7 Property Development Mistakes And How To Avoid Them (8 Pages)
✓ 5 Reasons Buy-and-hold Investors Fail At Property Development (12 Pages)
✓ Property Mastermind: 8 Skills Needed For Property Development Success (16 Pages)

Download Free
Money
By money, I don't just mean your cash, but also your ability to service loans & raise money.
I am the last one who would want to discourage anyone who wants to get started in real estate development without their own money because I started with No Money Down Deals.
Even when all my money is tied up in projects, I never look at a deal - thinking I cannot do this, because I don't have money to invest.
I approach it by asking myself the following questions:
How can I do this deal?
How much money does it need?
Can I find this money?
Can I juggle the cashflow?
Can this project give my investors a decent return?
Is there something I can negotiate with the landowner?
What does the seller want?
How can I bring this deal together?
The idea of My Property Development System is to be able to change the way you look, feel and approach the deals that you come across.
However, the hard truth about this strategy is that it requires cash upfront before it pays you back. It's like you can have your returns, and the windfall you shall receive, but you have to pay the price, and you have to pay all of it upfront.
Whether that money goes in to getting educated or carrying your project to the finish line, it needs to be invested upfront.
So having some money to get you started is essential because everything you need to do for the project, from site reports, surveys, entity setup to hiring professionals - everything requires money upfront.
Ask any developer; their payday comes in 12, 24 & 36-month cycles. And when it comes, it sure does wipe away those tears that they shed until that day.
A lot of people don't have the stomach for it, not because they can't do it, but because they can't see through all the steps in front of them.
I am very analytical. I like to dot the I's & cross the T's. And as you would know, analytical people by nature take time to take the next step. And that's the reason; I had to learn everything even before I jumped in my first project.
As far as my personality is concerned, I seldom take a leap of faith, because I like to see things through, tick all my boxes and then move forward. Because that gives me confidence and clarity, and it becomes easier to take the next step.
Therefore, when you know that your project may take 12 months or more to turnaround, you have to have a plan to whether those months without cash flow.
Which, means that if you are starting with little or no money of your own, you must have a big enough WHY to pull you through the obstacles and keep you going. Real estate development can be a tough cash flow strategy, especially if you are starting with no money.
Doing Creative Deals with little or no money of your own is not impossible if you set your mind to it. Commit to learning and applying the knowledge, and use your big enough WHY to keep you going.
Focus on becoming that go-to person, who knows how to find the best deals, who knows how to execute the projects & the one who can make money for others. You will always have people who will be willing to invest with you.
FAQs

Is a real estate developer a promising career?

A real estate professional in project development, especially in commercial real estate development, may provide the highest earnings of any real estate career option.

A failing real estate development project, on the other hand, entails the most risk and loss.

How can I become a developer with no money?

If you wish to become a property developer without money, you must be appropriately oriented and have a higher than average degree of integrity.

Your first purpose should be to shield your investors; you must prioritize them over your interests; they, i.e. your investors, must come first.