Continued from…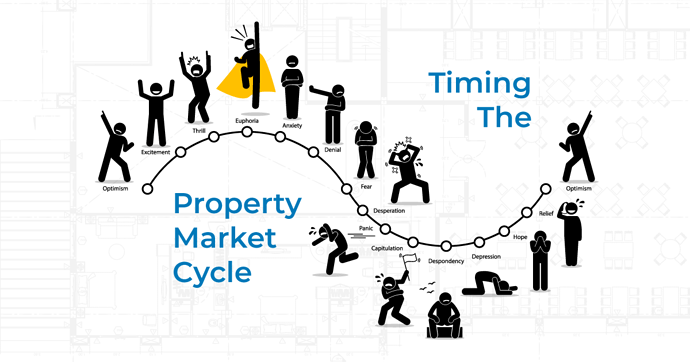 Factors Influencing Property Market Cycles
Economic Influence
An economy that has been performing poorly for a number of years will inevitably have an impact on its people in general, which in turn will effect their standard of living & their ability to afford basic items and housing. The building industry is a barometer of the economy. If the building activity declines, it means that the economy is slowing down and the economy enjoys strong growth when the activity is increasing. But before I dive deep into Australia's Building Activity, lets look at some feel good factors that are favorable to our Australian economy.
Australia is the world's 13th largest economy (GDP US$1.5 trillion)
Entering its 24th year of uninterrupted annual growth (that's right, Australia is the only developed economy to have NO recessions during the last 23 years)
Rated triple 'A' by all three global rating agencies
Forecast to have average annual real GDP growth of 3.0 per cent between 2015 and 2019
Supported by high productivity levels, with 16 out of 20 industries rating above the global average
An important contributor to five sectors expected to drive future global growth including:

Agribusiness
Education
Tourism
Mining
Wealth management
On top of that, Australia is a forward thinking country…
The CSIRO (Commonwealth Scientific and Industrial Research Organisation) ranks in the top 1% of the world's scientific institutions in 14 of 22 research fields.
At an increase of nearly 7% per annum between 2000 and 2010 Australia's investment in Research and Development was almost 3 times the OECD average.
Australia is a leader in the development of new technologies like the bionic eye, Google Maps, high-speed WiFi, spray-on skin for burns victims, cervical cancer vaccine, ultrasound, cochlear implants, civilian use of penicillin, 'smart' synthetic polymers and ultrasound.
Australia's long-term financial position is strong with…
Assets of almost A$6.4 trillion, over four times Australia's nominal GDP
The world's fourth largest superannuation system
Strong financial market turnover
The largest liquid stock market in the Asian region, outside Japan
You are missing out if you haven't yet subscribed to our YouTube channel.
Building Activity
2nd Nov 2015 – ABS figures released show that building approvals increased by 2.2 per cent in September and therefore continue to flow through at a historically high level.
However, the strong upward momentum in multi-unit approvals that characterized the earlier part of the cycle has dissipated, said the Housing Industry Association, the voice of Australia's residential building industry.
"Today's result reaffirms our view that we are seeing the peak in the current cycle, and we expect to see building approval numbers easing back throughout early 2016.
However, there is a very large volume of work in the pipeline that will sustain a very healthy level of actual building activity throughout the upcoming year."
Source: HIA Media Release 2nd Nov 2015
It's not rocket science, we all know that the market is peaking and a correction is on the cards. However, 2016 in my opinion will continue to see steady economic growth. So what is causing this slow down?
During growth period's interest rates are usually low, money becomes cheap, which in turn fuels demand. This again is followed by an increase in interest rates, which keeps the economy in check.
Interest Rates
In Australia, we are seeing a mixed reaction to this. Firstly, interest rates are at a record low with a future prediction of them going even lower.
This is in order to boost the economy, keep the Australian dollar down, encourage exports, encourage overseas investment in Australia, encourage tourism and education etc.
At the same time, in order to make sure that Australia doesn't suffer a crash in property prices, APRA introduced even stricter borrowing guidelines for investors with higher interest rates and larger deposits.
We have already begun to see its impact on the market, which has started to cause a slowdown in investor demand.
Let's look at another important microeconomic factor that have an effect on property prices.
Employment Rate
Lower unemployment causes an increase in demand and higher unemployment will drive people away from the property market, hence causing a decrease in demand for property.
If you look at the past year, unemployment rate as has been in control, in fact it is lower than what it has been in the past year and is predicted to go even lower as we progress into year 2016.
So what's the best time to buy a property to develop?
Although it is usually recommended that you should buy at the bottom of the market, there is no specific time to buy a property with an intention to develop.
This depends more upon the negotiations and conditions under which you have offered to purchase the property. For example, you can delay the settlement or you could get an option on the property.
The reason I say, now is the best time to get into property development is two folds.
A smorgasbord or projects with plans and permits.
First and foremost is because of the fact that the property market has peaked. This will inevitably force a lot of novice developers to throw in the towel and put properties with plans and permits on the market.
Which means that there will be an oversupply of properties with plans and permits on the market, giving you a wide variety of properties to choose from.
Desperate developers will not only offer discounts but will also offer favourable settlement terms.
How To Finance Your Property Development Project?

And Other Books On Real Estate Development Finance

Download Free

Includes 5 x detailed eBooks

✓ Property Development Finance: Easily Finance Your Project? (26 Pages)
✓ 10 Big (Financial) Property Investing Mistakes Made By Investors (58 Pages)
✓ 10 Finance Options For Your Next Property Development Project (29 Pages)
✓ What Is Equity Finance And How Does It Work? (42 Pages)
✓ Property Investment Finance - Ultimate Guide

Download Free
Counter Cyclical Investing
And secondly, have you heard of doing the opposite of what everyone else is doing? Most people will be trying to get rid of their properties thinking that it is the end of the world & sky is falling.
The main difference between the good property developers and great property developers is that, great ones recognize the rise and fall in demand as market cycles and take it in stride and work through it.
They understand the property clock as they do this for a living. For them it's not like having a hot dog stand, where they can shut shop for the season, where as good property developers panic and shut shop, leaving everything on the table for the great ones.
So in a nutshell, it a good time to get into a property development project as there will be many opportunities available very soon and you can easily grab some good bargains.
Learn More
Action Steps
If you are planning to get into a project, here is what you should do:
Educate yourself in property development and make sure that you understand market patterns and cycles. Make sure you are skilled enough to recognize these opportunities, conduct due diligence and run financial feasibilities on them.
Learn about No Money Down Deals and creative joint ventures.
Learn to negotiate favorable settlement terms.
Learn How to find your next Deal?
When you do find a project, go through the planning permit or development approval process.
I do not believe in my gut or in my head that Australian property markets are about to crash, banks and the Australian government just cannot afford to let that happen. I am only young but I have seen two complete property cycles in the Australian market and they both resulted because of oversupply. And from experience, I have seen that oversupply usually gets absorbed in 2 years at most. If you look at the time lines of when the project materializes, you will notice that now is genuinely the best time. Because, by the time you are done with the planning process and the project comes on the market for pre-sales, the market would be picking up again.
If you would like to learn more about property development, check out the property development courses available on this website.
FAQs

What is a property market cycle?

A property market cycle describes the movement of real estate values through stages.

In the past, these cycles have been seen, to begin with, a time of growing values, followed by a period of stagnation or even decrease before beginning to rise again.

How does the property cycle work?

The supply (number of properties on the market) and demand (number of persons wanting / able to get a mortgage) are the two primary factors of the property cycle.

Property prices will rise if prices increase. As our population rises, so does the need for rental and owning properties.