Single home speculation: Learn property development without financial risk
Whether they are new homes developed for speculative purposes or renovations of older homes for resale, single home developments is the best place to start for new developers who want to learn property development without putting their money at risk.
The two most popular single home developments are:
The speculative new home. It is called so because the developer will not have an end buyer or tenant established from the start, and thus, they are taking a risk. It is usually built on a single lot in a new land subdivision or on an older block into smaller lots typically found in older suburbs.
In an established neighbourhood, a refurbished older 'character' home.
6 Speculative home benefits in real estate
Smaller speculative housing and refurbishment ventures offer the following advantages over sizable commercial development projects.
The initial investment is low
Most properties require a small amount of money. Depending on your financial situation, some lending banks may not require a deposit at all, while others may require 10 to 25% of the entire property development cost, to begin with.
This enables you to take advantage of your financial situation at minimum risk.
Financing is simple
Most lending institutions have the infrastructure and mechanisms to simplify applying for home loans for this type of development. Finance for a home is much easier to obtain than other development types. This is all because of the entry of new banks and mortgage providers into the market.
Favourable tax laws
If you build a house, live in it for a year, and then sell it, you won't have to pay capital gains tax on the profit. However, this will not always be the case.
If you keep the house as an investment and rent it out, you'll be able to negatively gear it, which means the difference in interest paid on the mortgage loan is tax-deductible.
Liquidity
Housing developments are much easier to sell than other types of development since financing is more readily available.
Furthermore, their sales are usually not subject to many conditions, allowing for far faster settlement and sales procedures.
No sophisticated market
In this market, buyers are not as sophisticated as seasoned investors, who will generally argue on several issues, delaying any sale settlement or transfer of profits and, as a result, reducing the developer's profit.
Exceptional capital growth
Housing prices are affected by supply and demand. During a boom, house prices frequently reach a high point, which serves as a standard for future values. In this case, capital growth can be pretty significant.
Learn More
You are missing out if you haven't yet subscribed to our YouTube channel.
Risks in property development
While single-family homes have generally been thought to be safe, some concerns are still to be aware of, including the following.
High competition
A single-family dwelling is a popular choice because it is less complicated. Despite many players in the game, the savvy creator who remains one step ahead of the competition can still make money.
I've witnessed an increase in the number of new home developers and most of them being new migrants. Given the boost in business migrants, it's no wonder that folks with a lot of money are flocking to the real estate market.
Inefficient land use
Compared to a higher density residential construction, plot ratios and densities mandated by local authorities on a standard quarter-acre lot make land more expensive.
Demand for single home speculation
Because of population growth and high rate of home ownership, the demand for single-family residential buildings is increasing every day.
You will notice high rates of homeownership in many industrialised nations. It generates demand for housing investment and development. Homeownership is widely referred to as the great dream of many.
It also gives people a financial asset from which they can benefit, particularly as they get older and their potential earning decreases.
Population growth has an effect on the demand for housing. The developers need to construct a large number of houses each month to meet the rising demand.
Business strategy for single-family home
When you build a single-family home, you'll have to decide whether to sell or rent it. Consider the following factors before making your decision.
Construct and sell
Most developers want to sell to earn and move on to the next project. To pursue this plan, you must first consider the tax implications of the sale and then assess your financial gearing (equity-to-debt ratio) to ensure that your financial situation is not jeopardised if the market takes a turn for the worse.
Construct and rent
If you intend to build and rent, make sure you have the financial means to carry out your plan. If you have borrowed money and your venture is overly leveraged, you may be caught if the market flips and interest rates rise.
Learn More
Construction, part-sale, and part-rental
If you don't have a lot of cash, selling some of your early developments until you have a sound equity basis and keeping some of the later developments as income for your retirement is a good plan.
Which strategy should you use?
Your feasibility study will assist you in determining which of these techniques to pursue. Always consider the worst-case scenario while adjusting your gears.
Some banks will let you borrow up to 90% of the home's worth, which you will almost have to negatively gear. This is fine if your income allows it; however, some conservative investors would only invest in real estate with a 40:60 equity-to-debt ratio.
Consider market profile
The market profile of a typical single-family home buyer or renter is diverse. It can be divided into the following categories: the buyer's or renter's preferences for specific facilities.
Singles
Even though single people make up a small percentage of the market, this category comprises singles who may have long-term ambitions. A large living area and a well-appointed single master bedroom are typically desired amenities.
A young couple with no plans to start a family
Both sides are usually working and career-minded in the case of a young couple who has no aspirations for children. They require a living and dining area that is well-lit and has a pleasing interior design.
Because of their hectic lifestyles, they choose a more miniature garden that requires less maintenance. These consumers are drawn to parking spaces that can accommodate two vehicles.
Young couple planning family
A large kitchen, master bedroom, secondary rooms, and an outdoor play area are essential locations for a young couple considering a family (possibly with space for a future pool). This group of purchasers or renters prefers to be close to schools and have great shopping options.
Single parent
A single parent with children still living at home, a family room and a master bedroom with secondary bedrooms are preferred. Schools, community centres, and public transportation are all desirable locations.
Established family
The established family profile would benefit from a formal dining room, well-equipped kitchen, and a master bedroom suite distinct from the other secondary bedrooms. It is preferable to have parking for at least two vehicles and visitor bays.
A well-established family of professionals
Executive husband and wife with a decent social profile seek a property with a formal entry, formal dining, guestroom, and study, as well as strong security and privacy. The up-market areas are the best places to be.
Location
Consider the following factors in terms of the location before purchasing a property for your development:
Distances to essential public amenities should be minimum.
Public transportation should be easily accessible.
Shopping facilities should be easily accessible.
Recreational and cultural facilities should be of high quality and easily accessible.
The community's quality and reputation should appeal to your target demographic.
Consider the following elements as well:
School quality and accessibility
The density and homogeneity of the population
The standard of community facilities and services provided by the council
The incidence of crime in the neighbourhood
The availability of medical services
Site analysis
Before purchasing a building site for house development, investigate it properly. You should make sure that:
The site is not subject to the dangers of flooding associated with low-lying, marshy areas, streams, and watercourses.
It is not near a drainage catchment -areas with a history of overflowing pits or drainage canals.
It is not vulnerable to soil settlement typical to ex-rubbish tips or landfill areas - examine the site's history and, if necessary, conduct a soil investigation.
Check with your local municipality to see if the location is near any present or planned commercial or industrial activities.
The site is accessible from a public roadway or, if the access street is private, ensure that all parties using the road have signed a maintenance agreement.
It is not located on a major thoroughfare since traffic noise and vehicular entrance and egress will be significant issues.
It is not constrained by zoning, building lines, or any other construction codes that may affect the home's design - see your local council for further information.
The site owns an unencumbered title by outstanding mortgages, easements, or other restrictions, such as the native land title.
It has access to essential services like water, electricity, gas, telephone, and sewage.
Suppose it is in a precisely planned estate. In that case, it is not subject to any harsh planning standards, such as restrictions on the use of materials and setbacks - verify these requirements to ensure that they are not too onerous and costly.
Learn More
Market analysis
Extensive and costly market research is not as vital for a single-family home as for large constructions. A comparative market study, which is a breakdown of recent sales within a specific market area, is valuable for this purpose.
The information compares a variety of homes based on their size and type, location, and the amount they sold for. You can perform this type of examination with the help of a local real estate agent or property valuer. Also you can follow these 13 easy steps to perform real estate market analysis.
Previous sales information
You will be able to determine what size of home you should build and what price you will be able to achieve by listing the most recent sales you intend to develop in a particular area.
In addition, look at the history of value appreciation for similar properties over the last few years to evaluate the potential for future appreciation.
Currently available rentals
Whether you're planning to sell or rent, it's crucial to look at the current rentals in the region where you want to build. Even if you want to sell, you may be caught if the market turns against you and you are forced to rent.
You'll at least know what rental revenue you may expect if you look at current rentals so that you can plan your finances properly.
Getting Started In Property Development Just Got Way Easier

At least according to the 4201+ aspiring developers I've helped so far…

Free Quick-Start Property Development Course

10 SHARP TO THE POINT TRAINING MODULES

✓ How To Become A Property Developer - Safely & Quickly
✓ How To Find Your First Development Project?
✓ Understanding Numbers To Conduct A Thorough Feasibility Assessment
✓ The Exact Property Development System I Follow
✓ The Difference Between Good & Great Property Developers
✓ Seven Avoidable Surprises That Can Trip-Up Even Professional Developers
✓ Skills, Confidence And Support To Succeed
✓ How To Build A Profitable Portfolio - Fast
✓ A Treasure Chest Of Tips And Tricks
✓ Bonus eBooks And
✓ Property Development Case Studies
Real estate team for development
Although a single-family home building does not necessitate as many team members as a larger project, you should be honest with yourself and ask two key questions:
Do you have the time to handle this project?
Do you have the necessary technical skills and knowledge to manage the structure?
Your time and knowledge will determine the amount of service you require from the following consultants.
Architect or designer
The architect or building designer might provide comprehensive service from start to finish or work on a project-by-project basis. Design, building cost estimates, working drawings, tendering, and supervision are all services that these experts can give.
Surveyor of land
A land surveyor will be required to conduct a 'contour feature' survey of the site, identifying the various levels, existing trees, current amenities, and street furniture such as street lights, bus shelters, and signposts.
This information is crucial to the architect since certain factors may influence the home's design.
Construction estimator
A building estimator is a trained professional who can create a spreadsheet showing the number of building materials, labor costs, and the estimated cost of constructing a new home or renovating an existing one.
If your plans are being submitted to many builders, you will not need an estimate. While if you are developing it yourself, you will need to hire an estimator.
Structural engineer for design
A structural engineer may be necessary depending on the soil conditions and whether the home is double-story.
Establish a building budget
To make your residential development successful, you must stick to a strict property development budget and avoid overcapitalising on the home.
When briefing the designer, make sure they know the budget and, more crucially, what goods are included in it. Remember that you're selling a finished property, so you'll need to budget for any finishing touches like landscaping and fencing.
The expenditures in your budget are estimates, and you should budget for a five- to ten per cent increase in actual construction costs. This provides for contingencies and building cost escalation by the time you begin construction.
It's important to be conservative while doing these calculations because any budget overrun would be a setback.
Design
After you've gone over the above, you'll be able to inform your designer about the type of home you want to build. Additional design concerns that you can include in the brief are listed below.
Appeal
Any potential buyer or renter cares about first impressions. Investing in pleasing aesthetics, such as an intriguing architectural character and a well-presented, planted front garden, will aid in the sale or rental of the property.
Lightness and radiance
Due to today's rising construction costs and tight budgets, builders and developers are creating homes with smaller rooms. More oversized windows, which can allow more light, are a great way to make space appear larger.
Open-concept living
Open-plan living is becoming increasingly popular. Rooms that flow into one another not only make spaces appear more prominent, but they also have a pleasing appearance.
Solar design
Because of hot climates, planning your home with the correct solar features is essential. Furthermore, purchasers are becoming more aware of the value of a well-designed solar system.
Unused space
Planning rooms around the furniture that will be utilized and include realistic proportions and limiting routes such as long corridors would save wasted space and, as a result, lower construction costs.
Security
The ability to enter the home immediately from the garage or carport is appealing to most buyers. This access is safe and convenient, especially after a trip to the grocery store.
Contract
The fixed-price contract is the most common contract used by builders and experts, depending on the size of the home and the budget. A $250,000 home, for example, will take less time to construct than a one-million-dollar mansion, and the latter will be subject to an escalation clause to pay any rises in construction costs.
Try to avoid variations in any contract because they will not only prolong the construction period but increase your budget. Check to see if all warranties are in place. Also, ensure a maintenance contract is in place after the house is completed. Here is the ultimate checklist for preparing a real estate contract of sale.
Construction
Although the construction of a single-family home is not as tricky as more significant projects, you or your architect must oversee the project. This guarantees that the job is completed accurately.
Everything is done by following the contract documents and specifications and according to the agreed-upon schedule. On a typical single-story building, there are five stages of construction.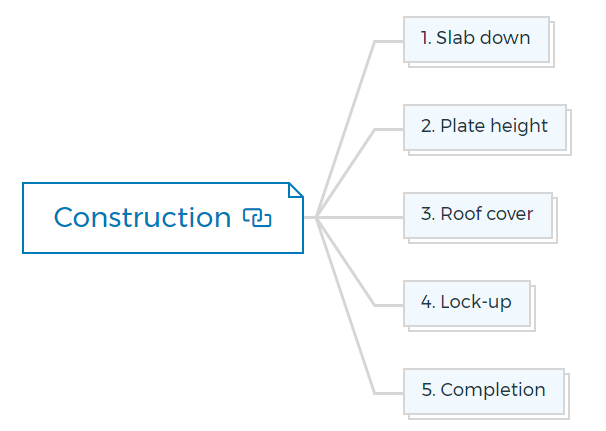 These are the following:
1. Slab down
This is the stage at which the concrete ground floor slab, as well as any brickwork, under-slab services, or electrical wiring, has been completed.
2. Plate height
This is the point at which all brickwork or framework has been completed. It includes both internal and external walls. At this point, door and window frames are usually installed.
3. Roof cover
The roof framing or roof trusses, as well as gutters and downpipes, are installed at this stage.
4. Lock-up
By this point, the windows have been glazed, doors and locks have been installed. The electrical and plumbing 'rough-in' has been completed.
Along with this, the ceilings have been installed, finishing carpentry has been placed, and the plastering has been completed.
5. Completion
All finishing items, such as cabinetry, sanitary and plumbing work, electrical switches and light fittings, painting, tiling, and floor finishes, are completed at this point.
Some finance organisations would make various progress payments to the builder using the steps above as a reference.
For example, after each stage is completed, a building inspector from the financial institution will assess the work and determine whether the builder's claim for payment is warranted.
Alternatives
The procedure outlined above describes how to create a small home project conventionally. You have two alternatives to this process, which are detailed below.

Owner-building
Owner-building, when done effectively, saves money; nevertheless, it is not suggested unless you have appropriate technical knowledge of the construction process and the time to oversee the project.
Creating a project
If you choose designs off their shelves and keep the alterations to the plans and requirements to an absolute minimum, hiring a project builder to build for you could save you both time and money.
Marketing
Residential property can be marketed by you or by your local real estate agent, who will handle all of the marketing and promotion for you.
You save money by not paying a commission if you do it yourself, but you must account for the following costs:
Brochure production
Advertisements in the local newspaper and several real estate periodicals
Signage on the property
If you decide to hire a respectable salesperson, consider the following considerations.
Is it OK to give the agent an exclusive?
The majority of agents would prefer to have exclusive rights to sell the properties they offer. This entitlement is only justifiable if the agent actively markets the property development and has the resources necessary to deliver the best possible service.
Before offering an exclusive listing, developers should thoroughly analyse the agent's capabilities.
Has the agent defined the services?
Apart from advertising, property marketing entails holding open inspections, negotiating with purchasers and their agents, and ensuring that all essential legal paperwork is distributed to the appropriate parties.
The seller's agreement should include the steps the agent will take to advertise.
Has the agent described all the terms and conditions?
Agent agreements may include automatic continuation clauses or clauses stating that commissions may be owed before the sale's completion.
When commissions are due, the agreed-upon commission percentage, and when the agency agreement or listing ends, the agreement should contain all these details.
Conclusion
Now you understand how to start property development without financial risk. If you're a beginner looking to gain expertise in property development, buy a plot of land, commission a home design, hire a builder, and then sell it for a profit.
You will only be able to understand this business if you take the initiative and start with a small project. But before you take your first action of investing in any property, ensure to understand everything about property development.
Enroll in one of my structured property development courses, NOW!!
FAQs

What is the meaning of property speculation?

Property speculation usually entails the acquisition of undeveloped land with the intent of keeping it for an undetermined amount of time.

Land speculation relies on the belief that a future economic event will significantly enhance the land's value for selling in the future.

Is property investment low risk?

Purchasing property remains one of the top investments available, and it's a pretty safe method to make reasonable returns, especially over the long run. It is, however, not without risk, as with any other investment.

That's why you must learn property development without financial risk.