How does property development finance work?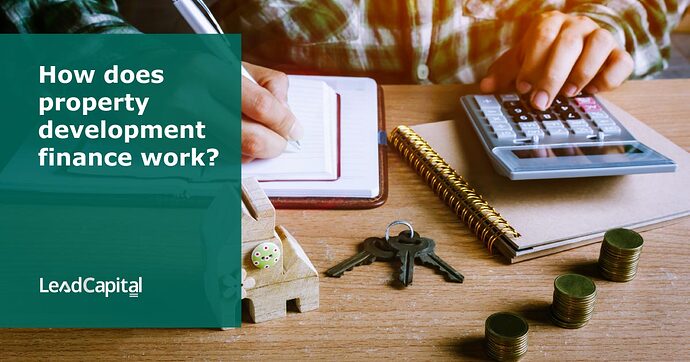 Property development finance is getting funds for renovations or development purposes for a building. It may include luxury homes, housing estates, apartments, office blocks, etc.
Property development finance provides developers with the funds to purchase and develop a property. This can include purchasing land, obtaining building permits, and financing the construction of new buildings.

How to get property development finance
The process of obtaining property development finance typically starts with the developer identifying property or land to develop and securing the purchase.
Then the developer will usually put together a proposal, including details such as the project's location, budget, projected timelines, and projected returns.
This proposal is then presented to potential lenders for review.
If the lender is interested in the project, they will conduct a due diligence process to assess the feasibility of the project and the developer's ability to repay the loan.
This may include an appraisal of the property, an assessment of the local real estate market, and a review of the developer's financials.
Once the lender is satisfied with the proposal, they will give the developer the funds they need to purchase and develop the property. The funds are typically dispersed in stages, such as upon completion of certain milestones in the construction process.
The developer will then use the funds to purchase the land, obtain building permits, and finance the construction of the new buildings.
As the construction progresses, the lender will conduct regular inspections to ensure the project progresses as planned.
Once the project is complete, the developer will typically refinance the development loan with a permanent loan to pay off the construction loan.
The developer will then be responsible for repaying the permanent loan over a longer term, usually 20-30 years.
It's important to note that the terms and conditions of the development finance can vary depending on the lender and the project's specifics.
Learn More
You are missing out if you haven't yet subscribed to our YouTube channel.
How to keep your project costs low?
Regardless of your property development funding source, keeping costs low helps you gain higher profits. Although you must include contingencies in your projections, it's ideal if you never have to use that buffer.
You and future equity investors will profit more by lowering development costs. Even if you don't meet your income goals, minimising project costs will help you.
Lower-cost projects as a percentage of predicted value are also easier to fund. Banks will lend depending on the lowest of two numbers: a percentage of your total expected cost or a percentage of your projected value upon completion.
What to do to keep your costs lower? Here are a few things -

Location
Location affects the building, land, labour, and supply costs. Use your strengths and discover cheaper locations. You can develop anywhere. Look for projects with lower costs in Australia.
How To Finance Your Property Development Project?

And Other Books On Real Estate Development Finance

Includes 5 x detailed eBooks

✓ Property Development Finance: Easily Finance Your Project? (26 Pages)
✓ 10 Big (Financial) Property Investing Mistakes Made By Investors (58 Pages)
✓ 10 Finance Options For Your Next Property Development Project (29 Pages)
✓ What Is Equity Finance And How Does It Work? (42 Pages)
✓ Property Investment Finance - Ultimate Guide
Vendors, Contractors, and Sub-Contractors
Choosing the correct vendors and subcontractors (subs) cuts expenses. Higher-priced subs will arrive on time. Some may charge less but fail, costing more as you rectify faults and postpone your project.
Before signing contracts, research each subcontractor's background and skills. To hire competent workers, do your homework.
Learn More
Project size
Smaller projects are cheaper except for ultra-luxury developments with high costs per foot.
Zoning restrictions allow you to create larger projects; thus, reducing their size may not be your best option. Unfortunately, municipal rules may not always allow a property or redevelopment project to be maximised."
Assess the local market and demand for your building type, and scale your project accordingly. A smaller, entirely occupied project may be better than a larger one with a high vacancy rate.
Property Finance Made Easy

We specialise in Development funding | Commercial finance | Construction loans | Portfolio refinancing & Property investment loans in Australia.