What are the best banks in Australia for construction loans?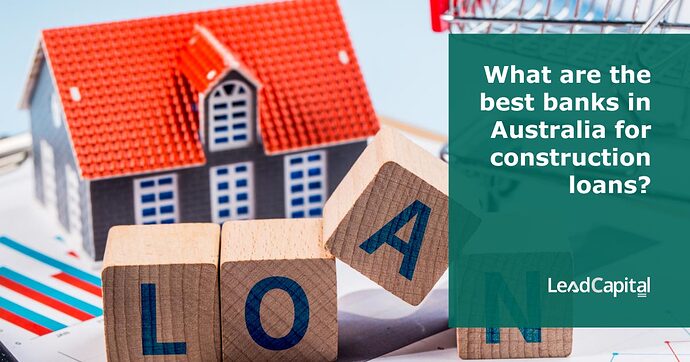 Construction loans are crucial for financing a project. Short-term construction loans assist individuals and corporations in financing building projects.
As the demand for new construction projects in Australia increases, the need for construction financing has also grown.
Here is the list of the best banks in Australia for construction loans.

Understanding construction loans
A construction loan is a short-term loan specifically designed to fund building projects.
These loans can finance small home renovations to large commercial projects. Construction loans are disbursed in phases as the project advances, unlike ordinary loans.
Learn More
Best bank for a construction loan in Australia
The best banks in Australia for construction loans depend on your situation and loan terms. While picking a construction loan bank, examine certain factors like interest rates, fees, and the loan-to-value ratio.
Some of the major banks in Australia that offer construction loans include: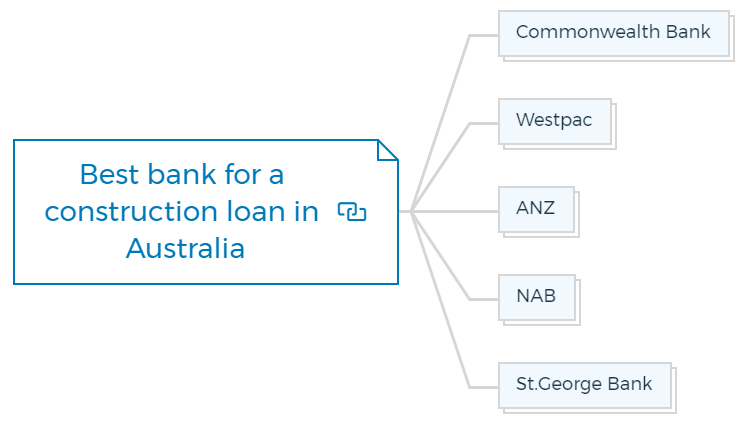 You are missing out if you haven't yet subscribed to our YouTube channel.
Commonwealth Bank
Commonwealth Bank is one of the major banks in Australia. It offers owner-occupier and investor construction loans with reasonable interest rates and flexible repayment choices.
They provide various lending alternatives and can provide funding of up to 95% of the project's value. Commonwealth Bank also offers online loan management solutions.
Westpac
Westpac, one of Australia's biggest banks, offers several building project loans. They offer residential and commercial building financing. These loans may finance up to 95% of the project's value and provide flexible payback.
Westpac provides flexible repayment options, including interest-only payments throughout construction for owner-occupiers and investors.
How To Finance Your Property Development Project?

And Other Books On Real Estate Development Finance

Includes 5 x detailed eBooks

✓ Property Development Finance: Easily Finance Your Project? (26 Pages)
✓ 10 Big (Financial) Property Investing Mistakes Made By Investors (58 Pages)
✓ 10 Finance Options For Your Next Property Development Project (29 Pages)
✓ What Is Equity Finance And How Does It Work? (42 Pages)
✓ Property Investment Finance - Ultimate Guide
ANZ
ANZ is another big Australian construction lender. They finance up to 95% of residential and commercial projects.
ANZ's construction finance professionals can help clients choose the right financing.
NAB
National Australia Bank (NAB) is another popular alternative for building financing in Australia.
They finance up to 90% of residential and commercial projects. NAB also offers customized lending solutions.
St.George Bank
Westpac affiliate St. George Bank offers residential and business building financing.
They provide lending alternatives and funding up to 90% of the project's value.
Construction finance requires a bank with diverse lending alternatives, reasonable interest rates, and devoted service.
The banks mentioned in this blog are some of the best banks in Australia for construction loans. Researching and comparing bank loan choices is essential to obtain the best one for your building project.
Property Finance Made Easy

We specialise in Development funding | Commercial finance | Construction loans | Portfolio refinancing & Property investment loans in Australia.