Types of real estate developments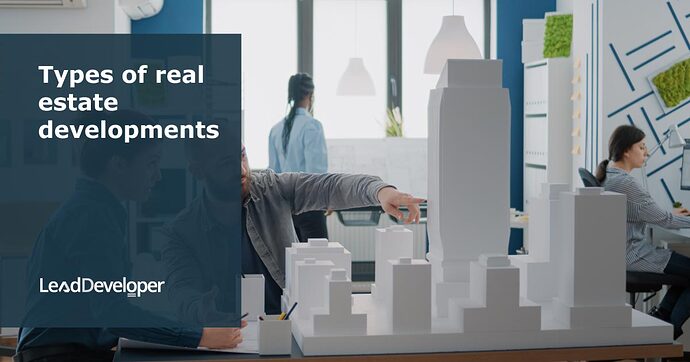 If you believe you have the qualities to be a successful real estate developer, carefully consider the market conditions, your own business experience, and your financial resources before deciding on the type of development you want to pursue.
The following list is a brief description of the numerous types of real estate development projects:
Residential
The majority of property developers began their careers in the residential sector. It can be a single-family home (new or renovated for resale), a unit, a duplex, triplex, or quadruplex, as well as strata unit developments like townhouses, villas, and retirement villages.
You are missing out if you haven't yet subscribed to our YouTube channel.
Apartments
Flats and condominiums are other names for apartments. This category includes anything from simple two-story flats to multi-storey mixed-use structures. Here is a beginner's guide to Apartment development.
Offices
The size and quality of commercial office buildings might vary depending on the finishes ( which include wall and floor tiles, carpets and partitions). Renovated residences, strata-titled high-rise complexes, and low-rise commercial parks are all examples of commercial offices.
Retail
Small corner stores, strata-titled showrooms, neighbourhood shopping centres, community centres, and regional retail centres fall within the retail category.
Property Development Books - "Starter-Pack"

18 Property Development Books To Get You Started Now

Yes! I'm ready to start now

Includes 18 x detailed eBooks

✓ Property Development Checklist - 6 Pages
✓ How To Finance Your Property Development Project? - 13 Pages
✓ Property Development Team - 19 Pages
✓ Site Acquisition Process - 14 Pages
✓ The Ultimate Guide To Getting Started In Property Development - 42 Pages
✓ My Secret Property Development Process - 28 Pages
✓ How To Nail Your Next No Money Down Deal? - 29 Pages
✓ Industry Insiders Guide To Managing Risks In Property Development - 26 Pages
✓ How To Become A Property Developer? - 41 Pages
✓ Do You Have What It Takes To Be A Property Developer? - 12 Pages
✓ 7 Common Mistakes Made By Property Developers & How To Avoid Them? - 12 Pages
✓ 5 Reasons, Buy & Hold Property Investors Fail At Property Development - 16 Pages
✓ 10 Financial Mistakes Made By Property Investors & Developers - 54 Pages
✓ My 26 Question Due Diligence Checklist - 21 Pages
✓ Property Development 101: The Feasibility Study - 34 Pages
✓ Property Development 101: Construction Guide - 55 Pages
✓ Property Development Blueprint - 66 Pages
✓ Your Definitive Guide To Property Options - 36 Pages

Get Starter Pack
Industrial
Simple in design, industrial buildings provide big, open spaces for manufacturing or storage. Industrial developments can range from light industrial (including warehouses and small factories) to heavy industrial (generally planned away from residential areas). A petrochemical plant is an example of this type of development.
Land
A subdivision of raw agricultural land or a subdivision of an older property both falls under the land category. Changes in urban planning as a result of population growth create a demand for new land.
Learn More
Accommodation
Motels, hotels, and vacation apartments that cater to temporary accommodation are typically located near holiday resorts that cater to temporary lodging.
Recreational
Entertainment centres, casinos, golf courses, sports stadiums, and waterfront complexes fall under the recreational category. They can be stand-alone buildings or part of a mixed-use complex containing retail establishments.
Infrastructure development
This type of property development involves the construction of transportation and utility infrastructure such as roads, bridges, and water supply systems.
Master-planned communities
This type of property development involves the planning and development of large-scale communities, which often include a mix of residential, commercial, and public spaces.