18 ways to become a successful property developer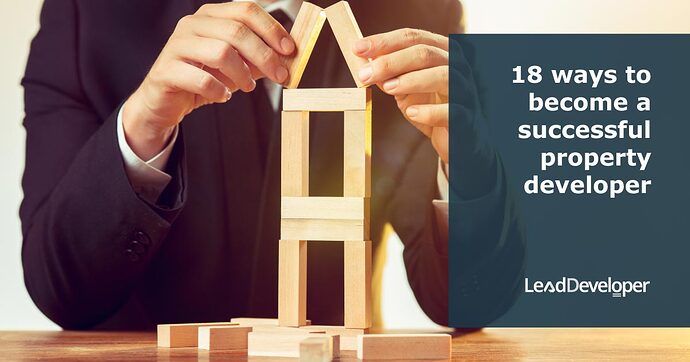 Are you looking for ways to become a successful property developer? Here are 18 tips that will help you to be a successful real estate developer -
1. Understand the market
To become a property developer, you should know what a property development market looks like. After all, you will prepare a product (development) for a particular market.
Get an idea of the local property market and trends, search for different types of properties and understand their demands in the market. Find out who the buyers and renters are and, when the time comes, how much they are willing to pay.
Get aware of potential growth areas and local building codes and regulations. Begin to know what buyers and sellers want.
Your focus should be on developing a product that is already in demand and fits perfectly with the market trends.
2. Identify and acquire property
The skill of identifying property is what makes you a smart property developer.
Look for properties that have the potential for development and work on acquiring them.
Quick Tip

Check scheme maps and policy changes in local government areas to stay ahead of the trends. Check drafting policy issues for public comment, ministerial and local government announcements, or group workshops.
You must be aware of strategic planning changes in your targeted area, such as shopping centre expansion or a new activity hub. Note that these sites are in their development and drafting stage, not the legislated stage.
Once you find profitable properties, start working on their acquisition.
Learn More
3. Plan and design the project
Planning and designing are the critical ingredients of the property development process. This process always begins with the pre-planning stage, working with the right mindset.
Get your development team together to create detailed plans and drawings for the real estate development project.
You are missing out if you haven't yet subscribed to our YouTube channel.
4. Understand council requirements to get approvals and permits
A big problem for many new real estate developers is that they don't know enough about local council rules and what it takes to get Development Approval (DA).
Each local council has its own rules and regulations, and understanding them involves researching lengthy documents. Gaining this knowledge helps you assess a potential project and ensures the project makes the most of the site.
Navigate the legal and regulatory requirements thoroughly to obtain the necessary approvals and permits for the project.
5. Obtain financing
In the game of becoming a property developer, money always matters. You should be able to borrow and manage funds for your development project.
How much funding you are getting and its sources also affect your development success.
Learn More
Start exploring the different finance options and secure funding for your project.
6. Oversee construction
Coordinate the efforts of contractors and other professionals to ensure the project is completed on time and within budget.
There are various stages involved in the construction process. Map out each stage in a document and the required time and cost to complete them.
This activity ensures your real estate development project runs smoothly and provides the expected returns.
7. Market and sell the properties
Once the development is complete, you are ready to market and sell the properties to generate good returns. Here are 8 easy steps to market your new development project.
Getting Started In Property Development Just Got Way Easier

At least according to the 4201+ aspiring developers I've helped so far…

Register Free

Free Quick-Start Property Development Course

10 SHARP TO THE POINT TRAINING MODULES

✓ How To Become A Property Developer - Safely & Quickly
✓ How To Find Your First Development Project?
✓ Understanding Numbers To Conduct A Thorough Feasibility Assessment
✓ The Exact Property Development System I Follow
✓ The Difference Between Good & Great Property Developers
✓ Seven Avoidable Surprises That Can Trip-Up Even Professional Developers
✓ Skills, Confidence And Support To Succeed
✓ How To Build A Profitable Portfolio - Fast
✓ A Treasure Chest Of Tips And Tricks
✓ Bonus eBooks And
✓ Property Development Case Studies

Register Free
Quick tips to become a successful property developer
8. Build a strong team
Surround yourself with experienced and reputable professionals in the industry.
Learn More
9. Networking
When you work on building a trustable team, you can simultaneously work on building your networks.
Start contacting architects, builders, real estate agents, and other professionals in the industry. This will help you find some great real estate deals.
10. Stay up-to-date with industry developments
Keep abreast of the latest trends, regulations and best practices in the property development industry.
11. Be patient and persistent
Real estate always comes with some hidden risks. Be prepared to overcome obstacles and setbacks. Explore the risks and start working on risk management strategies.
12. Be flexible
Be prepared to adapt to changing market conditions and new opportunities.
13. Be creative
Be open to new ideas and think outside the box.
14. Be financially savvy
Understand financial analysis, budgeting, and forecasting. Get aware of the financial feasibility process.
15. Stay organized
Keep detailed records and organize all the documentation related to the project.
16. Hire a good lawyer and accountant
Make sure you have the correct legal and financial advice.
17. Focus on customer demands
Understand your target audience to develop the type of properties that are in demand.
18. Get the Free Course
Use the FREE Quick-Start Property development course to get started in real estate development and take a big step towards becoming a successful real estate developer.