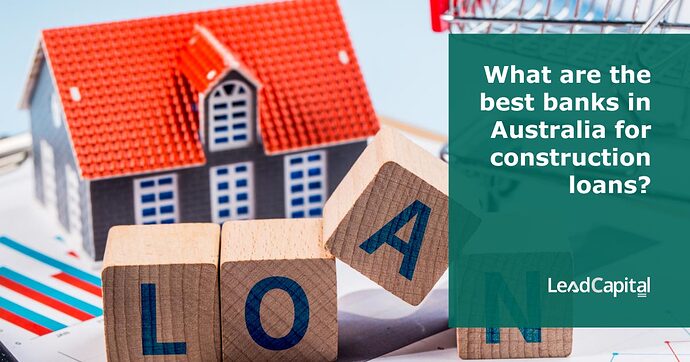 If you're planning to build a new home or undertake a major renovation project, consider taking out a construction loan. One of the questions that often comes up is whether it's possible to fix the interest rate on construction loans.
Here we will discuss fixed-rate construction loans, their features, and how they work.

Can interest rates be fixed on construction loans?
Yes, fixing the interest rate on construction loans is possible. A fixed-interest rate construction loan in Australia lets borrowers lock in an interest rate for the construction term, providing certainty and stability.
Borrowers who want to prevent interest rate hikes while developing their property may benefit from this real estate financing option.
This loan has disadvantages, such as higher interest rates than adjustable rates and early repayment penalties. Nevertheless, the fixed-rate construction loan typically becomes a variable-rate loan after the construction phase, meaning the interest rate might rise or fall.
This is why borrowers may consider other options like a split-rate construction loan, which allows borrowers to take advantage of a lower interest rate during the construction period and then switch to a fixed rate for the long term.
Learn More
You are missing out if you haven't yet subscribed to our YouTube channel.
What are the features of fixed-rate construction loans?
Fixed-rate construction loans are the type of loan with the same interest rate for the entire loan term. Your monthly payments will be regular and constant, making project budgeting easier.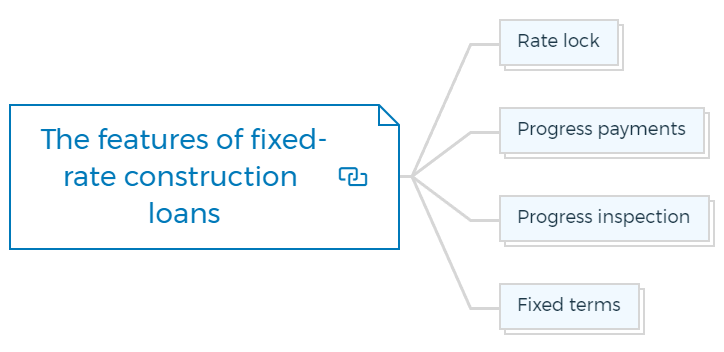 Rate lock
You can lock your interest rate at the time of application to protect yourself against rate changes before council approval and construction.
Progress payments
Your builder might be paid in installments from the loan. These payments are typically made in installments as certain milestones in the construction process are completed.
Fixed-rate construction loans feature a consistent payment schedule but higher interest rates than standard mortgages. During construction, this helps avoid unforeseen costs.
Progress inspection
Some lenders send a valuer to check the structure during construction before making progress payments.
Learn More
Fixed terms
Different fixed terms are available when you fix interest rates on construction loans. Three-year or five-year fixed rate terms are the common ones.
How To Finance Your Property Development Project?

And Other Books On Real Estate Development Finance

Includes 5 x detailed eBooks

✓ Property Development Finance: Easily Finance Your Project? (26 Pages)
✓ 10 Big (Financial) Property Investing Mistakes Made By Investors (58 Pages)
✓ 10 Finance Options For Your Next Property Development Project (29 Pages)
✓ What Is Equity Finance And How Does It Work? (42 Pages)
✓ Property Investment Finance - Ultimate Guide
How does a construction loan work?
The fixed-rate construction loan works by providing a borrower with a set amount of money for the duration of the project. The borrower can use this money for construction costs, such as purchasing materials or hiring contractors.
When you start developing your property, your banks will provide funds in installments. These installments are called progress payments or progressive drawdowns.
Each level of construction will result in an invoice you must sign and send to your bank or broker. The bank will pay the builder after processing.
Interest will only be computed on money pulled down during this period. The interest rate on construction loans will remain constant throughout the loan term, so it's essential to consider the total cost of the loan before making a decision.
Once your property is developed and the final progress payment is received you will convert from interest-only to principal-and-interest payments.
Fixed-rate construction loans vary by bank, policy, and market. Before signing a contract:
Compare bank offers.
Consult a mortgage specialist or financial counselor.
Thoroughly understand the loan terms and circumstances, including early repayment penalties.
Property Finance Made Easy

We specialise in Development funding | Commercial finance | Construction loans | Portfolio refinancing & Property investment loans in Australia.