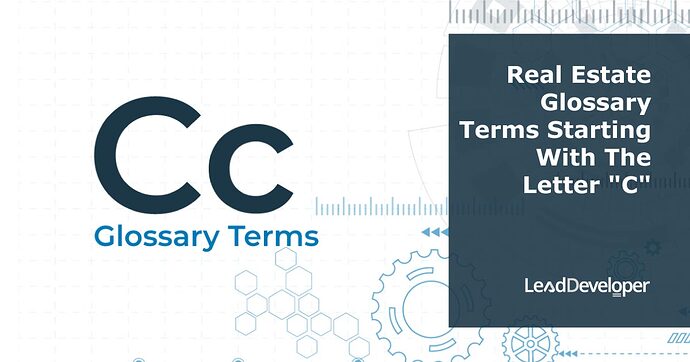 Continued from…
Clean out
A passageway to a drain line that has been opened.
Cleanout door
An outside door at the foot of the chimney enabling easy collection of ashes from the ash dump.
Clear span
The state of a structure in which a specific floor space is devoid of posts, support columns, or shear walls.
The quantity of floor space that is not obstructed by columns.
Clear title
Title to property that is free of liens, defects, or other encumbrances, save those accepted by the buyer, such as a mortgage to be absorbed or a limitation of record; established title; title free of clouds
A title that is unencumbered or unburdened by any flaws.
A clear title is one that is free of any liens or levy from creditors or other parties, and one that leaves no doubt about legal ownership.
Clearing account
A bank account used to deposit funds temporarily before they can be moved to a permanent account.
Clearing title
Examining all recorded and unrecorded instruments affecting a specific property and taking any required measures to rid or cure the title of any faults or clouds in order for the title to become a good, marketable title.
Client
a person who hires an agent or valuer and is obligated to pay a commission or fees to such agent or valuer.
The person or group for whom a property is built. Community groups, businesses, corporations, government agencies, and individual homeowners could all be included.
A person who hires another person to execute a service for them.
A principle is the person who hires an agent to execute a service for a price. The client is due the duty of care and diligence, as well as fiduciary responsibilities in common-law states and statutory duties in areas where the common law has been repealed. A broker may represent a seller, a buyer, a landlord, or a renter, depending on the transaction.
One who hires an agent or a valuer and to whom the agent or valuer should look for payment of his commission or fees in exchange for services rendered.
Client trust account
A trust account is a separate bank account established by a broker to keep a client's funds separate from the broker's general finances. In general, state law requires each broker to deposit cash not immediately released to escrow into a trust fund account with a bank or authorized depository within a set period following receipt. The trustee of the client trust account is the broker, and any monies put in the account must be accessible for withdrawal on demand. A single client trust account may normally service all of the broker's customers, as long as complete records are kept and made available for examination by the appropriate state licensing body. The primary broker at an agency is liable for all trust funds, and while the broker will normally approve a salesperson to deposit client funds in writing, the broker is ultimately accountable for the account. According to state rules, these accounts may or may not yield interest, and if interest is earned, the state will stipulate who may profit from the income earned. When significant money are involved, the broker may recommend the use of an interest-bearing account—there should be a clear understanding of who would profit from the interest (usually the buyer, not the seller or the broker).
One of the primary reasons for requiring a broker to keep a client trust account separate from the general account is to keep these funds from becoming "frozen" during legal actions against the broker, such as creditor attachments or probate of a dead broker's estate. Furthermore, because the account is custodial, the Federal Deposit Insurance Corporation personally covers each client's assets up to $250,000 provided the account is properly identified as custodial and the identity and interest of each owner in the deposit is stated on the depositor's records. If the broker combines personal or corporate money with client funds, this protection will not apply.
When operating as property manager for many income rental properties, a broker should set up a management trust account in addition to a client trust account for use with earnest money deposits. A basic ledger system is adequate rather than opening a separate trust account for each transaction.
Climate
The overall or typical state of the atmosphere at a certain location on the planet.
Clip ties
Sharply cut metal wires that protrude from a concrete foundation wall.
Close
The third step in a four-step process for managing transactions is bringing the parties together and making a deal. The letters in CLOSE stand for the things that can go wrong, legal documents, problems, signatures, and carrying out the plan.
Closed mortgage
A "lock-in" mortgage is one that cannot be repaid for a set amount of time or until it reaches maturity.
Closed-end fund
An offering by a partnership that closes after the sale of a certain number of units unless the partnership is amended.
A real estate fund from which investors cannot demand that their capital be redeemed or given back, and from which new investors cannot generally subscribe for additional units for cash unless when formally capital raising. They are generally limited-life structures, but the name 'closed-ended' refers to the fact that, unlike an open-ended fund, a finite number of units will be issued for a lengthy period of time.
Closed-end mortgage
A mortgage with a "no further encumbrance" provision that prevents the mortgagor from using the property as collateral for other loans.
Closed-wall construction
Factory-finished wall components with factory-installed electrical and plumbing systems arrive at the construction site.
Closing
The completion of a real estate deal in which the buyer receives ownership rights in exchange for a monetary payment to the seller.
The transfer of possession and title to real estate from one seller to another.
When a real estate transaction is completed, the seller transfers title to the buyer in exchange for payment of the purchase price. Closing may not occur until the documents are recorded in some locations; nonetheless, under general real estate law, title is transferred upon delivery of the deed to the grantee. In many states, the buyer and vendor do not meet together; each performs alone.
The word closing has various informal connotations in real estate industry. The word "closing a sale" refers to the process of getting the buyer and seller to agree on and sign the purchase agreement; the term "legal closure" refers to the exchange of title and money; and The actual disbursement of funds as ordered in the closing or settlement statements is referred to as financial close. "I'm going to the closing this afternoon," a person generally means going to the attorney's office, broker's office, mortgagee's office, or escrow business to complete the deal (sign the final documents, such as a mortgage, deed, or assignment of lease). When the purchase agreement is written, the broker normally estimates the closing date. A typical timeframe is thirty to forty-five days, which allows the buyer to see the property, investigate the title, and arrange financing while the seller prepares the conveyance paperwork and clears any title issues. The processing period is generally shorter if the purchase agreement asks for a contract for deed.
Closings can be handled by licensed escrow firms, lenders, banks, attorneys, brokers, or the parties themselves. Although the procedures are normally not governed by law, certain components of the closure, such as the federal Real Estate Settlement Procedures Act, may be (RESPA).
Unless a different date (such as the date of occupancy) is expressly indicated in the purchase agreement, prorations of expenditures split by buyer and seller (typically for such operations items as real property taxes and ground lease rent) are ordinarily determined as of the closing date. In this case, the phrase closing date refers to the legal closing date, which is the day on which the seller's and buyer's title paperwork are given and recorded.
Settlement agents are required by IRS laws to submit information of the closure to the IRS using Form 1099-B. Residences with four or less units must be recorded when they are sold or exchanged.
The final stage in completing a real estate deal.
Closing agent
A neutral third party in charge of putting together documentation for real estate transfers. A closing agent can also be a real estate broker, a lender, a title insurance business, and/or an attorney who is involved in the transaction.
Property Finance Made Easy

We specialise in Development funding | Commercial finance | Construction loans | Portfolio refinancing & Property investment loans in Australia.
Closing costs
Expenditures that must be paid in addition to the purchase price (in the case of the buyer's expenses) or subtracted from the selling profits (in the case of the seller's expenses). Some closing fees are mandated by law, while others are determined by local tradition and practice. To avoid disagreements, the contract should specify which party is responsible for certain "closing cost" components. The following are typical expenditures that the seller and buyer can face in a typical transaction.
Expenses incurred by the seller - cost of clearing title, certificate of title Title insurance, continuance, and abstract (when required by the sales contract) Fees for preparing a deed, a lease transfer, or a bill of sale Tax on conveyance Commission paid by the broker Fee for escrow (share with buyer) arrears interest/old loan Consent of the lessor to assign Penalty for prepayment Stacking and survey (if required) Inspection for pest control.
Buyer's Expenses - Fees for a new loan or assumption, new loan/prepaid interest Fees for registering deeds and mortgages Fee for escrow (share with seller), If needed, title insurance is available. Reimbursement of prepaid taxes to the seller Fees for appraisals and inspections Attorney costs for negotiating a deed contract Transfer of condominium fee Septic/well inspection
Other variable charges, such as real property taxes, prepaid insurance premiums, interest on assumed debts, rentals, and so on, must be apportioned between the seller and the buyer in addition to these closing costs, which are fixed at a certain amount regardless of the closing date.
Because these expenditures are directly tied to property ownership, they are often prorated as of the day title to the property passes, making the sellers liable for expenses incurred during their ownership of the property and the purchasers liable for expenses incurred after they acquire title. In some cases, the buyer is responsible for the costs as of the closing date. The lender must send the borrower a copy of HUD's settlement cost brochure Shopping for Your Home Loan (available at www.HUD.gov) and provide a good-faith estimate of closing costs expected to be incurred in financing the property under the federal RESPA rules. If the pamphlet and estimate are not delivered when the loan application is completed, they must be mailed within three business days. Until the property is recognized, the application is not deemed complete.
Expenses incurred as a result of the closing.
Settlement costs are costs in addition to the purchase price of a property that typically include a mortgage origination fee, title insurance, an attorney's fee, and pre-payable items such as taxes and insurance payments that are collected in advance at closing and held in an escrow account until needed.
These are fees that are paid at the end of a real estate transaction.
Closing date
The date when a transaction is completed.
Closing protection letter
The title insurance business issues this document to insured lenders and, in rare uncommon situations, insured owners. When their agents or approved attorneys manage the closing, the title insurers are responsible for any carelessness, fraud, or mistakes that may occur ("quasi-fidelity coverage").
Closing statement
A document that lists all of the lender's and purchaser's costs and accounts for all of the proceeds from a real estate sale.
A complete cash accounting of a real estate transaction prepared by a broker, escrow officer, attorney, or other person appointed to handle the transaction's mechanics, detailing all cash received, all charges and credits made, and all cash paid out. The HUD-1 settlement sheet is utilized for federally connected loans and is known as a closure statement, settlement statement, or adjustment sheet. The statement reveals how the buyer and seller split all closing and adjustment charges, as well as prepaid and unpaid expenditures. Separate closing statements are generated in many locations for the purchasers, indicating credits, charges, and the amount due at closing; the sellers, showing credits, charges, and the cash they will get at closing; and the broker, displaying a thorough accounting of all money received and expended throughout the transaction.
In a real estate transaction, the income and expenses used up are totaled.
Closure
The process of returning to the start point in a metes-and-bounds description. The description has no legal significance until the stated property is so "closed."
Cloud on title
Any document, claim, unreleased lien, or encumbrance that may undermine or injure a property's title or put doubt on its legitimacy on the surface. A title search will normally show any clouds on title, which may be cleared from the public record with a quitclaim deed or a quiet title case started by the property owner. Unless it is for a small annoyance item, the owner is usually precluded from passing a marketable title while the "cloud" persists.
(1) a recorded contract for deed that has not been withdrawn from the record but under which the buyer has defaulted; (2) a recorded option that was not exercised but still exists on the record; (3) a recorded mortgage paid in full but no satisfaction recorded; (4) property sold without the wife's release of her dower interest; (5) an heir of a prior owner with a questionable claim to the property; (6) a situation in which one of many heirs has not signed a deed; (7) a lis pendens (pending litigation) having been dropped but not removed from the record; (8) a lessee in default having an option to purchase, which is likely to
A claim or encumbrance on a property that causes the title to be tainted.
Cluster development
Housing units are clustered on smaller-than-normal home plots, with the remaining land used as communal amenities. Instead of building ten units per acre on a ten-acre plot, a developer may cluster 20 units per acre and set aside five acres for a common space with recreational facilities.
Cluster zoning
A zoning restriction that specifies a maximum residential or unit density for an entire area. According to flexible site-planning principles, the developer can concentrate or distribute the density within the region. This is in contrast to traditional zoning rules, which assign zoning on a lot-by-lot basis and set the same maximum density for all single-structure lots within a zoning district.
A type of zoning in which the density of an entire area is determined.
Clustering
A land development strategy in which buildings and infrastructure are clustered close yet huge continuous swaths of open space are left undeveloped.
Co-mortgagor
A person who signs a mortgage as a cosigner.
Co-obligor
One who shares an obligation with another, like someone who signs a promissory note with another person.
CO. An abbreviation for "Certificate of Occupancy"
Is an essential document that certifies a building's legal use and occupancy.
Coastal zone management act
The National Interest in Effective Planning, Management, Beneficial Use, Protection, and Development of the Saltwater and Great Lakes Coastal Zones Act of 1972 recognized the national interest in effective planning, management, beneficial use, protection, and development of the saltwater and Great Lakes The legislation requires governments to plan and create management strategies for their coastal zone's land and water resources.
Code of ethics
A set of written ethical conduct guidelines. Real estate brokerage is a business that needs specialized knowledge and expertise. Because of the nature of the connection between a broker and a client or other parties in a real estate transaction, brokers must adhere to a high level of ethics to guarantee that they operate in the best interests of both their principal and any third parties.
Most professional organizations have self-governing regulations in place, which include the imposition of sanctions for improper or negligent activity. Although these rules are officially only applied to members, courts are increasingly turning to the profession's code of ethics.
The National Association of REALTORS® (NAR) subscribes to a code of ethics that is constantly changing. The National Association of Realtors has released the pamphlet Interpretation of the Code of Ethics, which applies the code to real-life scenarios. There are also recognized Standards of Practice that interpret some of the articles of the Code of Ethics and can be used to back up claims of code breaches. Each four-year cycle requires REALTORS® to undergo ethics training. The Code is available at www.realtor.org in six languages: English, Chinese, Korean, Spanish, Tagalog, and Vietnamese."
Codicil
A will supplement or amendment that does not usually invalidate the whole will. A codicil must follow the same procedures as a will and be attested by the requisite number of witnesses.
Coefficient of correlation
A measure of how interrelated the values of variables in a sample or population are.
Coefficient of determination
A measure of the proportion of variation in the dependent variable caused by changes in the value of the independent variable. The word r-square is used in regression analysis.
Coefficient of multiple correlation
A percentage of the variance in the dependent variable that can be "explained" by variation in the independent variables.
Coefficient of runoff
The proportion of rainfall converted to overland or surface flow as represented by a number assigned to a kind of ground surface.
Coefficient of serial correlation
A measure of how closely results in later times are connected. The coefficients that can be used vary from zero to plus or minus one.
Coefficient of variation
The anticipated outcome is divided by the standard deviation of the distribution of potential outcomes.
Coefficients
In a regression equation, the estimated associations between an independent variable and a dependent variable. The coefficient additionally considers the effect of other independent variables and indicates the explanatory variable's marginal contribution to the anticipated value.
You are missing out if you haven't yet subscribed to our YouTube channel.
Coinsurance
A typical clause in building insurance plans that requires the policyholder to keep insurance on their property equivalent to at least 80% of the replacement cost. If the property is not covered for that amount and a loss occurs, the insurance company will prorate the insured's portion of the loss. For example, if the building is only insured for 60% of its worth and a $10,000 loss occurs, the insurance company will only pay $7,500 (60 percent + 80% [or percent] = $10,000). Because property values are continually rising, property owners should examine their insurance coverage on a regular basis to ensure that they stay under the 80 percent requirement. In addition, the insured can purchase inflation protection. In any case, any insurance policy's liability is restricted to the policy's face value. One explanation for the 80 percent rule is that fire often destroys no more than 80 percent of a building's worth; a portion of the structure is usually salvageable. Commercial and industrial hazard policies typically include coinsurance requirements, while homeowners' policies typically include a similar form of coinsurance coverage.
A typical clause is as follows:
If the amount of insurance in this policy on the damaged building at the time of loss is less than 80% of the complete replacement cost of the structure immediately prior to the loss, we will pay the larger of the following sums, up to the maximum of liability under this policy pertaining to the building:
(a) the real cash worth of that section of the building destroyed; or
(b) that portion of the cost to repair or replace, without deduction for depreciation,
Insurance coverage backed by a number of different insurers.
A condition in an insurance policy that specifies the minimum percentage of value that must be insured in order to recover the entire loss amount.
Cold air return
A vent that draws cold air into a furnace to be heated and returned to a room
Cold call
An unsolicited enquiry by a real estate office or salesperson to a potential buyer or seller as a means of introducing the firm or salesperson to the prospect. Making cold calls after 9:00 p.m. and before 8:00 a.m. is illegal under the federal Telephone Solicitation Act. Furthermore, the new federal do-not-call rule forbids companies from making unwanted phone calls to anyone who have registered their phone numbers.
Cold canvass
Obtaining listings by soliciting homes door to door. When looking for listings in a certain location, or properties of a specific kind or with specified amenities, real estate agents typically use this strategy.
Collapsible corporation
The premeditated use of a company to convert ordinary income into capital gain in order to evade corporate taxation—a circumstance that is prohibited by IRS guidelines. This notion is best appreciated by considering the following scenario: Two real estate brokers form a company to build a condominium. The firm develops the structure, significantly increasing the land's value. The dealers sell their stock in the business to a third party before selling the units and claim capital gain treatment on the sale of their shares. If an IRS agent looked into this transaction, he or she would most likely use the collapsible company guidelines if the property was owned for less than three years. The IRS would therefore allege that the stock transaction was analogous to the development sale and would be similarly taxable—that is, at ordinary income rates. These investors are penalized by the collapsible corporation laws, which classify the sale of their stock as ordinary income, as it would have been if the corporation had sold the development itself. Prior to the 1986 Tax Reform Act, these principles were crucial. Since 1986, a corporation's assets cannot be liquidated without the gain being recorded, and shareholders' shares cannot be sold without the gain being recognized at the corporate level.
Collar
Lange designed to be placed on top of a vent pipe in order to seal the roofing above the vent pipe opening.
Collar beam Nominal
Is a horizontal element that connects two rafters and is commonly used in the building of household roofs.
Collateral
A borrower's promise of marketable real or personal property as security for a loan.
Assets that are valuable to both the borrower and the lender, and that the borrower commits to the lender as collateral for the monies borrowed. If the borrower fails to meet their responsibilities under the loan arrangement, the lender might use these pledged assets to compensate them.
Property that has been offered as security for a debt.
Collateral is a pledge of specified property by a borrower to a lender in order to secure repayment of a loan.
Collateralized debt obligation (CDO)
A securities backed by a pool of different forms of debt, such as corporate bonds offered on the capital markets, institutional lender loans to firms.
Color of title
A situation in which a title looks to be fine but is really invalid due to a flaw (paper title).
A ten-acre property, for example, is deeded to the buyer by the seller. The buyer takes ownership of the property without realizing the seller was in possession of a fake deed. As a result, the buyer does not have legal ownership of the property. Because the adverse claimant under colour of title only needs to possess a portion of the premises described in the ineffective conveyance to acquire title to the entire ten-acre parcel, the buyer can acquire legal title to the entire ten-acre parcel by occupying the premises for a prescribed period of time, even if he physically occupied only part of the ten acres. If no deed was involved and the buyer negatively occupied only a portion of the ten acres, the buyer would only obtain title to the land actually occupied after the stipulated term ( or fenced or cultivated). A claimant who is not under colour of title also has a higher burden of evidence on each of the adverse possession factors.
To gain title by adverse possession in some states, a possessor of property under colour of title must be acting in good faith. That is, even when the deed is flawed, the possessor must think it is genuine (i.e., the possessor cannot be a squatter). As a result, the flaw in the deed cannot be so evident that a reasonable person would recognize it as invalid.
Color-infrared film
Photographic film that is sensitive to electromagnetic radiation in the visible and near-infrared wavelengths (usually from 0.4 to 0.9 millimeter).
Column
In architecture and structural engineering, a pillar is a load-bearing structural element.
Combed plywood
Modern residences frequently use this material, especially for interior finishes. Parallel grooves are combed across the exposed surface.
Combination
Combining two separate constructions into a single huge unit
Combustion air
The ductwork that is installed to supply fresh, outside air to the furnace and/or hot water heater. Normally, two separate air supplies are brought in - one high and one low.
Combustion chamber
The area where fir occurs in a furnace, boiler, or woodstove; this area is insulated with firebrick, molded, or sprayed insulation.
Comingle
Mixing funds, such as combining personal and company funds in a same checking account.
Commencement of work
As established by municipal legislation, the beginning of a noteworthy improvement in real estate. This precise period is significant in terms of a mechanic's lien's effective date (and consequently precedence over other liens like as mortgages), as well as shielding a builder against changes in zoning restrictions.
Commercial acre
The fraction of an acre of newly subdivided property that remains after roadways, sidewalks, parks, and other improvements have been made; the piece on which the developer is free to construct.
Commercial bank
A financial organization that serves as a secure depository and lender for a variety of commercial transactions (usually short-term loans). Commercial banks obtain the majority of their loanable cash from demand deposits (checking accounts), however they also receive capital from savings accounts, loans from other banks, short-term loan interest, and the equity invested by its owners.
Depository institutions that make short-term loans to firms for inventory finance and other working capital requirements.
Commercial leasehold insurance
Insurance to cover rent payments in the event that the insured (tenant) is unable to do so; commonly needed by a commercial lender in a shopping centre development as a condition of providing a leasehold mortgage.
Commercial mortgage-backed securities (CMBS)
Securities backed by one or more pools of commercial real estate mortgages, such as retail malls, industrial parks, office buildings, and hotels. The note holders get all principal and interest from the mortgages in a set order.
Commercial property
Commercially utilized premises (such as, office buildings, shops, warehouses and hotels).
Offices, motels, hotels, and retail stores are examples of real estate intended for commercial usage.
Income-producing property such as office buildings, petrol stations, restaurants, shopping malls, hotels and motels, parking lots, and stores are included in this category. Commercial real estate is generally designated for commercial use.
The property is meant to be used by all kinds of retail and wholesale stores, office buildings, hotels, and places that provide services.
Commercial real estate
Improvements to real estate held for the purpose of generating revenue through commercial or business leases.
A property that is utilized by businesses for commercial reasons, such as offices, offices, and so on.
Any apartment building, office building, industrial building, or storefront that can be bought or sold in a real estate market.
Commercial Zones
A commercial zone that includes hotels, retail stores, restaurants, and other service enterprises.
Commingled real estate funds
An investment advisor/fund manager pools investment cash from several pensior funds to acquire commercial real estate holdings.
Continued at…
Real Estate Glossary C [Part 4]