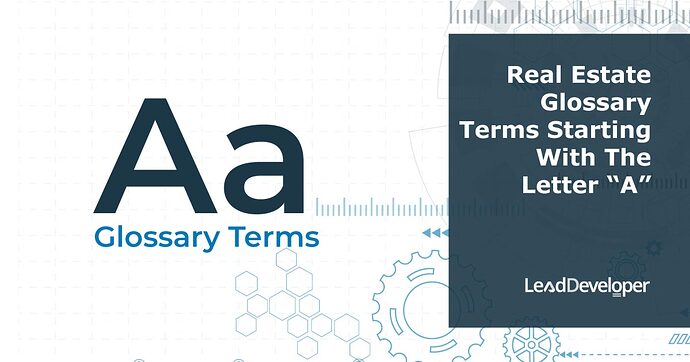 Continued from…
Abode
A house, home, or place of residence; the location where a person normally lives and sleeps at night.
Abrogate
To annul, repeal, or lay aside.
Absolute Interest
Absolute ownership of a piece of property.
Property Finance Made Easy

We specialise in Development funding | Commercial finance | Construction loans | Portfolio refinancing & Property investment loans in Australia.
Abstract of Auction
This is a summary of the newspaper auction advertisements that appear on the real estate page. In general, it provides a brief description of the auctions that will be held that day.
Abstract Title
A chronological listing of all conveyances, such as deeds, wills, and legal proceedings, with the parties' names, the land's description, and the agreement, arranged to demonstrate the continuity of ownership for land not subject to the Torrens system.
Abut
To touch or approach. A property may, for instance, "abut" a highway or share a boundary with another property.
Account Sales
A statement provided by an agent to their principal detailing all money received, minus expenses, from a sale.
Acquiring authority
A government agency, local authority, or other entity authorised by statute to acquire land by eminent domain.
Added value of improvements
The amount of money that buildings add to the market value of land, based on the replacement costs of the buildings minus depreciation.
Adjacent
To be in close proximity; to be in the neighborhood or vicinity without "abutting."
Adjoining
Two land parcels that share a common boundary.
Aggregation
The consolidation of various parcels of an estate into a single total for the purpose of calculating estate duty.
Agistment
When a landowner allows cattle, horses, or other similar animals to graze on his property in exchange for a fee.
Alienation of land
The ability of the owner or tenant to sell their interest in real or personal property. The transfer of land ownership.
Alignment
The repair of a line. The boundary has been established.
Amenity Building
A building or part of a building used by employees or persons employed in an industry or business for their personal comfort, convenience, or leisure enjoyment separate from the industry or business's work.
Amplification
Amplification is the expansion of utilities for the purpose of servicing urban land, such as the expansion of water or sewerage mains due to increased demand or the need for more capacity.
Annual value
Means the rent at which a property could reasonably be expected to let from year to year.
Apartment house
A structure containing separate residential units, typically three or more, and providing amenities such as a common main entrance and stairs or elevators.
You are missing out if you haven't yet subscribed to our YouTube channel.
Arbiter
An impartial third party appointed to conduct an arbitration. Is typically a person with experience and/or qualifications in a specific field who is nominated by the parties.
Assumption of mortgage
When a buyer acquires ownership of mortgaged real estate, he may assume responsibility as the guarantor for the unpaid balance of the mortgage. A buyer in this situation is responsible for the mortgage repayment.
Auction agency agreement
When a property is listed for auction, the vendor is required to sign an agreement. The reserve price of the house and the auction costs, including advertising and the agent's commission, are detailed. Usually includes a provision stating that one agent will have the sole right to sell the property during and after the auction.
A-REIT
A Real Estate Investment Trust in Australia, which used to be called Listed Property Trusts.
An A-REIT is an Australian property trust that is listed on the stock market. It buys property, usually commercial property, and manages it for investors.
A/C
Cooling the air.
Accessible housing
A house that is made to be easier to get into for people who are blind or have physical disabilities.
Adaptable housing
A house that can be easily and cheaply changed to make it easier for people with physical disabilities or vision problems to get in and out of.
Adj
Adjacent.
Amen
Amenities.
APRA
Prudential Regulation Authority of Australia. An independent government agency that oversees institutions in banking, insurance, and superannuation and works to keep Australia's financial system stable.
ASIC
Commission for Australian Securities and Investments. An independent commission of the Australian government with the job of overseeing businesses across the country.
Continued at…
Real Estate Glossary A [Part 10]