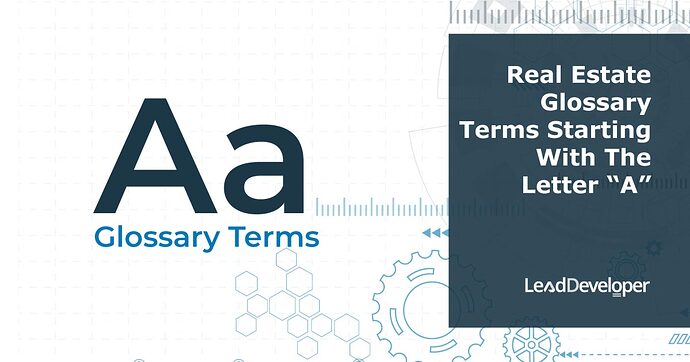 Continued from…
Auction
The public sale of property where the highest bidder is the successful buyer.
Selling an asset to the highest bidder is known as auctioning.
The sale of property in front of the public, where the highest bidder is usually the winner.
A way to sell land or personal property in which people make oral offers and the property is sold to the person who can pay the most. Some states make auctioneers who sell real estate get a special license. Usually, real estate auctions are used to sell homes that have been foreclosed on, tax sales, and properties that are hard to sell. In a "without reserve" auction, the auctioneer can't get rid of the goods or bid on them himself or through an agent.
In the secondary mortgage market, Fannie Mae buys mortgages from approved lenders in an auction-style process called a free market system auction, which is called that. In recent years, auctions have become a new way to sell real estate, especially when lenders or developers want to sell a lot of properties quickly.
The public sale of any property, real or personal, by a licenced auctioneer, who offers the property for sale at a price that may be much lower than its value and attempts to persuade those present to make successively higher offers until it is knocked down to the highest bidder. The owner may set a reserve price for the property, and no sale can take place if this price is not met.
Auctioneer
In this case, it is someone who is legally allowed to sell real or personal property at a public sale. Some states say that the auctioneer must be licensed both as an auctioneer and as a real estate broker in order to sell real estate at a sale.
The person who sells or puts up for sale real estate where the highest bidder wins.
Augmented Estate
A way to figure out which of the decedent's assets are subject to the surviving spouse's right of choice (forced share), even if the deceased spouse died testate or intestate. It also includes some lifetime gifts of property made by the decedent to people other than his or her spouse. The addition of these lifetime gifts is in line with the policy of not leaving the surviving spouse out of the will.
Authorization To Sell
A contract in which a seller hires an agent to find a buyer for their home. It usually doesn't give the agent the power to sign a legally binding contract for sale; this kind of power usually needs to be given by someone else, like in a limited power of attorney.
Property Finance Made Easy

We specialise in Development funding | Commercial finance | Construction loans | Portfolio refinancing & Property investment loans in Australia.
Automated Underwriting
A loan underwriting strategy that takes use of the convergence of cyber-technology with the extensive lending expertise embedded in the massive loan portfolios of Freddie Mac, Fannie Mae, and other big mortgage lenders.
Automated Valuation Model (AVM)
A property valuation generated by computer.
Long-distance, electronic appraisal alternatives are used to decrease the cost and time involved with loan underwriting, especially when refinancing an existing loan. Estimated values are based on statistical methodologies that make use of Fannie Mae, Freddie Mac, and huge banks' enormous data resources.
Automatic Renewal Clause
A lease condition that automatically revives the contract unless both the renter and the owner mutually agree to end it.
Avenue
A fully upgraded through road that is used by local or minor collector traffic and is landscaped and planted with trees.
Average
A group of numbers' computed central value
Insurers use the term 'subject to average' when responding to a claim on property that has been insured for less than its full worth.
Average Rate Of Return
Things to keep in mind that result in average earnings or cash flow numbers expressed as a percentage of net or ownership cost.
Average Rate On After Tax Cash Flow
The average rates are determined by dividing the after-tax income stream by the equity expenses.
You are missing out if you haven't yet subscribed to our YouTube channel.
Average Rate On Before Tax Cash Flow
The average profit can be made by dividing the average before-tax income stream by equity costs.
Average Rate On Net Operating Income
The average profit can be made by dividing operating profit by investment costs.
Avigation Easement
An easement that can be bought or taken away so that planes coming into an airport can fly over private land at low altitudes. This effectively stops landowners near airports from building above a certain height or cutting down trees.
Avulsion
A quick and noticeable shift in land borders caused by floods or abrupt changes in the path of rivers or streams.
Avulsion
Lost land because it was washed away by a sudden or violent act from nature. Land that is lost by avulsion usually doesn't lose its owner. The boundary lines stay the same, no matter how much soil is lost, and the former owner can get back the land. A person who owns land next to a river or stream loses ownership of land that is washed away by erosion.
Axial Growth
Along major transportation routes, cities grow outside of the city centre. Usually, this pattern is shaped like a star.
Azimuth
The angle between a north-south line and a boundary line measured from the north point in the northern hemisphere and the south point in the southern hemisphere. There are two azimuths for every line, based on which way you look down the line. Because line A + B is 240° long, the angle of line A+B is 60° long.
Continued at…
Real Estate Glossary A [Part 9]