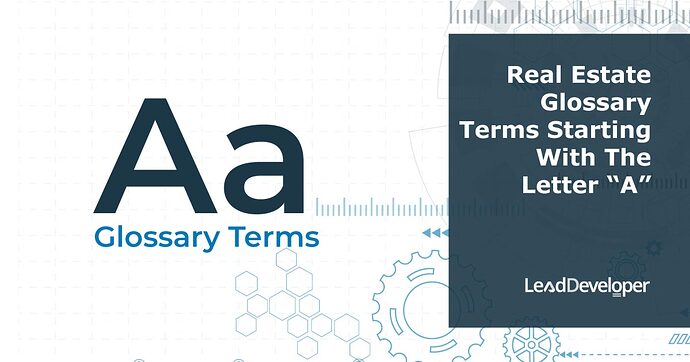 Continued from…
A lender or a loan holder or a note holder
The Lender in an AB Arrangement that holds the A Loan.
A loan
In an AB Structure, the senior tranche.
A loan or a note
In an AB Structure, the senior tranche is often securitized or included in a CMBS.
A notes
The ABS or MBS issue's seniormost tranche. They have priority over other tranches in terms of both loan terms and principal payments. A Notes are suitable for institutional investors under regulation because they are rated as Investment Grade.
AAOIFI
Organization For Islamic Financial Institutions' Accounting Audits.
Ab structure
An ownership of a single mortgage loan is divided into one or more senior tranches and one or more subordinate tranches in a senior-subordinate debt structure.
ABCDS
Credit Derivatives with CMBS, MBS, ABS, or CDO Securities as a reference. The CPS Template or the PAUG Template are frequently used to draught ABCDS.
Acceleration
The procedure by which a Loan is made due and payable before its due date, typically after the occurrence of an Event of Default.
Property Finance Made Easy

We specialise in Development funding | Commercial finance | Construction loans | Portfolio refinancing & Property investment loans in Australia.
Accounting records
Records of assets and liabilities, financial transactions, different journals, ledgers, and supporting materials (such contracts, checks, invoices, and vouchers) that certain organisations are required to preserve for a specific period of time. These records may be kept manually or digitally.
Accrued rate
The rate at which a loan's interest is assessed or due.
Administration
The process outlined in the Insolvency Act of 1986 via which a company's assets can be sold or reorganised while still being protected by a statutory moratorium. At the conclusion of the administration, the company will typically have undergone a restructuring or the Administrator will have sold the company's assets and/or business. A court order is required to start the administration process; alternatively, the corporation, its directors, or the owner of a Qualified Floating Charge may use an out-of-court appointment process.
Administration rate
The annual servicing charge expressed as a proportion of each loan's outstanding principle balance.
Administrative receivership
The procedure by which a secured creditor may obtain possession of property covered by its security. An administrative receiver may be appointed by creditors who have Floating Charges (established prior to September 15, 2003) over all (or nearly all) of the company's assets. Administrative Receivership is only an option for Floating Charges made on or after September 15, 2003, and only in a select few extraordinary situations.
An Administrator may be chosen by the owner of a Qualified Floating Charge established on or after September 15, 2003.
Advisory committee
A committee made up of representatives from the larger investors in a private equity fund is set up to assess and approve contentious situations as well as other important fund-related decisions.
Aggregation risk
The risk taken when mortgages are stored while being gathered into a pool for eventual securitization The mortgage holder is exposed to the risk that, as a result of things like negative interest rate changes or credit losses, the value of the mortgages would decrease before the securitization can be put into action.
AIM
The London Stock Exchange's Alternative Investment Market.
Al-Musharaka
A partnership contract, in which a bank joins with one or more clients, is the basis of an Islamic finance technique.
Al-Sharika
A partnership for profit is referred to in Islamic finance.
All in cost
The overall cost of a securitization to the issuer or sponsor, amortised over the anticipated average life of the issue, including the interest rate paid to investors' underwriting expenditures and various other costs including legal and paperwork fees. This is sometimes expressed in basis points to show how much more yield would have been obtained had these costs not been incurred during the establishment of the security.
Allocated percentage
The part of a mortgage loan's principle that is linked to each specific property when the loan is secured by a number of properties. The net operating income or net cash flow from one property is typically divided by the total net operating income or net cash flow from all of the properties used as collateral for the loan to determine the proportion. Hence, the total of all the assigned percentages should equal 100%.
Allocation of realised CMBS losses
A CMBS clause outlining the distribution of realised losses among the various classes of certificate holders.
You are missing out if you haven't yet subscribed to our YouTube channel.
Alternative a loan
A top-tier residential mortgage loan that generally complies with prime credit standards, despite the fact that the loan's LTV ratio, loan documentation, occupancy status, property type, or other criteria prevent it from being eligible for underwriting under conventional rules. Usually, loans are categorised as alternative A because of incomplete documentation.
American depository receipts
A system created to make it easier to trade shares of non-US corporations on US stock exchanges. The major goal is to design an instrument that can be quickly resolved through clearing mechanisms used on the US stock market.
Amortisation polled
A time frame within which any associated securities of a transaction's outstanding balance are partially repaid This can come after the transaction's revolving phase.
Annual payment cap
The highest percentage by which the outstanding principal and interest payments on an ARM loan may grow in any given year.
Annualised net rents
Every year's anticipated increase in gross rentals (as evaluated by outside valuers) less any ground rents due under the category Leases is equal to the total gross rent profits collected by a landlord plus, if any rent reviews are still pending, that increase's estimated rent increase.
Appraisal reduction
An appraisal will be conducted to see if the property worth warrants any additional advances by the Servicer after specific events based on loan delinquency. The Servicer will cease making principle and interest payments on the loan to the Trustee or cut them if the value is decreased below the loan sum plus authorised advances. The Trustee will then start with the first-loss security and lower principal and interest payments to certificate holders based on their priority.
Arbitrage CDO
A CDO transaction that is based on assets with an aggregate yield that is lower than the yield at which the transaction's securities issued in connection with it can be sold or funded.
Arrangement fee
The payment a borrower must make to a loan arranger.
Arranger
The bank that coordinates a loan with multiple lenders.
Asset liquidity
The ability to change ownership and/or the asset's financial structure easily is a measure of a real estate asset's quality.
Asset originator
Whomever extended credit to one or more creditors in order to create an asset or collection of assets.
Asset protection scheme
A programme launched by the UK government in June 2009 that will allow it to charge participating institutions a fee in exchange for protection against potential credit losses on specified asset portfolios.
Asset reliability
The standard of a real estate asset as determined by ownership and/or use-related factors.
Asset-backed commercial paper
A short-term investment product offered by a bank or other financial institution, often with a maturity of 90 to 180 days. The notes are utilised to meet short-term finance needs and are backed by tangible assets.
Asset-independent approach
A synthetic securities rating methodology that is not based on a credit assessment of the SPE's assets. Instead, the credit rating is determined by the swap counterparty's or its guarantor's creditworthiness.
Attribution analysis
The approach used to explain results using stock selection, sector allocation, active management, and target styles including core real estate investment, core plus real estate investment, or opportunistic.
Ausbietungsgarantie
German for a pledge by a secured lender to a bidder that, should the reserve price be reached, the lender will release its security.
Authorised investment funds (AIF)
Unlisted UK funds that are tax exempt.
Authorised unit trust
A unit trust with headquarters in the UK and FSA approval to advertise its units to the general public (often referred to as retail investors).
Available funds
Any and all resources accessible to or obtained from the borrower or borrowers (such as principle and interest payments or prepayments) to fulfil loan repayment obligations.
Available funds cap
The total amount of interest accumulated on a group of loans was used as a cap on the amount of interest that could be paid to noteholders.
Average life
An estimation of an investment's expected lifespan based on the typical time it takes for the principal to be returned in full.
"As-Is" Condition
The renter agrees to take the property in its current state at the time the lease is signed. This would mean accepting any physical flaws, code violations, or other problems with the building's physical and legal state.
Above Building Standard
Upgraded finishes and a customised layout are needed to meet the needs of a renter.
Absorption
The rate, expressed as a percentage, at which available room in a marketplace is rented for a set amount of time. "Market Absorption" is another name for this.
Allowance over building shell
Most of the time, a blank canvas is used in a property that hasn't been built yet. This gives the tenant a chance to customise the internal finishes to their liking. With this plan, the owner can spend no more than a certain amount of money over the agreed-upon price of the building shell. This deal works best when both sides agree on a clear description of what building is included and how much it will cost.
Attorn
To give or send money or things to someone else. To agree to let the new owner of a building live there and pay rent to them. When a tenant decides to attorn to the buyer or the lender foreclosing on the property, the lessee accepts the new owner as the landlord.