Exit strategies for property developers?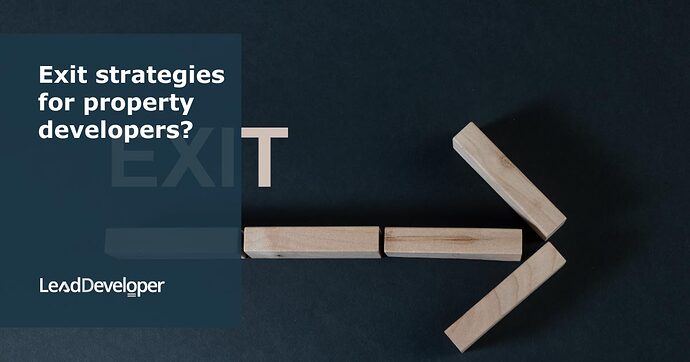 Finding the ideal location, acquiring funding, and managing the construction process are just a few of the innumerable decisions that property developers make on their way to success. Yet, preparing for an exit strategy is a crucial but frequently disregarded part of real estate growth.
A well-thought-out exit strategy can be the difference between your success and failure, whether your goal is to sell the property for a profit or hold onto ownership for rental income.
Here are various exit strategies for property developers to help you successfully plan and execute a real estate development project.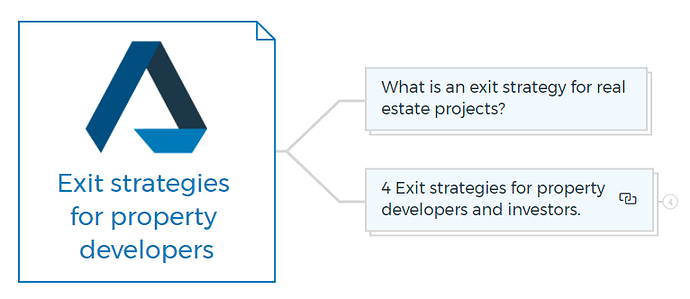 What is an exit strategy for real estate projects?
An exit strategy in real estate refers to how a property developer or investor intends to exit an investment in a particular property or real estate project.
Essentially, it is a plan for converting real estate investment into cash or other forms of value.
An exit strategy may be a short-term or a long-term plan, and it can take many forms depending on the investor's objectives and the nature of the real estate investment.
In simple terms, exit strategies refer to property developers' methods to exit a real estate development project once it is complete.
You are missing out if you haven't yet subscribed to our YouTube channel.
4 Exit strategies for property developers and investors.
The most common exit strategies for property developers are: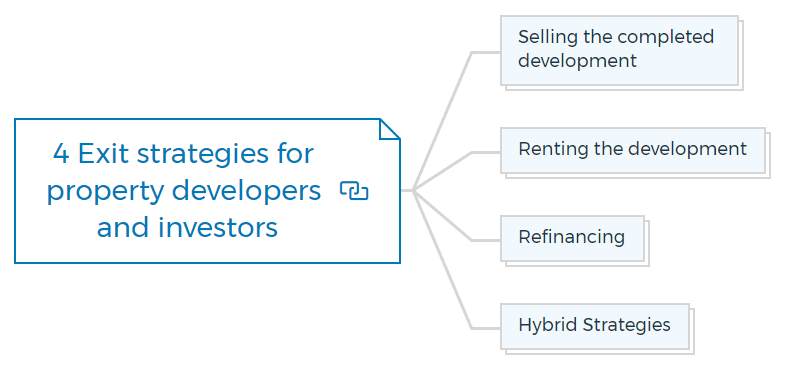 Exit Strategy 1: Selling the completed development [Develop & Sell]
This is the most common exit strategy, where the developer sells the completed development to a buyer, such as an individual or another developer.
Exit Strategy 2: Renting the development [Develop & Hold]
Real estate developers may rent out the development to tenants, either short-term or long-term. This can provide a steady stream of income for the developer.
Renting out a property can give the developer a clear idea of when to sell the property.
Overall, renting a development can be a viable exit strategy for property developers looking for long-term, consistent income and potential appreciation in property value.
Industry Insiders' Secrets To Managing Risks & Avoiding Mistakes & Pitfalls In Property Development

Get the Risks & Mistakes Bundle Now

Includes 5 x detailed eBooks [120 pages]

✓ Risks In Property Development - Industry Insiders Guide (26 Pages)
✓ 10 Big (Financial) Property Investing Mistakes Made By Investors (58 Pages)
✓ 7 Property Development Mistakes And How To Avoid Them (8 Pages)
✓ 5 Reasons Buy-and-hold Investors Fail At Property Development (12 Pages)
✓ Property Mastermind: 8 Skills Needed For Property Development Success (16 Pages)
Exit Strategy 3: Refinancing
Developers may also choose to refinance their development to raise capital for another project, this process may be helpful if the developer has a good relationship with the lender and the lender is willing to work with the developer.
It allows them to extract equity from their own property and use it to fund new projects or repay debt. Refinancing is best to get immediate cash flow without even selling the property.
A developer can use this amount to obtain a new loan larger than the existing loan. Learn more about the residual stock loans that can be used to refinance unsold stock.
Learn More
Exit Strategy 4: Hybrid Strategy
Developers may combine different exit strategies. For example, they can sell some units and keep others for rental income.
The choice of exit strategy will depend on the specific project, the developer's goals, and the market conditions.
Real estate developers need to have a clear exit strategy in mind from the beginning of the project to ensure that they can maximize their return on investment.
Are you eager to explore the dynamic world of property development? Look no further than my FREE Quick Start Property Development Course, designed to equip you with the essential knowledge and skills needed to succeed in this exciting field.
From identifying lucrative opportunities to navigating the complexities of financing and construction, this comprehensive course provides a comprehensive roadmap to help you thrive as a property developer. Sign up now and unlock your potential in the thriving world of real estate!