Residual stock loan: refinance unsold stock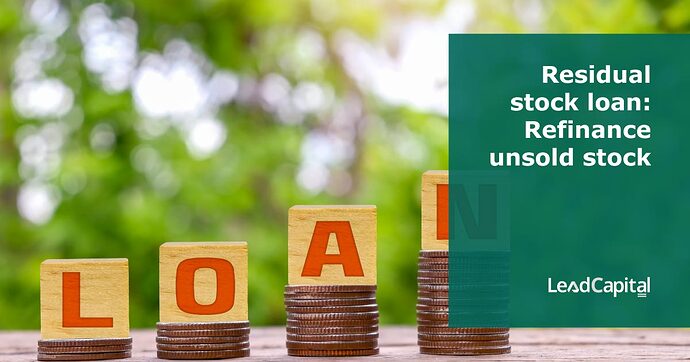 Residual stock loans are the best way to protect your investment. Carefully refinancing and selling down your stock will protect its value and give you a reliable return on your investment.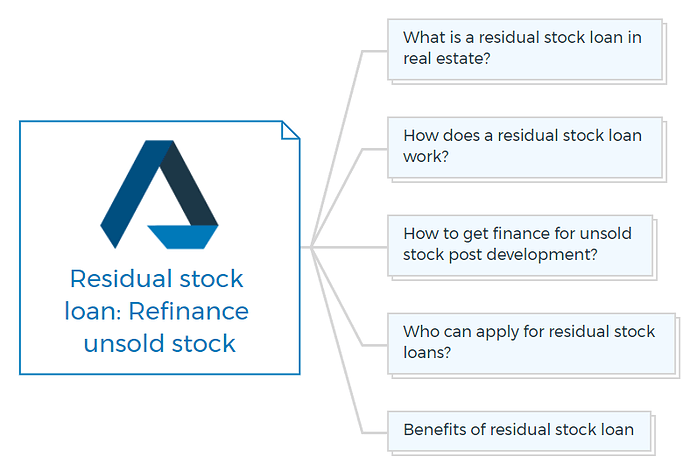 What is a residual stock loan in real estate?
When a development project is done, the developer may choose to keep part of the unsold units or homes rather than sell them to pay off the remaining balance of the property development loan. Taking a loan against these unsold units is referred to as a take-out or residual stock loan.
The lender for your development loan may want you to hit a specific sales target before they release any money to you. You have to pay back the facility after the development is done. You can do this by selling some of the residual stocks or refinancing with a new lender.
The residual stock loan works as an agreement between the lender and the borrower. The lender provides money to the borrower and receives a percentage of the profits generated from the real estate project.
You are missing out if you haven't yet subscribed to our YouTube channel.
How does a residual stock loan work?
Property developers employ residual stock loans to maximise ROI from completed projects with unsold apartments.
It may be hard to sell the remaining stock during a market downturn. This means that the developer will need more time to pay off the rest of the construction loan. Instead of lowering their prices, developers can hold on to some of their stock and sell it when the market is better.
Residual stock finance refinanced the development debt against unsold units and paid back over 6-12 months.
Residual stock loans save money by replacing construction finance with a lower-interest residual loan. These loans are cheaper because there is no construction risk.
Even if sales cover the construction debt, the developer may wish to borrow against their equity in the remaining stock to fund their next project. Developers can employ residual stock loans for operating cash to buy their next development site or other projects.
How To Finance Your Property Development Project?

And Other Books On Real Estate Development Finance

Download Free

Includes 5 x detailed eBooks

✓ Property Development Finance: Easily Finance Your Project? (26 Pages)
✓ 10 Big (Financial) Property Investing Mistakes Made By Investors (58 Pages)
✓ 10 Finance Options For Your Next Property Development Project (29 Pages)
✓ What Is Equity Finance And How Does It Work? (42 Pages)
✓ Property Investment Finance - Ultimate Guide

Download Free
How to get finance for unsold stock post development?
A residual stock loan in property development in Australia is a type of loan where a developer pledges a portion of the residual units in a property development project as collateral.
The developer retains ownership of the units while they are used as collateral, but they cannot be sold or traded without the lender's permission.
The loan is typically used to finance the remaining construction and completion of a development project. The lender earns a return by charging interest on the loan and collecting a fee for the use of the units as collateral.
The term "residual stock" refers to the units in a property development that are left over after pre-sales or presales, and it is typically used as collateral in a stock loan.
Who can apply for residual stock loans?
Residual stock loans are intended for experienced real estate developers who have completed a project and wish to retain a portion of the remaining units/dwellings rather than selling them to pay off their development loan.
Benefits of residual stock loan
Residual stock loans can be helpful to free up equity for reinvestment into other productive assets. You can use this equity to -
Buy the next construction site.
Contribute additional equity to a real estate project.
Working capital.
Renovate older buildings within your investment portfolio.
Get started in property development with little or no money. Explore the strategy to no-money down deals.
Property Finance Made Easy

We specialise in Development funding | Commercial finance | Construction loans | Portfolio refinancing & Property investment loans in Australia.