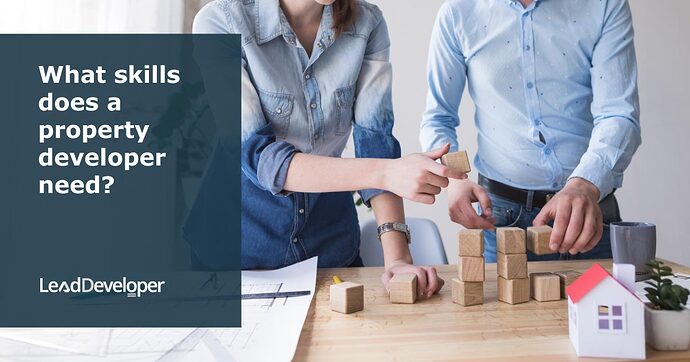 There are several skills that you will need to become a property developer. Here are the important ones you should start working on immediately.
Skills required to become a property developer

1. Project Management
How you manage a project determines your success or failure. As a property developer, you must coordinate with your team members. Thus you have a good understanding and knowledge of their work.
Completing a real estate project on time and under budget makes you a successful property developer.
If you are new in the real estate industry and scared to manage your project, let me help you. Be a part of my property development mentorship program, and I will be with you from start to finish.
You are missing out if you haven't yet subscribed to our YouTube channel.
2. Networking
Strong networking with real estate professionals and experts offers thousands of development opportunities.
When you get the thought of becoming a property developer, that's the time you should start building your relations with property experts.
This may include real estate agents, builders, architects, contractors, and sometimes government officials.
Your contacts can provide you with your first property development project. Having terms with these professionals also helps in getting funding for development.
3. Financing skills
Financing skills are all about getting funds and managing your development finance. Learning this skill might take time, but it pays you in the long run.
Learn about real estate development financing options, such as mezzanine finance, joint ventures, crowdfunding, bank loans, etc.
Property Development Books - "Starter-Pack"

18 Property Development Books To Get You Started Now

Yes! I'm ready to start now

Includes 18 x detailed eBooks

✓ Property Development Checklist - 6 Pages
✓ How To Finance Your Property Development Project? - 13 Pages
✓ Property Development Team - 19 Pages
✓ Site Acquisition Process - 14 Pages
✓ The Ultimate Guide To Getting Started In Property Development - 42 Pages
✓ My Secret Property Development Process - 28 Pages
✓ How To Nail Your Next No Money Down Deal? - 29 Pages
✓ Industry Insiders Guide To Managing Risks In Property Development - 26 Pages
✓ How To Become A Property Developer? - 41 Pages
✓ Do You Have What It Takes To Be A Property Developer? - 12 Pages
✓ 7 Common Mistakes Made By Property Developers & How To Avoid Them? - 12 Pages
✓ 5 Reasons, Buy & Hold Property Investors Fail At Property Development - 16 Pages
✓ 10 Financial Mistakes Made By Property Investors & Developers - 54 Pages
✓ My 26 Question Due Diligence Checklist - 21 Pages
✓ Property Development 101: The Feasibility Study - 34 Pages
✓ Property Development 101: Construction Guide - 55 Pages
✓ Property Development Blueprint - 66 Pages
✓ Your Definitive Guide To Property Options - 36 Pages

Get Starter Pack
4. Sales and marketing
You can only make money through property development when you can market your project.
People should know what you built and why they should invest in your project. You can generate a good investment return by marketing and selling your project.
These are some crucial skills that you should start working on. But above all, you must have a strong passion for the real estate industry.
Unlock the secrets of becoming a property developer with no money, and start your journey now.
Property Finance Made Easy

We specialise in Development funding | Commercial finance | Construction loans | Portfolio refinancing & Property investment loans in Australia.