Types of real estate developers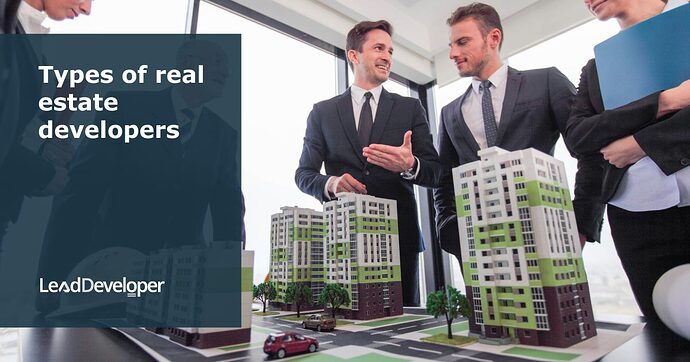 You may come across many real estate developers in the real estate industry. To help understand the different types of real estate developers, I've divided them into three categories based on their business goals: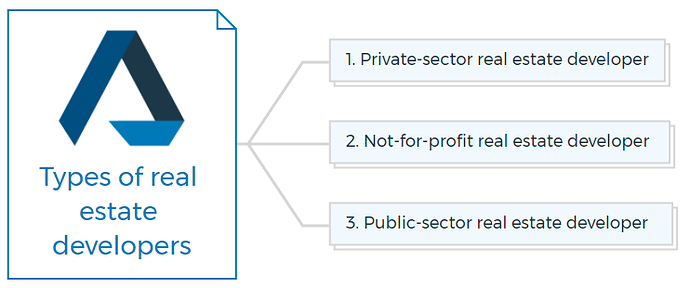 1. Private-sector real estate developer
As you begin your real estate development career, you may find yourself as a private-sector real estate developer.
You charge and receive a developer's fee while working on your development project, which is often dependent on the total development costs of your project. You will earn a reversionary profit on the sale of the project and your development fee.
Because there is no cash flow from the project during development, the development fee you earn is mostly used to cover your administrative expenditures, food, and living expenses.
Your reversionary profit on the sale of that project will account for the majority of your earnings.
The developer's fee, which is larger than the private-sector developer's, is the primary source of revenue for not-for-profit real estate developers. The explanation for this is straightforward. The projects that non-profit developers work on will not have a direct stake (ownership).
They have no right to receive reversionary profit from project sales. As a result, the developer's fee serves as an incentive for not-for-profit developers, with both positive and negative features.
The private-sector real estate developer stands to profit handsomely from the completion of a project; as a result, the private-sector property developer takes a great deal of risk to reap that profit. On the other hand, there are no guarantees that a private-sector developer will be able to raise funds.
You are missing out if you haven't yet subscribed to our YouTube channel.
2. Not-for-profit real estate developer
The non-profit real estate developer benefits from working in a niche market of mostly privately operated hospitals and schools. These non-profit organizations, on the other hand, are self-funded by annual allocations.
As a result, if the not-for-profit client runs out of money during a fiscal year, the not-for-profit developer may not be paid until the next fiscal year.
Property Development Books - "Starter-Pack"

18 Property Development Books To Get You Started Now

Yes! I'm ready to start now

Includes 18 x detailed eBooks

✓ Property Development Checklist - 6 Pages
✓ How To Finance Your Property Development Project? - 13 Pages
✓ Property Development Team - 19 Pages
✓ Site Acquisition Process - 14 Pages
✓ The Ultimate Guide To Getting Started In Property Development - 42 Pages
✓ My Secret Property Development Process - 28 Pages
✓ How To Nail Your Next No Money Down Deal? - 29 Pages
✓ Industry Insiders Guide To Managing Risks In Property Development - 26 Pages
✓ How To Become A Property Developer? - 41 Pages
✓ Do You Have What It Takes To Be A Property Developer? - 12 Pages
✓ 7 Common Mistakes Made By Property Developers & How To Avoid Them? - 12 Pages
✓ 5 Reasons, Buy & Hold Property Investors Fail At Property Development - 16 Pages
✓ 10 Financial Mistakes Made By Property Investors & Developers - 54 Pages
✓ My 26 Question Due Diligence Checklist - 21 Pages
✓ Property Development 101: The Feasibility Study - 34 Pages
✓ Property Development 101: Construction Guide - 55 Pages
✓ Property Development Blueprint - 66 Pages
✓ Your Definitive Guide To Property Options - 36 Pages

Get Starter Pack
3. Public-sector real estate developer
Unlike private-sector developers, public-sector developers only earn a developer's fee and are not entitled to a reversionary profit.
Public-sector developers, like non-profit developers, work in a niche market, constructing hospitals, schools, and government facilities. The construction of these structures requires a high level of expertise, and the project volume is small.
As a result, a real estate developer in the public sector can do fairly well. Furthermore, the public-sector developer has a rating government as a client, for which they will be compensated.