Is becoming a property developer hard?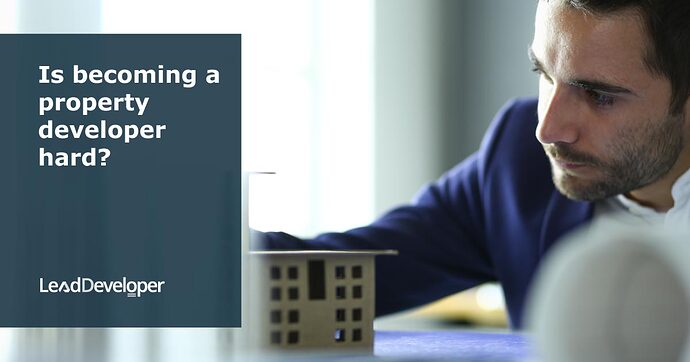 Becoming a property developer is not hard, but it can be challenging.
There are a lot of risks and challenges that real estate developers have to deal with that can halt projects and reduce profits.

Challenges in real estate development
Securing funds
It can be hard for a novice property developer to obtain funds from different sources to get the project off the ground.
Developers often need a strong track record and a solid business plan to secure funding from banks or other investors.
Learn more - Property development finance made easy.
Cost Overruns
Cost overruns can wipe out real estate development profits. Labour and material expenditures, snag, and modification orders can blow budgets.
Cost overruns are the developer's responsibility, so it's advisable to go over budget by 10% to 20%. To account for unavoidable delays, add 10% or 15% to each project stage's time.
You are missing out if you haven't yet subscribed to our YouTube channel.
Not studying the real estate market.
Property development is a complex process that requires a wide range of skills and knowledge.
Developers need to understand the local real estate market, building codes and regulations, and zoning laws.
They also need to be able to work effectively with a variety of stakeholders, including architects, contractors, and local authorities.
Developers must understand to pursue projects that are driven by current market needs. They are not supposed to create a need.
Developers consider the trade area, economic, educational, employment, and environmental elements to assess the market.
Learn More
Risks
Property development is risky, and many potential pitfalls can lead to delays, cost overruns, and even project failure.
Developers need to manage these risks effectively, including understanding the potential risks involved in a project, developing a risk management plan, and having contingency plans in place.
It's important to note that becoming a property developer can be a long-term and challenging process; it involves a lot of hard work, patience, dedication and perseverance.
Many potential challenges and obstacles can arise along the way. Still, with a good plan, proper funding, and a solid team of experts, it is possible to overcome these challenges and become a successful property developer.
Expertise
Property development requires expertise and experience in areas such as real estate, construction, finance, and project management. Developers need to have a strong understanding of each of these areas in order to make informed decisions and avoid costly mistakes.
Property Development Books - "Starter-Pack"

18 Property Development Books To Get You Started Now

Includes 18 x detailed eBooks

✓ Property Development Checklist - 6 Pages
✓ How To Finance Your Property Development Project? - 13 Pages
✓ Property Development Team - 19 Pages
✓ Site Acquisition Process - 14 Pages
✓ The Ultimate Guide To Getting Started In Property Development - 42 Pages
✓ My Secret Property Development Process - 28 Pages
✓ How To Nail Your Next No Money Down Deal? - 29 Pages
✓ Industry Insiders Guide To Managing Risks In Property Development - 26 Pages
✓ How To Become A Property Developer? - 41 Pages
✓ Do You Have What It Takes To Be A Property Developer? - 12 Pages
✓ 7 Common Mistakes Made By Property Developers & How To Avoid Them? - 12 Pages
✓ 5 Reasons, Buy & Hold Property Investors Fail At Property Development - 16 Pages
✓ 10 Financial Mistakes Made By Property Investors & Developers - 54 Pages
✓ My 26 Question Due Diligence Checklist - 21 Pages
✓ Property Development 101: The Feasibility Study - 34 Pages
✓ Property Development 101: Construction Guide - 55 Pages
✓ Property Development Blueprint - 66 Pages
✓ Your Definitive Guide To Property Options - 36 Pages
Market knowledge
Successful property developers need to have a deep understanding of the local real estate market, including trends, demand, and supply. They need to be able to identify areas of potential growth and development opportunities.
Patience and persistence
Property development can be a slow and sometimes frustrating process, with many obstacles and setbacks along the way. Developers need to be patient and persistent in order to navigate these challenges and stay focused on their goals.
Overall, becoming a successful property developer requires a combination of financial resources, expertise, market knowledge, and persistence. It can be a challenging path, but with the right approach, it is possible to achieve success in this field.