How to become a millionaire property developer?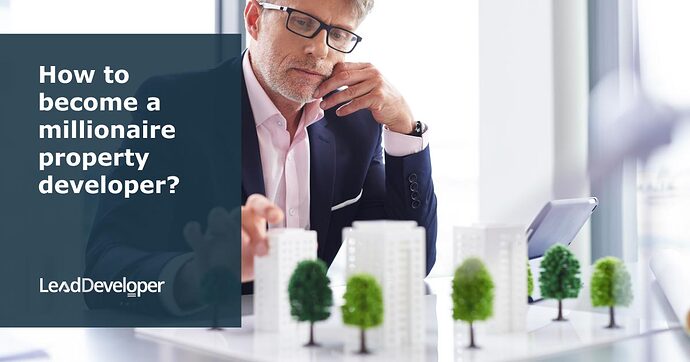 You can be a millionaire property developer.
This might sound like a fake promise by the television salesperson trying to sell something for free. But not in the case of real estate development.
Property development is a wealth-building strategy for many developers working in Australia and other countries.
Becoming a millionaire property developer requires hard work, dedication, a good understanding of the property market, business acumen, risk management, and financial management.

Steps to become a millionaire property developer
Here are some steps that may help you to become a millionaire property developer: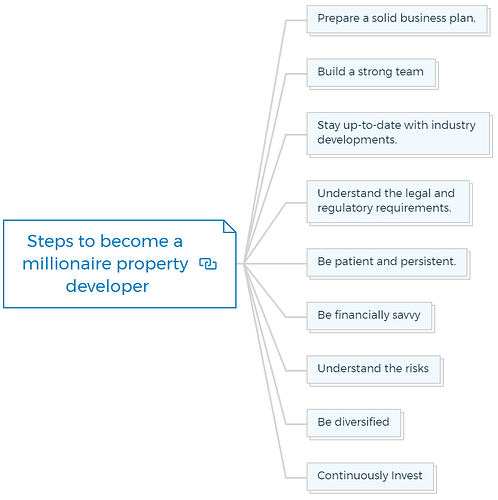 Prepare a solid business plan.
Understand the property market and create a solid business plan that outlines your goals, target market, and strategies for acquiring and developing properties.
If you are still trying to figure out where to start in real estate, follow this detailed guide - Ultimate guide to getting started in property development.
Build a strong team
Having a team of experienced professionals in the real estate industry helps boost your network and creates an extraordinary profile of yours as a real estate developer.
I always call the property development team an army of these 23 property development consultants. They can assist you in becoming a rich property developer and make your work easier.
Having a solid network in the real estate industry means more realistic opportunities. Not to mention, more opportunities equals more money (only if managed correctly).
You are missing out if you haven't yet subscribed to our YouTube channel.
Stay up-to-date with industry developments.
Keep abreast of the latest trends, regulations, and best practices in the property development industry.
Follow magazines, newspapers and specific sites that show the latest data to keep yourself updated with the trend.
Understand the legal and regulatory requirements.
Have a good understanding of property development's legal and regulatory requirements, including zoning laws, building codes, and environmental regulations.
Always have a lawyer in your team to deal with and understand any legal phrases.
Be patient and persistent.
Be prepared to overcome obstacles and setbacks, and stay focused on your goals.
Be financially savvy
Understand financial analysis, budgeting, and forecasting, and be able to make smart investment decisions.
Learn Property Development Finance to make sure you manage your funding correctly.
Ultimate Getting-Started Guides To Property Development

Everything you need to get started in property development.

Includes 6 x detailed eBooks [159 pages]

✓ My Secret Property Development Process (42 Pages)
✓ Preparing For Your First Property Development Project (29 Pages)
✓ How To Choose Property Development Courses For Fast Results (24 Pages)
✓ What Does The Property Clock Say? (14 Pages)
✓ Property Market Cycle – Get In Or Get Out? (31 Pages)
✓ Bonus: Property Investment Strategies: Definitive Guide (19 Pages)
Understand the risks
Understanding the potential risks involved in a project and having a solid plan in place to mitigate these risks is what makes you a millionaire in real estate.
A single mistake can create blunders for you.
Be diversified
Diversify your portfolio by developing different types of properties in different locations and price ranges, as it can help mitigate risks and provide a steady income stream.
Continuously Invest
Continuously invest in your education, attend seminars, read books, and stay informed about industry trends and updates to stay ahead of the competition.
Becoming a millionaire property developer is easy. All it takes is sufficient funds (manage to borrow), experience, knowledge, and the willingness to take risks and mitigate them.
Building a successful property development business takes time and effort, and it may take several years of hard work and dedication before you start seeing significant returns on your investments.
Additionally, it is also important to remember that success in property development is not guaranteed, and it is essential to manage risks and have a solid financial plan in place.
Start your journey of becoming a property developer millionaire with this Free Quick Start Property Development Course.
If you'd like, you can also enrol in my 1-on-1 mentorship program, where I'll provide ongoing assistance with your real estate projects.