How does property development work?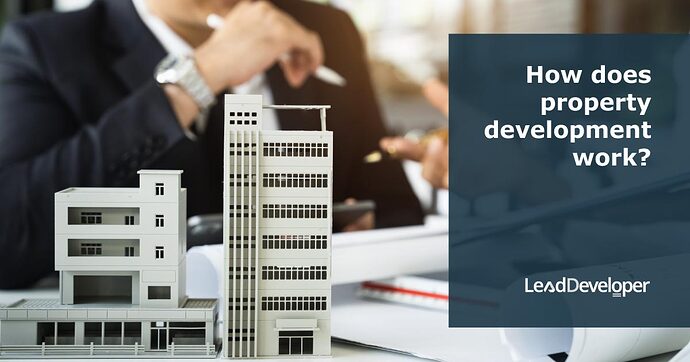 Real estate development, also called property development, typically involves acquiring land, obtaining planning approvals, constructing buildings or infrastructure, and then selling or renting the developed property.
Property development is everywhere. This industry built homes, offices, hotels, and more. Property developers shape our reality in our homes, workplaces, or leisure spaces.

How property development works
Here is the overview of how real estate development works -
Land Acquisition
Property developers typically begin by identifying a suitable site for development and then negotiating to purchase or lease the land.
Feasibility Studies
Before proceeding with the development, the developer will conduct feasibility studies to determine the project's viability.
This may involve evaluating the market demand for the type of property being developed, analyzing construction costs, and assessing potential risks and challenges.
You are missing out if you haven't yet subscribed to our YouTube channel.
Planning Approvals
Once the feasibility study is complete, the developer will need to obtain planning approvals from the local council or state government.
This may involve submitting a development application, providing detailed plans and drawings, and consulting with relevant stakeholders such as neighbours and community groups.
Design and Construction
Once planning approvals are obtained, the developer will engage architects and other professionals to design the building and infrastructure and contractors to carry out the construction work.
During the construction phase, the developer will typically monitor progress, manage the project budget and oversee any necessary modifications to the design.
Property Development Books - "Starter-Pack"

18 Property Development Books To Get You Started Now

Includes 18 x detailed eBooks

✓ Property Development Checklist - 6 Pages
✓ How To Finance Your Property Development Project? - 13 Pages
✓ Property Development Team - 19 Pages
✓ Site Acquisition Process - 14 Pages
✓ The Ultimate Guide To Getting Started In Property Development - 42 Pages
✓ My Secret Property Development Process - 28 Pages
✓ How To Nail Your Next No Money Down Deal? - 29 Pages
✓ Industry Insiders Guide To Managing Risks In Property Development - 26 Pages
✓ How To Become A Property Developer? - 41 Pages
✓ Do You Have What It Takes To Be A Property Developer? - 12 Pages
✓ 7 Common Mistakes Made By Property Developers & How To Avoid Them? - 12 Pages
✓ 5 Reasons, Buy & Hold Property Investors Fail At Property Development - 16 Pages
✓ 10 Financial Mistakes Made By Property Investors & Developers - 54 Pages
✓ My 26 Question Due Diligence Checklist - 21 Pages
✓ Property Development 101: The Feasibility Study - 34 Pages
✓ Property Development 101: Construction Guide - 55 Pages
✓ Property Development Blueprint - 66 Pages
✓ Your Definitive Guide To Property Options - 36 Pages
Marketing and Sales
Once construction is complete, the developer will market the property and arrange for its sale or rental.
This may involve working with real estate agents, advertising the property online, and hosting open inspections for prospective buyers or tenants.
Learn More
Post-Development
After the property is sold or leased, the developer may provide ongoing maintenance and management services to ensure the property is well-maintained and any issues are promptly addressed.
It's important to note that property development regulations and processes can vary depending on the state or territory in Australia.
Developers must comply with local laws and regulations related to environmental impact, building codes, and safety standards.
To get a head start in real estate development, enrol for FREE Quick Start Property Development Course.