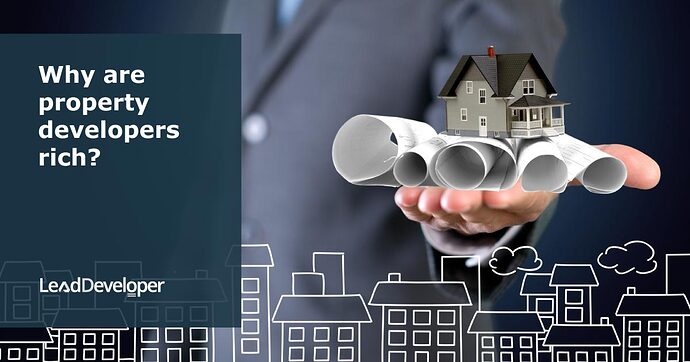 Not all real estate developers are wealthy. Only a few who uncovered the secret behind successful property development are enjoying success by becoming a millionaire.
This secret is not hidden - buy your acquisition sites low, add value and sell high.
What changes the game is your strategy for finding a real estate deal, implementing plans, achieving highest best use, building and finally marketing and then selling. If you go this way, you can also be on the list of rich property developers.
You are missing out if you haven't yet subscribed to our YouTube channel.
Why are property developers rich?
There are 3 main reasons why property developers are rich and making millions.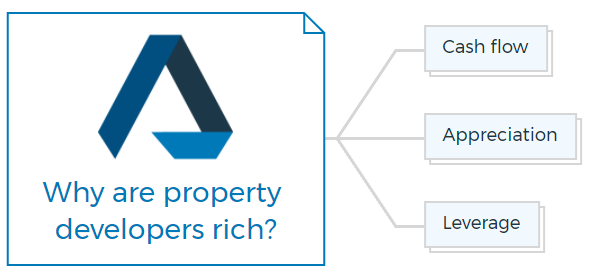 1. Cash flow
Property developers develop many apartments for rental purposes. These developments have high-valued tenants that provide a steady rental income.
Such properties provide a positive cash flow and usually cover all the property development expenses. Ultimately, the developer will have money in hand.
2. Appreciation
Appreciation means an increase in the price of a property. This is how most property developers make money. Real estate prices fluctuate and typically go up over the long run.
You can increase your ROI by combining appreciation with leverage.

For example, you purchased a property of $500,000 with a 20% down payment. You put down 20%, $100,000 and borrowed the rest, $400,000.

If the property appreciates to $600,000, you will get a return of 100% on your investment.
Property Development Books - "Starter-Pack"

18 Property Development Books To Get You Started Now

Yes! I'm ready to start now

Includes 18 x detailed eBooks

✓ Property Development Checklist - 6 Pages
✓ How To Finance Your Property Development Project? - 13 Pages
✓ Property Development Team - 19 Pages
✓ Site Acquisition Process - 14 Pages
✓ The Ultimate Guide To Getting Started In Property Development - 42 Pages
✓ My Secret Property Development Process - 28 Pages
✓ How To Nail Your Next No Money Down Deal? - 29 Pages
✓ Industry Insiders Guide To Managing Risks In Property Development - 26 Pages
✓ How To Become A Property Developer? - 41 Pages
✓ Do You Have What It Takes To Be A Property Developer? - 12 Pages
✓ 7 Common Mistakes Made By Property Developers & How To Avoid Them? - 12 Pages
✓ 5 Reasons, Buy & Hold Property Investors Fail At Property Development - 16 Pages
✓ 10 Financial Mistakes Made By Property Investors & Developers - 54 Pages
✓ My 26 Question Due Diligence Checklist - 21 Pages
✓ Property Development 101: The Feasibility Study - 34 Pages
✓ Property Development 101: Construction Guide - 55 Pages
✓ Property Development Blueprint - 66 Pages
✓ Your Definitive Guide To Property Options - 36 Pages

Get Starter Pack
3. Leverage
Leverage is one of the favourite terms for rich property developers.
It means borrowing money from banks or other financial institutions to invest in real estate. It is easy to leverage the financing, terms are flexible, interest rates are low, and you can get a 20% or even less down payment option.
Also, the amortisation period for loans is over 30 years. If you learn property development finance correctly, you can recover 100% of your capital invested in real estate.
Not to say, but you can make millions in a few years with this strategy.
Many know that real estate can create wealth, but few know why. Among the several ways to build wealth quickly, property development is considered the safest and simplest way to become rich in Australia.
Enrol for the Free Quick-Start Property Development Course to start your real estate journey.