What is property development?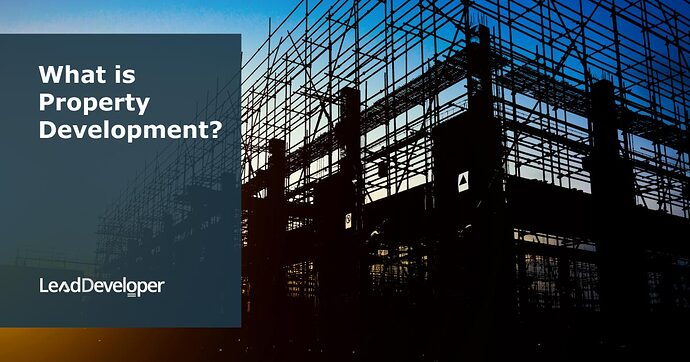 Property Development, also known as Real Estate Development is a process that is both, a science and an art incorporating a large number of interrelated & interdependent parts that come together to respond to the demand and needs of the society by creating and utilising the factors of production.

You are missing out if you haven't yet subscribed to our YouTube channel.
Factors of production, as defined in property economics are four essential resources: land, labour, capital and entrepreneurship. A Property Development project can only come together when the entrepreneur i.e. the property developer uses their entrepreneurial skills to bring together land, labour & capital in order to make a profit.
Of all the property investment strategies I have studied, I believe that property development is the best property investment strategy under the sun.
You can pursue property development around the year and through all market conditions - as long as you know how to change gears in your property development business.
IMPORTANT

Property Development is an industry with high stakes where fortunes are made and lost every year, irrespective of the market cycles.
Property development requires entrepreneurs i.e. the property developers who must be ready to put their skills to test and make hard and swift decisions.
With no barriers to entry, property development is now accessible to everyone, mums and dads and property investors who can use property development as part of their property investment strategy to exponentially grow their property portfolios.
Property Development Books - "Starter-Pack"

18 Property Development Books To Get You Started Now

Yes! I'm ready to start now

Includes 18 x detailed eBooks

✓ Property Development Checklist - 6 Pages
✓ How To Finance Your Property Development Project? - 13 Pages
✓ Property Development Team - 19 Pages
✓ Site Acquisition Process - 14 Pages
✓ The Ultimate Guide To Getting Started In Property Development - 42 Pages
✓ My Secret Property Development Process - 28 Pages
✓ How To Nail Your Next No Money Down Deal? - 29 Pages
✓ Industry Insiders Guide To Managing Risks In Property Development - 26 Pages
✓ How To Become A Property Developer? - 41 Pages
✓ Do You Have What It Takes To Be A Property Developer? - 12 Pages
✓ 7 Common Mistakes Made By Property Developers & How To Avoid Them? - 12 Pages
✓ 5 Reasons, Buy & Hold Property Investors Fail At Property Development - 16 Pages
✓ 10 Financial Mistakes Made By Property Investors & Developers - 54 Pages
✓ My 26 Question Due Diligence Checklist - 21 Pages
✓ Property Development 101: The Feasibility Study - 34 Pages
✓ Property Development 101: Construction Guide - 55 Pages
✓ Property Development Blueprint - 66 Pages
✓ Your Definitive Guide To Property Options - 36 Pages

Get Starter Pack
What is Real Estate Development?
Real estate development is the process of creating new real estate projects, such as building new homes, apartments, commercial buildings, or other properties.
This process typically involves several stages, including acquiring land, obtaining financing, designing and planning the project, obtaining necessary approvals and permits, and constructing the property.
Real estate developers may also be responsible for selling or leasing the finished properties to buyers or tenants. The goal of real estate development is to create profitable real estate projects that meet the needs of the community and align with the developer's business objectives.