What is a partial offset account?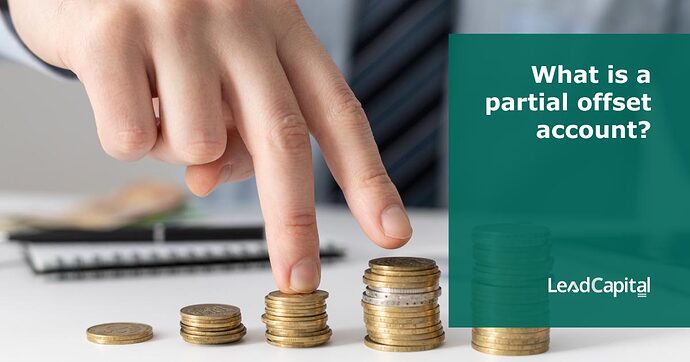 Home loan offset accounts are personal transaction accounts. You can open a partial offset account for loans with fixed interest rates.

A partial offset account is a type of savings account that allows you to set aside a portion of your money each month. You can use this account to reduce the overall interest payable on your loan or mortgage.
Over time, this can save you money and reduce the total cost of repaying your loan.
Committing to a partial offset account allows you to access your money anytime while still benefitting from the partial interest offsets. As well as helping you save financially in the long term, partial offset accounts can help to make budgeting more accessible and more efficient.
You are missing out if you haven't yet subscribed to our YouTube channel.
Example of a partial offset account
You have a loan of $25,000 with an interest rate of 10%. You decide to open a partial offset account with your bank and commit to depositing $200 each month.
This amount will then be deducted from the amount owed; thus, you will only pay interest on the remaining balance.
In this case, you will save $1,950 in interest payments over a year. This partial offset account can save you thousands of dollars in interest payments throughout your loan.
Learn more - Using time value of money for real estate valuation.
If you're looking for ways to reduce the overall cost of repaying a loan or mortgage, partial offset accounts are an excellent option. Regular deposits can save money on interest payments in the long term.
How To Finance Your Property Development Project?

And Other Books On Real Estate Development Finance

Download Free

Includes 5 x detailed eBooks

✓ Property Development Finance: Easily Finance Your Project? (26 Pages)
✓ 10 Big (Financial) Property Investing Mistakes Made By Investors (58 Pages)
✓ 10 Finance Options For Your Next Property Development Project (29 Pages)
✓ What Is Equity Finance And How Does It Work? (42 Pages)
✓ Property Investment Finance - Ultimate Guide

Download Free
Types of partial offset accounts
Partial offset accounts come in various forms, depending on the bank or financial institution you choose. Generally, partial offset accounts require initial and regular deposits throughout the loan period.
Some partial offset accounts also offer additional features, such as competitive interest rates and access to savings when needed.
There are usually two types of partial offset accounts available -

Partial offset account as a percentage
This type of account allows you to set aside a percentage of your loan or mortgage each month. The partial offset is then applied to the overall interest payable on the loan.
Partial offset account as a fixed amount
This type of partial offset account requires you to commit to setting aside a fixed amount of money each month. This amount is deducted from the loan balance, and only interest is paid on the remaining balance.
No matter which partial offset account you choose, you can reduce your overall loan or mortgage costs significantly over time by making regular deposits. It's a great way to save money and make budgeting easier.
Property Finance Made Easy

We specialise in Development funding | Commercial finance | Construction loans | Portfolio refinancing & Property investment loans in Australia.