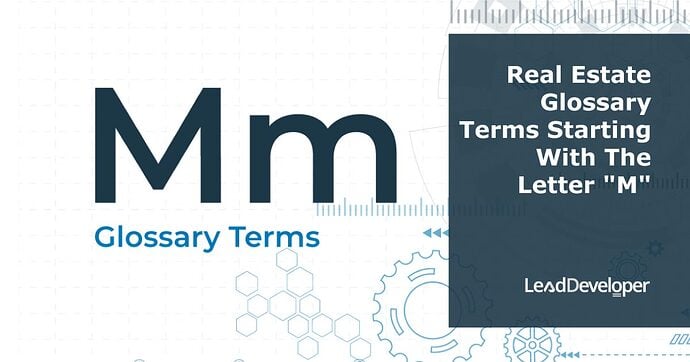 Continued from…
Machine shed
A farm structure used to store farm machinery. On one side, it usually has an open wall.
Maisonettes
There doesn't seem to be a single, exact definition, but a common one is two semi-detached homes that are usually only one story tall.
Metal lath
Slit metal sheets used to create openings in the lath. A reinforcing plaster base for various types of plaster, as well as a base for wall and ceiling plaster.
Microlam
A prefabricated wood beam for structural purposes. The wood strands are pressed and adhesive-bonded together to form the structure.
Mid-month convention
The Tax Reform Act of 1984 says that taxpayers must use the 15th of the month to figure out when they bought something and when they sold it when figuring out cost recovery deductions. This law applies to any property that was put to use after June 22, 1984. (with the exception of low-income housing).
Property Finance Made Easy

We specialise in Development funding | Commercial finance | Construction loans | Portfolio refinancing & Property investment loans in Australia.
Milar (Mylar)
An exact replica of a blueprint in clear plastic.
Millwork
Doors, windows, and door frames, as well as blinds and mantelpieces, are all examples of millwork products.
Minimum requirement
Assumed to be the employment/activity level required to meet the demands of a community within a certain size range, the observed minimum percentage of employment in a certain economic sector for communities within that range (the minimum amount of non-basic employment necessary to support a typical mix of industry for a population base of a given size range).
Minimum requirements method
A way to figure out a community's economic base multiplier by comparing employment levels by economic sector to the minimum requirement.
Miter joint
The connecting of two elements at a 45-degree angle.
Mode
The mode is the data value that shows up most often.
Molding
A decoratively etched wood strip.
Monolithic Slab
It is possible to construct a foundation using a monolithic slab, which involves pouring the footing and slab at the same time.
You are missing out if you haven't yet subscribed to our YouTube channel.
Monopost
Beams or bearing points can be supported by a metal column that can be adjusted.
Mortar
Structural concrete is made by mixing sand with cement.
Mortgage company
A company that borrows money from a bank, lends it to consumers, and then sells the loans to investors for profit is called a mortgage broker.
Mortgage deed
A legal document that establishes a loan on property.
Mortgage guarantee insurance
Paid by the borrower to protect the lender in case the borrower stops making mortgage payments or doesn't pay back the loan in full when it's due. This is also called LMI, which stands for Lenders Mortgage Insurance.
Mortgage loan
Arrangement whereby a borrower's property is offered as security.
Mortgage origination fee
A fee charged for the time and effort required to process a mortgage application (usually one percent of the loan amount).
Mortgage satisfaction
Complete repayment of a mortgage.
Mortise
For the purpose of joining two pieces of wood, a tenon slot is a slot cut edgewise into a board, plank, or lumber.
Moving allowance
A set amount of money that the owner pays to the tenant to cover some or all of their moving costs. Also called the owner's moving cost.
Moving expenses
How much the renter had to pay to move into the new space. Depending on what is agreed upon in the lease, the landlord may pay some or all of the rent.
Multifamily housing
Units of housing that are big enough for more than one family or household to live in.
Multiple listing
A way for real estate agents who are part of the same organisation to trade exclusive listings for the sale of homes.
Multiple-use office space
Generic office space is sometimes used to describe office space that can be used for many different things.
Muriatic acid
Cleans bricks after masonry work has been completed.
Mushroom
Caisson pier tops that stretch and harden to grow broader than the foundation wall thickness are an unacceptably rare occurrence.