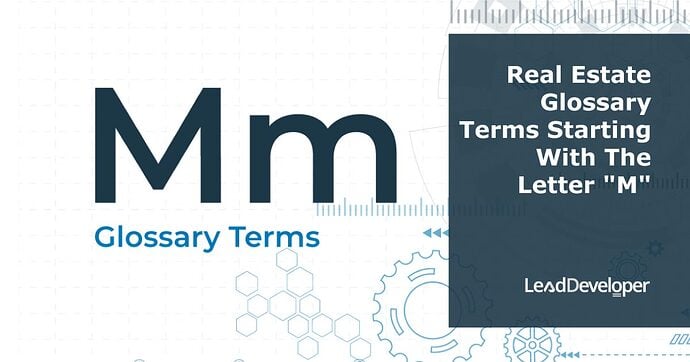 Continued from…
Most favored tenant clause
A clause in a lease that guarantees a tenant that any negotiating concessions given to other tenants will also be given to this tenant. When renting a building for the first time, this kind of clause is especially helpful because it lets the renter know that later renters won't get better deals.
Most fitting use
Real estate utilization that best balances the public and private interests.
Most probable selling price
A probabilistic estimate of the price at which a future property transaction will take place; a prediction of the transaction price that will emerge if a property is offered for sale under current market conditions for a reasonable period of time at the terms of sale that are currently prevalent for such properties.
Most probable use
The most likely application for a property. Recognizes that usage is not guaranteed. The most likely usage is the one with the highest likelihood of occurrence. Recognizes the possibility of other uses while assigning them a lower probability.
Motel
Accommodations for transients that have on-site or near-on-site parking for guests. Facilities including dining rooms, meeting rooms and swimming pools are typical in some motels.
Move-up housing
People usually buy bigger and more expensive homes as their incomes go up. When someone moves into their first home, or "starter home," it's likely to be smaller and less expensive than their other homes.
Moving annual turnover (MAT)
Sales for a year are calculated by adding up each month's sales.
MSA ( metropolitan statistical area)
Master Senior Appraiser.
A metropolitan area comprising various political jurisdictions joined together for the purpose of tabulating statistics by the United States Census Bureau.
Mud tunnel
Underground termites need ways to get in and out.
Mudroom
Small chamber or vestibule for entering from a play area or alley. Washing and drying machines are common in the mudroom.
Mudsill
The component of a structure that is on its ground or foundation and is the lowest horizontal member of the structure. An example of this would be foundation timber.
In some cases, the sill plate is referred to as the bottom horizontal part of an outside wall frame that stands on top of a foundation.
Mullion
Panes of window glass are divided into panes by thin vertical strips in the sash of the window.
Metal strips that run the length of a window line at regular intervals. They're made to receive a wall divider in such a way that the connection is seamless and soundproof.
In the frame of a window or door or any other aperture, a vertical divider.
Multi-Family housing
A residential construction that has more than one living unit.
Structures with four or more units.
Multi-Family Property
A high-rise, low-rise, or garden apartment is a structure containing at least five residential units.
Apartments are included in the residential property categorization.
Multifactor asset pricing model
Models for calculating needed discount rates that presume the economy has several sources of macroeconomic (no diversifiable) risk for which investors must be rewarded with a higher going-in internal rate of return.
Multinuclei city
The phrase was created by Harris and Ullman in a key research that outlined the consequences of the motor car, along with new manufacturing technology, that liberated the city from its shackles to CBD.
Multiple asset exchange
This is a tax-advantaged property exchange in which the valuations of a number of connected assets - such as land and buildings and machinery and goodwill - are combined to arrive at a final composite figure on which the exchange can be calculated.
Any gain realized from a multiple-asset exchange can be delayed even if individual component values are different, as long as the composite values are equal. Like-for-like assets can be swapped for like-for-like assets, for example, between companies A and B.
A would be taxed on $75,000 worth of boot if it were traded asset per asset, which is the difference of $25,000 in building values and $50,000 in goodwill values. A multiple-asset exchange, on the other hand, has no boots on the ground because the composite values of both assets are the same. Be aware that multiple asset swaps are complex and subject to numerous tax regulations and rules that this discussion can't cover.
Multiple dwelling
A tenement house. Any building where two or more families or households can live in their own separate units. A place with apartments.
A building with more than one dwelling unit.
Multiple listing service (MLS)
Sharing of property sales listings by a group of real estate brokers with an agreement on how costs and commissions would be split.
A service in which brokers who are members pool their listings and offer to work with and pay other brokers who are also members. The MLS is usually run by a local group of REALTORS®, but this isn't always the case. The contracts between the brokers who are part of a multiple listing service are very different. Most of them say that the commission is split between the listing broker and the selling broker when the property is sold. The terms for how the commission is split can be different from one broker to the next.
Most multiple listing services require the broker who gets the listing to give it to the MLS within a certain amount of time so that it can be sent to the other member brokers. There are many different rules about how long the listing broker has to sell the property without telling the other member brokers.
The multiple listing service is good for both the broker and the person selling the house. The broker has a large number of properties to sell and properties to sell, and she is guaranteed a part of the commission if she lists the property or helps sell it. The seller also benefits because all of the members of the multiple listing service learn about the property and can tell their potential buyers about it.
Like the MLS, it's dented up pretty well now. Members-only access to a central database of property listings.
Multiple nuclei
The belief that after a metropolitan city's big central business district has been fully built, a slew of micro central business districts would sprout up around the area.
Property Finance Made Easy

We specialise in Development funding | Commercial finance | Construction loans | Portfolio refinancing & Property investment loans in Australia.
Multiple regression
A statistical approach for determining the relationship between a dependent variable and many independent variables.
A mathematical technique for estimating the value of a subject property using known variables and comparable property prices. Frequently used in mass appraisals of single-family homes.
Multivariate regression analysis (MRA)
A statistical approach for investigating the link between a dependent variable and several independent, "explanatory" factors.
Muniment of title
Certificate of ownership of real property. Deeds and contracts are examples of proof of ownership and the ability to defend a person's title. With the application to register property in the Torrens system, an applicant must submit a file plan, an abstract of title, and all original muniments of title within his or her control.
Muntin
The thin vertical strip that separates two window sashes that are next to each other.
Glass or door sash or door opening dividers that are only a few millimetres wide.
Mutual agreement
Agreement is when everyone agrees to the terms of a contract. Mutual rescission is when both sides of a contract agree to end it on their own.
Mutual Fund
An exchange-traded fund that invests in other exchange-traded funds.
Mutual Mortgage Insurance Fund
The FHA insurance premium depository and the source of repayment for lenders in the event of foreclosure losses on FHA-insured homes.
Insurance premiums and other FHA earnings are paid into this fund, and any losses are reimbursed from this fund as well.
You are missing out if you haven't yet subscribed to our YouTube channel.
Mutual savings banks
Institutions for saving money that don't sell stock and are owned by all of their investors and pay dividends instead of interest. These institutions are mostly in the northeastern part of the United States and work similarly to savings and loan associations. Mutual savings banks have limited checking account options, but their main purpose is to save money. They are also active in the mortgage market and invest in both residential and income property loans. Now, most of their real estate investments are in mortgage-backed securities instead of VA and FHA loans. In the 1980s, when savings associations failed, the mutual savings banks and federally chartered savings banks grew up. One difference is that the FDIC, not the FSLIC, has always insured savings banks, just like commercial banks.
Mutual water company
The goal of a water company is to ensure an adequate water supply for a reasonable price for residents of a particular district. Users buy and distribute stock.
Mutuality of consent
When both parties agree on the terms of a contract, they are said to have "met in the middle."
Continued at…
Real Estate Glossary M [Part 5]