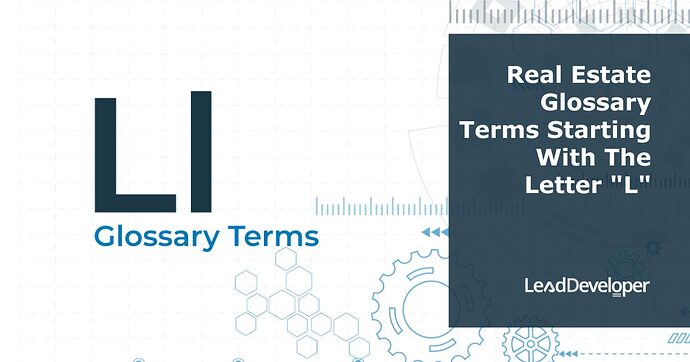 Continued from…
Lot, Block, and Subdivision
A real property description that identifies a piece of land using lot and block numbers seen on maps and plats of documented subdivided land. "Lot 6, Block 8, Breezy Hills Subdivision, Serene County, Any state, according to the plat thereof on file and of record in the office of the Registrar of Deeds in and for the said county and state," for example.
A lot is a single parcel of land that is meant to be sold in its entirety to a prospective buyer. As in a city block, a block is often a set of contiguous property connected by streets. Roads or other built or natural features such as creeks or ditches separate blocks.
Lottery
A system in which one pays a fee in exchange for the possibility to win a prize. In credit-constrained markets, sellers may resort to the lottery technique to sell their real estate. Many jurisdictions' real estate license acts specifically prohibit real estate brokers from selling real estate through a lottery or offering prizes for listing or selling real estate.
Title 18, Section 1302 of the United States Code forbids any reference to a lottery or a similar operation in any publication that uses the United States mail. A lottery offering of real estate cannot be conveyed or announced by mail. Violations of this statute may result in a fine of up to $1,000 or imprisonment for up to two years, or both. A second offense carries a maximum sentence of five years in jail.
Louver
Over an opening, slats or fins that are angled to keep rain or snow out but still let air in. A sunshade with fins on a building or the grill on fluorescent light fixtures that lets light spread out. Also spelled louvre.
One that allows ventilation but keeps out rain, snow, light, insects, and other living things. It has a lot of horizontal slats.
Property Finance Made Easy

We specialise in Development funding | Commercial finance | Construction loans | Portfolio refinancing & Property investment loans in Australia.
Love and Affection
Ordinary consideration A gift differs from valuable consideration when it is intended. The distinction between the two is significant in areas of the law that require a valued consideration, such as recording acts, which safeguard the rights of bona fide purchasers for value. A gift transfer of the family home by a father to his son "for love and affection" is a common example of a grant deed supported by love and affection.
Low doc loans
People who can't say how much money they make every month should use this loan. Instead of providing tax returns or detailed financial statements, borrowers can sign a form that says they make a certain amount of money.
Low rise
A one to three-story structure that is typically found in rural places.
A building with two or three stories.
A structure with one to three levels and usually no elevator.
Low-Doc Loan
A loan given to a property buyer whose income cannot be fully verified through documentary evidence.
You are missing out if you haven't yet subscribed to our YouTube channel.
Low-e glass
Window glass that has been coated with a thin layer of metal that is almost clear. This coating filters the sun's rays and blocks the harmful ultraviolet rays. Low-E glass windows are better at keeping heat in because they stop heat from radiating out.
Low-income housing
Households with low or moderate incomes are prioritized for housing.
Lower order good
A product or service that can be made available to a wide audience with relatively few potential buyers. Any product or service that can be profitable with a relatively small number of customers and a limited geographic footprint is said to have a low entry barrier.
Luck-in period
A certain amount of time during which a debt cannot be repaid.
Lumens
Measures the overall amount of light emitted. On a one-square-foot surface, this is the amount of light falling on it.
Luminous ceiling
A ceiling that emits light from its full surface by using fluorescent lighting atop translucent glass or plastic.
Lump sum
A one-time revenue or expenditure that occurs during a certain time period.
Lump sum payment
Paying off a debt all at once, including the principal and any interest that has built up. In a straight note, the interest may be paid on a regular schedule and the principal may be paid all at once.
Continued at…
Real Estate Glossary L [Part 6]