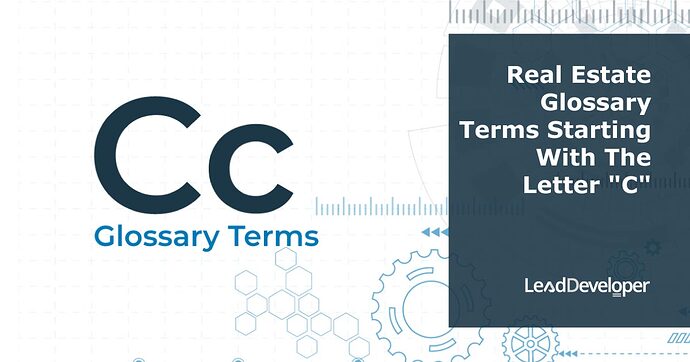 Continued from…
Call protection
Protection from the risk of early loan payback, also known as protection from prepayment risk.
Callable
A loan or security that gives the borrower the power to request early repayment.
Capital allowances
One of numerous exemptions from income tax or corporation tax that an owner may be eligible for when making capital investments in certain qualifying structures.
Capital calls
Private equity funds may notify their investors of the need to make payments to the fund in place of their capital commitments at any time throughout the investment period (and frequently on a limited basis for certain particular items following the investment period).
Capital commitments
Contractual commitments made by the fund investors to provide capital to a private equity fund, which are withdrawn through a number of capital calls, mainly over the investment period.
Property Finance Made Easy

We specialise in Development funding | Commercial finance | Construction loans | Portfolio refinancing & Property investment loans in Australia.
Capital requirements directive (CRD)
By adopting Basel II in the European Union, the CRD harmonises European capital legislation with global norms. The CRD is updated and improved in CRD 2 and CRD 3, which also enhances the EU regulatory framework.
Capped floating-rate note
A note with a variable rate that has a cap or upper limit on the coupon rate. As a result, the investor is unable to profit from changes in interest rates that would cause the coupon to exceed the cap.
Cash collateral
A reserve that can be used to cover investor claims in the case of credit losses. a means of improving credit. The Cash Collateral Account (CCA) is the account where the money is kept; it was lent to the issuer by a third party in accordance with a loan agreement.
Cash collateral account
A bank account used to guarantee and maintain a debt. There is effectively no balance in this account, and no money may be withdrawn.
Cash flow note
A loan that is paid back on a regular basis using a portion of the cash flow generated by the secured property instead of an interest rate.
Cash trap
A clause that states that all funds that would be distributed to a junior lender upon a payment default or borrower insolvency are held in escrow (trapped) pending the senior lender's decision to enforce or the junior leader's decision to cure the borrower default is frequently found in intercreditor agreements.
Casualty
Sudden property destruction or damage.
Cédulas
Spanish covered bonds, or cédula hipotecaria, are notes issued by financial organisations with a fixed interest rate and backed by mortgage loans made by the issuing entity. Only Spanish credit institutions (entidades de crédito oficial), Spanish savings banks (cajas de ahorro), or specialised businesses founded with the express purpose of, among other things, giving loans or mortgage guarantees (sociedades de crédio hipotecario), may issue such cédula hipotecaria.
Centre of main interest (COMI)
The phrase that applies to insolvency In an EU environment, the primary insolvency proceedings against a business will often be conducted at its centre of principal interests.
Certificate
A formal document that certifies a trust fund's beneficial ownership. owned by a holder of a certificate.
Charge
A security over a specific asset or class of assets that grants the chargee the right to have the asset or class in question (together with any revenues from its sale) appropriated for the purpose of paying off the relevant debt. Legal ownership is not changed by a charge. It only serves as a burden on the asset.
Cherry-picking
The process of choosing assets from a portfolio using specific criteria; the opposite of choosing a sample at random.
Civil law
Laws, both codified and uncodified, are primarily founded on the ideas and standards of Roman law.
Clawback
A repayment made by the general partner or manager of a private equity fund of all or part of the carried interest previously received from the fund to the extent demanded by the fund's investors in order to ensure that the carried interest is not paid on earlier successful deals in order to safeguard investors against any losses incurred on later failed deals. A mechanism for investors to protect their capital and preferred return.
Clean-up call
When 15% or less of the original principal balance of the underlying collateral pool is still outstanding and servicing the remaining pool of assets is no longer cost-effective, a voluntary redemption of securities may be made. The remaining assets will be sold by the issuing SPE to the senior or the asset's originator or sponsor (often at par), and the money will be used to complete the redemption. The advantage of such a redemption for investors is that it gives them the peace of mind that they won't only get a tiny, illiquid portion of their initial investment.
Clearing house
A financial organisation that offers custody, clearing, and settlement services for stocks and bonds traded on both domestic and international markets. Examples of clearing houses include Clearstream, Euroclear, and the Depository Trust Corporation (DTC).
Clearing system
The publicly traded securities trading system is intended to advance global commerce and market effectiveness. An international clearing house is responsible for managing the majority of international clearing transactions.
Clearstream international
A division of Deutsche Borse AG that offers custody, clearing, and settlement services for equities and bonds traded on both local and international markets in Europe.
Close company
A business where five or fewer people and their associates control at least half of the voting shares, or when the directors hold more than half of the voting shares.
Co-insurance
The sharing of risk between an insurer and an insured, or between two or more insurers who each assume responsibility for a predetermined share of the total amount at risk, either right away or in layers.
Collateralised bond obligation (CBO)
A commodity supported by a collection of corporate bonds.
Collateralised debt obligation squared (CDO2)
A CDO that is backed by a portfolio of securities that other CDOs have issued. The underlying debt obligations (or collateral) that make up a CDO's or CLO's portfolio are referred to as collateral debt securities.
Collateralised loan obligation (CLO)
CLO may be applied in two situations. First, it can refer to the debt securities that are backed by a portfolio of corporate loans from institutional lenders, typically commercial banks. the general transaction by which securities are issued and sold in the capital markets comes next.
Collateralised mortgage obligation (CMO)
A security that is backed by a pool of mortgage loans or a mix of residential mortgage loans and agency securities. CMOs are typically issued with different classes of securities with varying maturities and coupons.
Collection account
The account into which (usually) all mortgage payments and collectibles are deposited.
Combined LTV ratio
An LTV ratio is calculated when a property receives more than one mortgage loan.
Comfort letter
Either:
(a) a letter from one party to an agreement to the other stating that certain actions not contemplated by the agreement will not be taken; or
(b) an independent auditor's letter stating that the information in the registration statement and prospectus is correct and that no material changes have occurred since its preparation. This does not imply that the information is correct, merely that the accountants are unaware of anything that would indicate it is incorrect. As a result, this is often known as a cold comfort letter.
Commercial paper (CP)
Short-term promissory notes with maturities of fewer than 270 days, most typically between 30 and 50 days.
Commercial real estate collateralised debt obligations (CRE CDOS)
CRE CDO can be utilised in two situations. For starters, it can refer to Debt Securities that are backed by a Portfolio of Commercial Real Estate Mortgage Loans, Securities, B Loans, or other debt interests. Second, it can refer to the whole transaction that occurs when securities are issued and sold in the Capital Markets.
Commercial real estate finance council Europe
A trade organisation dedicated to increasing the strength and liquidity of commercial real estate finance. Formerly known as the Commercial Mortgage Securities Association.
Commingling risk
The possibility that cash belonging to an issuing SPE is mingled with cash belonging to a third party (for example, the originator or servicer), so that if the third party becomes insolvent/bankrupt, such cash cannot be traced independently or is frozen in the third party's accounts.
Commonhold
The Commonhold and Leasehold Reform Act of 2002 established this type of land ownership in England and Wales. It combines freehold ownership of a single property inside a bigger complex with membership in a limited company that owns and manages the development's common areas. Although it is most commonly associated with residential flats, Commonhold is also appropriate for houses, mixed-use developments, and commercial developments.
Company voluntary arrangement (CVA)
Under the Insolvency Act of 1986, a compromise or other arrangement with creditors that is carried out under the supervision of an insolvency practitioner (known as the nominee before the proposals are implemented, who then becomes known as the supervisor). The agreement will be binding on Creditors if the necessary majority vote in favour of the proposals at properly scheduled meetings of the company's Creditors and Shareholders. Unless secured or preferential creditors agree to the plans, the arrangement has no effect on their rights. Small businesses can opt for a moratorium before implementing a CVA.
Compliance certificate
A certificate commonly signed by a Borrower's director indicating that the Borrower is in compliance with the financial covenants and other requirements outlined in the Loan Agreement.
Compulsory purchase order
An order given by the government or a local authority allowing the local authority to compulsorily purchase land in order to facilitate development, whether for roadways or building construction.
Concentration risk
An order given by the government or a local authority allowing the local authority to compulsorily purchase land in order to facilitate development, whether for roadways or building construction.
Conciliateur
Insolvency administrator is a French term.
You are missing out if you haven't yet subscribed to our YouTube channel.
Conditions precedent
Conditions that must be met before a Lender is willing to provide monies to a Borrower. A Lender's conditions precedent will be detailed in the Loan Agreement and will contain, among other things, board resolutions of the Obligors, property values, and a legal report on title. Closing conditions are a term that is used occasionally.
Confirmation
A document that documents the economics of a derivative contract and dictates the performance of the dealer and end user in the event of certain contemplated events occurring during the duration of the trade. A Confirmation can be either short-form or long-form: the short-form version is typically executed in conjunction with an existing ISDA Master Agreement, whereas the long-form version is typically executed in anticipation of the dealer and counterparty entering into an ISDA Master Agreement, which is the best practise.
Constant prepayment rate
The percentage of outstanding principal that will theoretically be prepaid in one year, calculated using a constant (rather than variable) prepayment rate.
Control valuation event or CVE
The moment in time when the value of the property acting as Collateral for the entire Loan has declined to the point where the B Lender is unlikely to see a meaningful economic recovery on their investment (i.e. repayment of the B Loan). Upon the occurrence of a Control Valuation Event, the applicable B Lender's Cure Rights are no longer exercisable.
Controlled amortisation
A time that may follow a transaction's revolving term in which the outstanding balance of the connected securities is partially repaid. A controlled amortisation term typically lasts 12 months.
Controlling class
The class of Noteholders in a Securitisation who have the contractual authority to control the occurrence of specific events, such as compulsory redemptions after an Event of Default or certain tax-related events.
The Controlling Class is typically the most subordinate class of Notes in CMBS transactions, whereas the Controlling Class is typically the most Senior Class of Notes in CDO transactions. Other classes or parties (including the Controlling Party) may have the right to vote on or veto specific actions of or with respect to the issuing company in order to address conflicts of interest among different elements of the capital structure.
Controlling class representative (CCR)
The Controlling Class Representative, who is appointed by the Controlling Class, has contractual consent or consultation rights in connection with the proposed acts of the Servicer/Special Servicer in connection with a serviced loan.
Controlling party
The party holding the contractual authority to authorise and direct the Servicer or Special Servicer's actions. In the context of an AB Structure, the Controlling Party is normally the holder of the B Loan until a Control Valuation Event occurs, and then the Controlling Class in a CMBS.
Core capital
Core Capital, also known as Tier 1 Capital, is a term used to characterise a bank's capital adequacy, which includes equity capital and stated reserves.
Corporate guarantee
A type of credit enhancement in which the issuer or a third party guarantees certain losses up to a particular amount. Minimum rating standards will apply to the guarantor.
Corporation tax
A company's profits are subject to taxation.
Corrected loan
A loan that has been rectified and is now performing after being moved to a specific servicer for handling.
Cost of equity
The potential return that a corporation makes to its shareholders.
Cost of funds
Borrowing money costs money. It is the effective rate that a Borrower pays on its current debt, which includes interest and fees. The cost of money can be calculated both before and after tax, although because interest costs is deductible, the after-tax cost is more commonly seen.
Counterparty
A party to a derivatives or hedging contract who may be either the dealer or the end user in the case of a derivatives trade and the Hedge Counterparty in the case of a hedging transaction.
Covered bonds
Debt securities secured by a mortgage portfolio or other public sector loans. Covered bonds are issued by banks and stay on the issuing bank's balance sheet, providing holders with full recourse to the originator's assets. Covered Bonds differ from CMBS, which are off-balance-sheet debt obligations that give holders only recourse to the assets securitized.
Cps template
ISDA's 2005 template for Credit Derivative Transaction on Asset Backed Security with Cash or Physical Settlement, as revised. The Credit Derivatives Definitions are used in this template to cover ABCDS trading in European markets.
CRD 2
A 2007 European directive that modifies CRD by improving the quality of firms' capital by establishing clear EU-wide criteria for assessing the eligibility of hybrid capital to be considered as part of a firm's overall capital, risk management of securities, cross-border banking group supervision, and amending certain technical provisions of CRD to correct unintentional errors.
CRD 3
The committee within a bank, building society, or other financial organisation that evaluates the credit risk to the bank of granting a Loan to a Borrower.
The credit committee finally authorises the terms of a Loan to that Borrower as well as the Security required from the Borrower.
Credit derivatives
Credit default swaps, total return swaps, and credit-linked notes are capital market instruments designed to re-allocate credit risk from one party to another.
Credit derivatives definitions
ISDA Credit Derivatives Definitions 2003. ISDA issued these to enable the trading of credit risk for operational corporations with a large public float of Debt Securities.
Credit enhancer
A party who undertakes to provide credit enhancement for a pool of assets by making payments, usually up to a certain level, if the cash flow provided by the underlying pool of assets is less than the contractually necessary amounts owing to defaults by the underlying obligors.
Credit guarantee scheme
A UK Government scheme launched in October 2008 and closed to new issuance in February 2010 with the goal of providing sufficient liquidity in the short term, making new capital available to UK banks and building societies to strengthen their resources, and ensuring that the banking system has the funds needed to continue lending in the medium term.
Credit risk
The possibility that the lender may be (1) repaid less than the amount owing to it, (2) repaid over a longer period than originally anticipated, or (3) not repaid at all.
Credit support annex (CSA)
A document commonly entered into in connection with a Credit Derivative transaction that stipulates the parties' obligations to provide and return Collateral as a way of credit protection for the Credit Derivative transaction's parties.
Credit tenant lease
A credit tenant's lease of a portion or all of a commercial property.
Credit tenant lease loans
Mortgage loan secured by commercial properties rented by tenants with investment-grade credit. The loans are underwritten and structured based on the expected cash flow from the leases rather than the underlying real estate's worth.
Credit-linked note
A note whose payment is contingent on the occurrence of a credit event or the existence of a credit measure with respect to a reference entity or pool of assets.
Crystallisation
When a Floating Charge is converted into a Fixed Charge over the assets to which it is attached as a result of a default or similar event.
Cure payments
A B Lender's payments when invoking its Cure Rights. Cure payments can include:
(a) Prepayment of the A Loan in an amount sufficient to assure compliance with the underlying remediable default, as well as all additional relevant payments in relation to the A Loan that the Borrower would have had to make as a result of such Prepayment had the Borrower made the Prepayment itself;
(b) depositing or posting Collateral or a Letter of Credit in an amount equal to the deficiency that caused the remediable default; and
(c) depositing on behalf of the A Lenders an amount equal to the Prepayment of the A Loan that would have been necessary to be received from the Borrower in order for the Borrower to have been able to remediate the remediable default.
Cure rights
Rights granted to a subordinated lender that allow it to cure certain remediable Loan level defaults within a specified time period, including the authority to make Cure Payments.
Current delinquency status
A loan's delinquent status as of the current date.
Custodian
A bank or other financial organisation that holds securities and other financial assets on behalf of investors for safe custody and record keeping. A Custodian is typically required to keep Securities on behalf of entities that do not participate in clearing systems.
Customary laws
A traditional common rule or practise that has become an integral component of accepted and expected behaviour in a community, profession, or trade and is recognised as a legal necessity.
Cut off date
Before issuing the securities, calculations are based on the date the underlying pool of assets that underpins a CMBS issuance is identified.
Capital expenses
Most of the time, generally accepted accounting standards (GAAP) are used to describe this type of expense. However, GAAP does not give clear rules for all possible expenses. Accountants don't always agree on whether or not to put something as an operating cost or a capital expense. For example, replacing a roof is usually thought of as a capital expense, while keeping the roof in good shape or fixing it is usually thought of as a running expense.
Circulation factor
The Nett Square Footage does not include the room needed for people to move around inside the office. Based on our past experience, we use a Circulation Factor of 1.35 x the Nett Square Footage for office and fixed drywall areas and a Circulation Factor of 1.45 x the Nett Square Footage for open area workspaces.
Construction management
When a qualified construction manager is in charge of the actual building process, he or she makes sure that each step of the process is done on time and correctly, from getting a building permit to finishing the building to the final inspection and approval of the finished premises with the tenant. A property manager or another qualified professional is often paid a fee to handle a construction project.
Contiguous space
(1) Multiple suites or places in the same building that are next to each other and can be rented to a single tenant as a whole;
(2) A group of floors in a building that are connected to each other. For example, a tenant might rent floors 6 through 12 of a building.
Core factor
Shows how much of the building's Nett Rentable Square Feet are used for shared areas like lobbies, bathrooms, and hallways. This factor can be worked out for the whole building or just one floor. It is also called a Loss Factor or a Rentable/Usable (R/U) Factor.
It is determined by dividing the square footage that can be rented by the square footage that can be used.