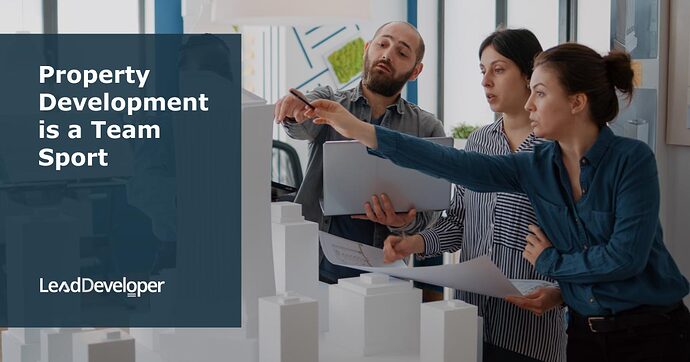 Property development is complicated and covers multiple disciplines. You can't possibly have all the knowledge yourself.
Even after you have become an experienced property developer, you will still rely on the skills and knowledge of qualified and experienced property development consultants.
You are missing out if you haven't yet subscribed to our YouTube channel.
As a bare minimum, your property development team will include the following consultants and professionals:
Accountant
Finance Broker
Land Surveyor
Structural Engineer
Quantity Surveyor
Civil Engineer
Mechanical Engineer
Geotechnical Engineer
Building Surveyor etc. to name a few.
Property Development Books - "Starter-Pack"

18 Property Development Books To Get You Started Now

Yes! I'm ready to start now

Includes 18 x detailed eBooks

✓ Property Development Checklist - 6 Pages
✓ How To Finance Your Property Development Project? - 13 Pages
✓ Property Development Team - 19 Pages
✓ Site Acquisition Process - 14 Pages
✓ The Ultimate Guide To Getting Started In Property Development - 42 Pages
✓ My Secret Property Development Process - 28 Pages
✓ How To Nail Your Next No Money Down Deal? - 29 Pages
✓ Industry Insiders Guide To Managing Risks In Property Development - 26 Pages
✓ How To Become A Property Developer? - 41 Pages
✓ Do You Have What It Takes To Be A Property Developer? - 12 Pages
✓ 7 Common Mistakes Made By Property Developers & How To Avoid Them? - 12 Pages
✓ 5 Reasons, Buy & Hold Property Investors Fail At Property Development - 16 Pages
✓ 10 Financial Mistakes Made By Property Investors & Developers - 54 Pages
✓ My 26 Question Due Diligence Checklist - 21 Pages
✓ Property Development 101: The Feasibility Study - 34 Pages
✓ Property Development 101: Construction Guide - 55 Pages
✓ Property Development Blueprint - 66 Pages
✓ Your Definitive Guide To Property Options - 36 Pages

Get Starter Pack
Property development is a vast industry and calls for the involvement of lots of people. I usually refer to this group by AN ARMY OF PROPERTY DEVELOPMENT SYSTEMS. The development team is made up of -
A planning consultant
A quantity surveyor
An accountant
A solicitor
An architect
An interior designer
Housebuilders
Contractors
Manager – overseeing the project
There is only one person who needs to contact all of them, and that is YOU. I mean the PROPERTY DEVELOPER.
The property developer himself sometimes performs some of the duties stated above. However, the prominent role of the property developer in the complete procedure is to organise and coordinate the overall project.