Is being a property developer a good job?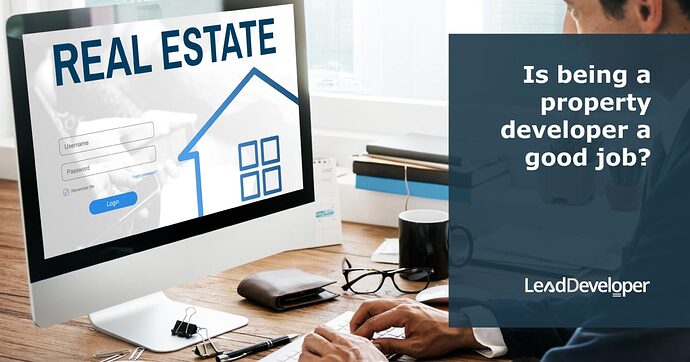 Yes! Definitely.
Being a property developer is excellent if you don't like waiting long term to generate wealth via property.
As long as you know what you are doing, it is profitable develop single-family homes, townhouses apartments, commercial property or any other building. I have discussed these strategies in my Mastermind - Property Development Course.

What does a property developer do?
The property developer's job is to manage a development project by coordinating with all the team members. Successful property developers have a team that contains most of these 23 professionals.
With the help of team members, a property developer finds a site, builds a budget, makes plans, performs market research, runs numbers, constructs buildings, and then sells or leases them at a profit. This profit ultimately makes a property developer's job worthwhile.
Learn More
To become a successful real estate developer, you need to learn specific skills and gain a lot of experience.
You are missing out if you haven't yet subscribed to our YouTube channel.
How do I become a successful property developer?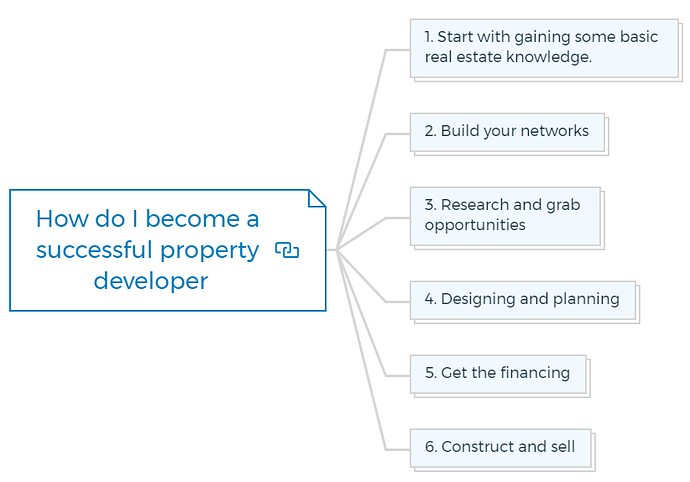 1. Start with gaining some basic real estate knowledge.
2. Build your networks
Take advantage of social media.
Attend seminars, industry events, or conferences,
Engage in your local community.
Property Development Books - "Starter-Pack"

18 Property Development Books To Get You Started Now

Yes! I'm ready to start now

Includes 18 x detailed eBooks

✓ Property Development Checklist - 6 Pages
✓ How To Finance Your Property Development Project? - 13 Pages
✓ Property Development Team - 19 Pages
✓ Site Acquisition Process - 14 Pages
✓ The Ultimate Guide To Getting Started In Property Development - 42 Pages
✓ My Secret Property Development Process - 28 Pages
✓ How To Nail Your Next No Money Down Deal? - 29 Pages
✓ Industry Insiders Guide To Managing Risks In Property Development - 26 Pages
✓ How To Become A Property Developer? - 41 Pages
✓ Do You Have What It Takes To Be A Property Developer? - 12 Pages
✓ 7 Common Mistakes Made By Property Developers & How To Avoid Them? - 12 Pages
✓ 5 Reasons, Buy & Hold Property Investors Fail At Property Development - 16 Pages
✓ 10 Financial Mistakes Made By Property Investors & Developers - 54 Pages
✓ My 26 Question Due Diligence Checklist - 21 Pages
✓ Property Development 101: The Feasibility Study - 34 Pages
✓ Property Development 101: Construction Guide - 55 Pages
✓ Property Development Blueprint - 66 Pages
✓ Your Definitive Guide To Property Options - 36 Pages

Get Starter Pack
3. Research and grab opportunities
After completing the in-demand property development course, you will know where and when to invest.
Check whether you want to develop a new building, renovate an old one, or buy land and subdivide it.
Research market
Use digital platforms and advertising content to grab good property development opportunities.
Try to find a deal that you can buy at a low price and sell high.
4. Designing and planning
Prepare a document that shows the construction project details.
Assign tasks to individual team members.
5. Get the financing
Apply for a bank loan with an impressive proposal.
Find, approach, and convince investors to invest in your project.
6. Construct and sell
Begin the construction work.
Turn your concept into unique residential or commercial premises.
Sell, lease, or rent the building.
Follow the steps, become a property developer, and grow your wealth.
Let me help you with your first (or next) property development project. Join my Property development mentorship program, and I will always be there for you every step of the way.
Property Finance Made Easy

We specialise in Development funding | Commercial finance | Construction loans | Portfolio refinancing & Property investment loans in Australia.