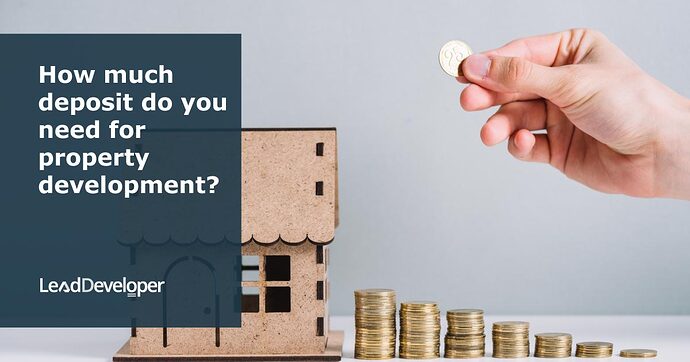 How much deposit you will need for a property development project depends on certain factors such as location, property type, lender's requirements, and the development risk in your project. In property development, a deposit is the same thing as developers' equity.
Developers' equity is your skin in the game. It is the amount of costs that you, as a developer, must fund from your own pocket.
For any project, a development funder will only lead you to a maximum percentage of the total development costs (TDC). So if your costs (TDC) are $100, the development lender will only fund a maximum of $60-$70 of your TDC. This means any shortfall i.e. $30-$40 will become your property development deposit, aka developers equity.
You can expect 25-35% of your proposed project cost to estimate the deposit. The lender you choose, their requirements, and the type of property development loan may change the value of the deposit amount.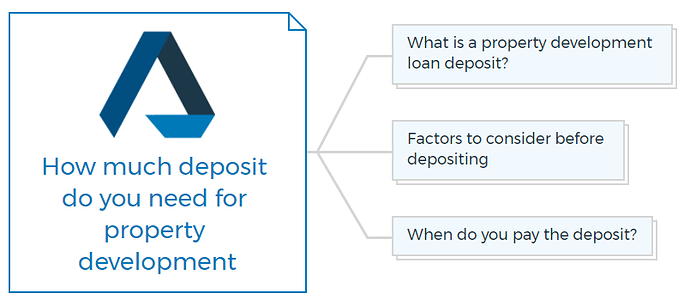 What is a property development loan deposit?
A property development deposit is the initial amount you put towards a project to purchase & develop the property.
If you can pay a larger deposit, you are borrowing less money, ultimately paying less interest over the life of your property development project loan.
When you buy a property with a larger deposit amount, the lender sees this as a less risky deal and quickly provides you with the required funding subject to you fulfilling other funding requirements.
You are missing out if you haven't yet subscribed to our YouTube channel.
Factors to consider before depositing
Consider the following to determine the amount you need to put down your next project -
Thoroughly check the market conditions where the property is located. Look for market trends and identify whether there will be an increase in property value.
What scale of the project are you undertaking? Different types of development need a different percentage of the deposit amount.
Check your financial condition and understand how much money you should borrow to increase your deposit.
Along with the deposit, you will need additional savings or buffer for other property development costs.
You will require a deposit amount aka developers equity, to qualify for a property development loan.
Property Development Books - "Starter-Pack"

18 Property Development Books To Get You Started Now

Yes! I'm ready to start now

Includes 18 x detailed eBooks

✓ Property Development Checklist - 6 Pages
✓ How To Finance Your Property Development Project? - 13 Pages
✓ Property Development Team - 19 Pages
✓ Site Acquisition Process - 14 Pages
✓ The Ultimate Guide To Getting Started In Property Development - 42 Pages
✓ My Secret Property Development Process - 28 Pages
✓ How To Nail Your Next No Money Down Deal? - 29 Pages
✓ Industry Insiders Guide To Managing Risks In Property Development - 26 Pages
✓ How To Become A Property Developer? - 41 Pages
✓ Do You Have What It Takes To Be A Property Developer? - 12 Pages
✓ 7 Common Mistakes Made By Property Developers & How To Avoid Them? - 12 Pages
✓ 5 Reasons, Buy & Hold Property Investors Fail At Property Development - 16 Pages
✓ 10 Financial Mistakes Made By Property Investors & Developers - 54 Pages
✓ My 26 Question Due Diligence Checklist - 21 Pages
✓ Property Development 101: The Feasibility Study - 34 Pages
✓ Property Development 101: Construction Guide - 55 Pages
✓ Property Development Blueprint - 66 Pages
✓ Your Definitive Guide To Property Options - 36 Pages

Get Starter Pack
When do you pay the deposit?
Deposit in private sales is paid after the exchange of signed contracts between buyer and seller. You will pay the deposit on the contract's signing if you buy a property at auction.
In general, your lender or real estate agent may ask you to pay half of your deposit before the settlement and the remaining half at the time of settlement.
Understand the rocket science behind property development finance.
Property Finance Made Easy

We specialise in Development funding | Commercial finance | Construction loans | Portfolio refinancing & Property investment loans in Australia.