How do I start developing property?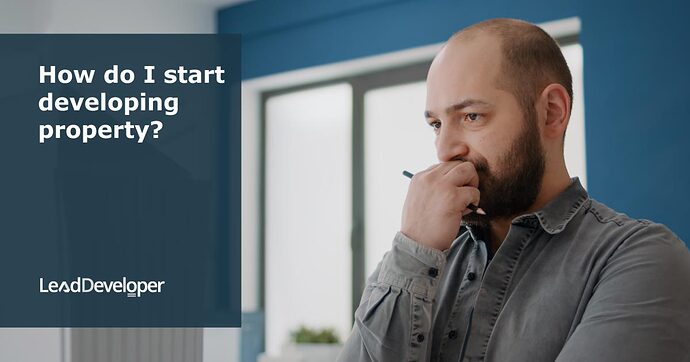 If you're developing property in Australia or anywhere else, it's essential to get a firm grasp on the foundations of real estate development to avoid costly blunders.
Take advantage of the FREE quick-start property development course.

How can you start developing property?
Here is how to begin developing a property in Australia & around the world.
1. Become a master at research
This is during the pre-purchase stage where you will look for vacant land or under developed sites to which you can add value by developing. Starting small is better and you can go for an established house and renovate it, buy a small block of land 700m2 (7534.74 sq.ft), demolish the existing house and build 2 townhouses on the same block.
Check the local real estate market to identify potential opportunities and trends. Always opt for areas with high residential and commercial demand.
You should know how much you can afford to borrow or have access to funds before you start the pre-purchase process.
A property development system can help you acquire real skills that enable you to find, stack and execute development projects without experience.
You are missing out if you haven't yet subscribed to our YouTube channel.
2. Planning and zoning
This stage involves understanding planning, zoning, or working on your concept.
Once you've located potential development sites, the next step is to familiarise yourself with local zoning laws, building permits, and the development approval process.
Quick Tip

Find answers to some basic questions, such as -

Is it the right place for your project?
Is there potential for capital growth?
Are there any local council guidelines for the space?
How is the property currently zoned?
It's a good idea to research nearby developments and the companies that developed them.
They put in a lot of time and money studying the market before investing, so if you can stand on the shoulders of the giants and look further than the giants.
3. Pre-purchase feasibility assessment
Before purchasing a piece of land for development, it is essential to do a feasibility study to ensure the land can support the proposed project. (Try our One Minute Feaso, we built it specifically for pre-purchase feasibility in under one minute)
In order to accomplish this before the final payment, it is crucial to include suitable clauses in the sales contract that will allow for a sufficient due diligence period on the site and allow you to cancel the transaction if you are not satisfied for any reason.
To conduct a feasibility study in under one minute, get instant access to the property development feasibility suite.
Finding out how much the land is worth (residual value of land), what kinds of dwellings can be built and the expected profit margin from the development project are all things you will get with the help of a feasibility study.
If all looks good, purchase the site.
Property Development "How To's" & Frequently Asked Questions

Download Free

Includes 5 x detailed eBooks [142 pages]

✓ How To Become A Property Developer? In 10 Easy Steps (51 Pages)
✓ How To Overcome Fear In Property Development? (15 Pages)
✓ How To Become A Real Estate Developer? Without Experience (37 Pages)
✓ Property Developer FAQs – Who, What, When, How? (20 Pages)
✓ How To Become A Real Estate Millionaire In 10 Steps? (19 Pages)

Download Free
4. Hiring professionals
Engage the services of architects, engineers, and contractors to help design and build the development project.
Learn More
5. Construction
Supervise the construction process, ensuring the project is built to the highest standards and on schedule.
Get quotes from prospective builders and check for bank approval for a development loan.
Depending on the size of the land being developed, this stage can last for 6-12 months. Your efforts will finally pay off at this point.
6. Marketing and after-sales management
Once the development project is completed, start promoting and selling the finished properties to interested purchasers or tenants.
Manage the property effectively and efficiently, ensuring that it is well-maintained and that tenants are satisfied.
Ready to start a property development project? Get the property development checklist now and avoid any nasty costs that could derail your plans. Streamline the entire process with ease!
Property Finance Made Easy

We specialise in Development funding | Commercial finance | Construction loans | Portfolio refinancing & Property investment loans in Australia.