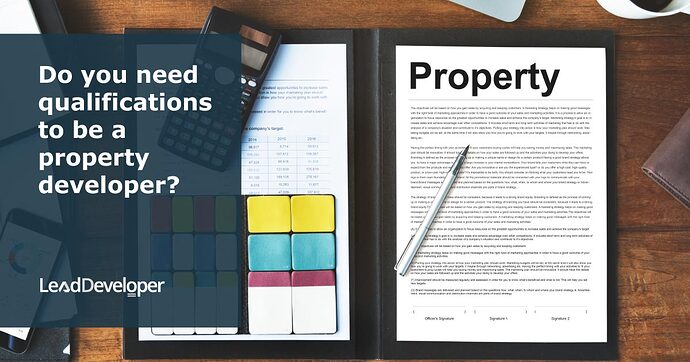 Not really!
Anyone can be a property developer and even though you can get a degree in property development, but you don't really need one. At the same time you do need to get educated in property development before you jump into a project.
The problem with learning from hard knocks is that in property development these hard knocks can really knock the wind out of your sails… (if you catch my drift

But to answer your question, you can be a property developer without any qualification or certification.
If you have the drive then you will make it happen. If you have background in a related professional field, your transition into property development will be that much easier.

Becoming a property developer without qualification
If you have the drive to become a property developer, follow the below steps -

Step 1 - Learn basics.
There are no strict qualifications for a property developer, but you should have a conceptual understanding of real estate.
Enrol for the Free Quick-start property development course. You will find the complete property development process.
You can also opt for the Property development books bundle. It will help you to take your skills to the next level.
Once clear with the basics, switch towards mastering property development. Get insider knowledge of real estate required for your first (next) property development project. Join Property Mastermind Course.
You are missing out if you haven't yet subscribed to our YouTube channel.
Step 2 - Find the project.
Now you know what's involved in a real estate project. Start finding your first project. Set your budget, plan, study the local market, contact the neighbor, get the rates, and perform much more research.
Use my property development checklist for your next project and make your work smooth and quick.
Step 3 - Get the funding.
The hardest thing considered in property development is getting the fund for developing a property. There are several ways to get financing.
You can apply for a loan in the bank, get a mortgage on your own home, or convince property investors to back your project.
Build trust among your lenders that they are investing in a secured project. Prepare a comprehensive project report with an extensive financial feasibility study.
Complete your construction part and sell your project. Earn profit and start looking for your next opportunity.
Property Development Books - "Starter-Pack"

18 Property Development Books To Get You Started Now

Yes! I'm ready to start now

Includes 18 x detailed eBooks

✓ Property Development Checklist - 6 Pages
✓ How To Finance Your Property Development Project? - 13 Pages
✓ Property Development Team - 19 Pages
✓ Site Acquisition Process - 14 Pages
✓ The Ultimate Guide To Getting Started In Property Development - 42 Pages
✓ My Secret Property Development Process - 28 Pages
✓ How To Nail Your Next No Money Down Deal? - 29 Pages
✓ Industry Insiders Guide To Managing Risks In Property Development - 26 Pages
✓ How To Become A Property Developer? - 41 Pages
✓ Do You Have What It Takes To Be A Property Developer? - 12 Pages
✓ 7 Common Mistakes Made By Property Developers & How To Avoid Them? - 12 Pages
✓ 5 Reasons, Buy & Hold Property Investors Fail At Property Development - 16 Pages
✓ 10 Financial Mistakes Made By Property Investors & Developers - 54 Pages
✓ My 26 Question Due Diligence Checklist - 21 Pages
✓ Property Development 101: The Feasibility Study - 34 Pages
✓ Property Development 101: Construction Guide - 55 Pages
✓ Property Development Blueprint - 66 Pages
✓ Your Definitive Guide To Property Options - 36 Pages

Get Starter Pack
What is required to become a property developer?
You should be aware of your area's local building codes and regulations.
Build strong networks in the real estate industry.
Get a thorough understanding of the local market and trends.
Work on your negotiation skills.
Work on these 8 skills and ensure your success in property development.
Property Finance Made Easy

We specialise in Development funding | Commercial finance | Construction loans | Portfolio refinancing & Property investment loans in Australia.