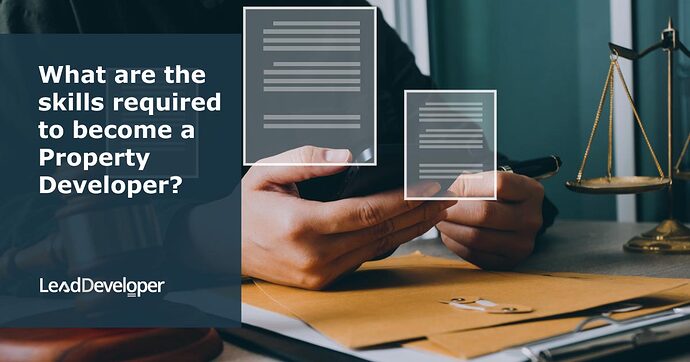 Property development is a thrilling and challenging industry. You can experience a significant return on investment if you play your cards well and develop some skills.
You are missing out if you haven't yet subscribed to our YouTube channel.
Some of these skills are pretty essential; in fact, they are unavoidable. In my earlier blog, I have already revealed 8 critical skills required to become a property developer that you can't afford to miss.
Property Development Books - "Starter-Pack"

18 Property Development Books To Get You Started Now

Yes! I'm ready to start now

Includes 18 x detailed eBooks

✓ Property Development Checklist - 6 Pages
✓ How To Finance Your Property Development Project? - 13 Pages
✓ Property Development Team - 19 Pages
✓ Site Acquisition Process - 14 Pages
✓ The Ultimate Guide To Getting Started In Property Development - 42 Pages
✓ My Secret Property Development Process - 28 Pages
✓ How To Nail Your Next No Money Down Deal? - 29 Pages
✓ Industry Insiders Guide To Managing Risks In Property Development - 26 Pages
✓ How To Become A Property Developer? - 41 Pages
✓ Do You Have What It Takes To Be A Property Developer? - 12 Pages
✓ 7 Common Mistakes Made By Property Developers & How To Avoid Them? - 12 Pages
✓ 5 Reasons, Buy & Hold Property Investors Fail At Property Development - 16 Pages
✓ 10 Financial Mistakes Made By Property Investors & Developers - 54 Pages
✓ My 26 Question Due Diligence Checklist - 21 Pages
✓ Property Development 101: The Feasibility Study - 34 Pages
✓ Property Development 101: Construction Guide - 55 Pages
✓ Property Development Blueprint - 66 Pages
✓ Your Definitive Guide To Property Options - 36 Pages

Get Starter Pack
Let's quickly understand more such qualities that you need to develop to be a successful property developer.
Optimism
Practical Vision
Complete understanding of the property market
Thorough knowledge of the construction process
Working knowledge of finance and the ability to raise funds on the open market: Developers must persuade potential financiers to trust them.
The ability to manage development projects and, in particular, the ability to respond to changing situations that are unavoidable over time
The ability to make decisions and act upon them
"Thick skin" means the ability to handle criticism.
Courage
Above all these, what I forget to mention is a strong SENSE OF HUMOUR. One of the essential skills that help real estate developers to survive in the competitive commercial environment.