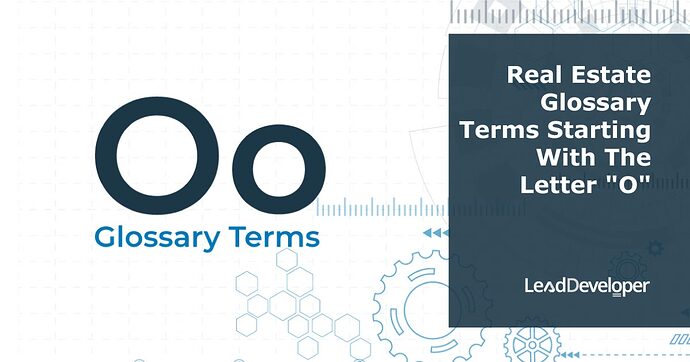 Continued from…
O.C. on center
Studs, rafters and joists are measured from the centre of one to the centre of the next in a building to determine the spacing between members.
Oakum
Pitch or tar-impregnated loose hemp used for caulking large seams or packing plumbing pipe joints is known as jute.
Oatmeal Paper
Adhesive-backed wall covering manufactured by sprinkling sawdust on top of a sticky base.
Obsolescence
Alluding to the fact that things have become inadequate, unused, obsolete, or nonfunctional as a result of the passage of time, shifts in customer preferences, or general deterioration through time (a factor considered in depreciation to cover the decline in value of fixed assets due to the invention and adoption of new production technologies, or changing consumer demand).
Property Finance Made Easy

We specialise in Development funding | Commercial finance | Construction loans | Portfolio refinancing & Property investment loans in Australia.
Occupancy
As defined by building codes, this phrase describes a building's permitted use.
Having control over something. Taking it with your hands and living there as a tenant or owner.
Occupancy cost
The amount of money the tenant paid to use the space. It can be shown in either dollars before or after taxes.
Office
Low-rise means that the building is less than seven stories high. Mid-rise: A building that is between seven and twenty-five stories high. High-rise means that the building is more than twenty-five stories high. [BOMA]
Office gap
What percentage of a given market's office space needs are actually being met by existing office buildings, broken down by property type, submarket, sector, or user categorization.
Office property
A type of commercial property that is used to run or live in business or professional offices. Usually, management and staff operations are done on these kinds of properties. Office can mean a whole building, a floor, a part of a floor, or an office park. Generic office space is sometimes used to describe office space that can be used for many different things. Class A, Class B, or Class C describe the type of office building. Class A properties are the most modern in terms of how they work. In the same market, Class B and Class C properties tend to have lower rents because they are older and need to be updated. They might not be as useful or efficient as Class A properties because their design or condition makes them hard to use.
You are missing out if you haven't yet subscribed to our YouTube channel.
Offset hinge
One or both legs of a hinge with a 90-degree offset, which is designed to change the door's pivot point.
Offsite construction
A building constructed in multiple locations other than the one intended for its intended use.
On site auction
Unlike auctions held at the auctioneer's home or in auction rooms, these auctions are held on the property that is being sold or on the items that are being sold at the owner's home.
Oneway concrete joist system
Closely spaced, reinforced concrete joists span between two parallel beams in this structural arrangement.
Open agency agreement
When more than one agent can try to sell the seller's home.
Open hole inspection
An engineer inspects the hole in the ground and analyses the soil to determine what sort of foundation should be used.
Openend Mortgage
A refinanceable mortgage that does not necessitate a new mortgage contract.
Openended listing contract
Without an expiration date, this contract is between a seller and a real estate broker.
Operating expense stop
A non-negotiable amount above which the owner stops paying for operating costs. It can also be thought of as the amount over which the tenant has to pay its fair share of operating costs.
Original basis
The total amount of money paid for a property, including the amount of cash and debt.
Original principal balance
The whole amount due on a mortgage before any payments have been made, in this case the principle.
Out-migration
The process by which people or households leave or leave a certain area to live somewhere else (an outflow of people or households from a certain area).
Outbuildings
Any building on a certain plot of land that is not the main building. For example, a garage, a shop, etc.
Outrigger
A rafter that extends beyond the wall's framing. Cornices and roof overhangs are often formed by attaching a smaller rafter to a bigger rafter.
Outside corner
The place where two walls meet and form an exterior angle, one that is usually walkable.
Oversupply
Oversupply in commercial real estate means that there are more of a certain type of commercial property on the market than can be sold at the current prices and market conditions (for example, excess supply). Also, a phase of the real estate market cycle that refers to the time when there are too many units on the commercial real estate market due to too much building.
Owner financing
The sale of a home in which the seller provides all or a portion of the financing to the buyer.
Owners corporation
The owners corporation, which used to be called the body corporate, is the group in a strata title building that runs the common property. The people who own each unit in the building are part of the owners corporation.
Ownership
The right to own and use property without anyone else being able to do so.
Ownership in severalty
Ownership of a property that is owned solely by one individual.
Owning
A way to get full economic use of a property for an unspecified amount of time by buying a stake in it.
Occupancy cost ratio
Divide the total occupancy costs of the tenants by their gross turnover. Rent, promotional levies, marketing fees, statutory costs, and costs associated with floor space occupation are all costs. Rent to Turnover Ratio is another name for it.
Occupied stock
[Property Council of Australia Office Market Report]: The total number of saleable properties minus the number of vacant properties.
Office Space Utilisation Rate
A measure of office space efficiency in terms of square metres occupied per person.
OFP
Open hearth.
ONO
Or the closest offer.
Operating profit
Income from a company's normal business activities, minus interest and income tax payments. It can be shown either before or after taxes and is the difference between operating income and operating costs. It does not include any unusual adjustments.
Operational asset
An asset that is needed for a business or corporation to keep running.
Operations and Maintenance (O&M) Manuals
After establishing a new installation of electrical / mechanical / hydraulic / fire protection services for a facility, services engineering contractors provide operations and maintenance manuals.
OSP
Outside parking.
Owner
Every person who owns land jointly or severally, whether at law or in equity, is considered to be an owner. Whether as a beneficial owner, trustee, mortgagee in possession, or in another capacity, a person has the right to either:
(a) the land of an estate in freehold possession or
(b) the rent or profits therefrom.
OECD
The Organisation for Economic Co-operation and Development.
Off-balance sheet pass through securitisation
This is when assets are given to a trustee just so that asset-back securities can be made.
Off-balance sheet pay through securitisation
Off-Balance-Sheet Pass Through Securitisation is evolving due to the diversity of the European market in terms of underlying assets, security kinds, and relevant taxes, regulations, and legislation.
Offering circular
A document that is used to tell potential investors about a new issue of securities. This describes the deal, including what each type of securities to be issued will have (such as the basis for interest payments, credit rating, expected average life and priority with respect to other classes). In a securitization structure, the offering circular also includes information about the underlying assets, such as what kind of assets they are and how good their credit is. Usually, the lead manager of the securities offering and its legal advisors make the offering circular.
Official list
The list of securities that the FSA has allowed to be listed. Part VI of the Financial Services and Markets Act of 2000 says that the list must be kept by the FSA, which is the competent authority.
Official receiver
A person who works for the court and the government and deals with bankruptcies and companies that have to be forced to close. This person has a number of responsibilities, such as becoming the first liquidator when the court orders the company to be shut down, being named by the court as an interim Receiver or provisional liquidator after the winding-up order has been presented, and looking into how the company and its directors behaved.
OIC
The Islamic Conference Organization.
On-balance sheet securitisation
Some examples are covered mortgage bonds and products that look like Pfalndbriefs.
One-tier transaction
A securitization in which the transferor sells or pledges assets directly to the issuing SPE and/or the bond trustee or custodian and does not involve multiple transfers of the assets and one or more intermediate SPEs (thereby reducing transaction costs).
OPCO – propco structure
When an operational borrower with large property assets (such as pubs and care homes) is bought and restructured into two independent firms, this occurs. OpCo is the operating company that runs the firm, while PropCo owns all of the property assets. PropCo then leases all of the operating assets to OpCo.
Open pre-payment
A clause that allows for the prepayment of all or a portion of a loan without incurring a fee or penalty, usually for a limited time.
Open standards consortium for real estate (OSCRE)
A group that doesn't make money but works to create industry standards for data exchange.
Open-ended commingled investment funds
Investment funds whose share count varies as new shares are issued or old shares are redeemed, and whose price is based on Net Asset Value.
Open-ended investment company (OEIC)
UK open-ended, variable-size collective investment scheme set up as a company (not a trust) that invests in a wide range of assets.
Operating advisor
A person or group chosen by the class in charge that the servicer or special servicer must talk to before making certain decisions about the loans.
Option adjusted spreads
A picture of incremental return that takes into account changes in cash flow and the volatility of interest rates. Used in RMBS to price the risk that an investor will have to pay early. Since prepayment penalties are so common with CMBS, this is less important.
Option pledge
The right, but not the obligation, to give goods or personal property as security for a debt or obligation.
Optional termination
A right given to some types of Noteholders in a Securitisation that says when and how a Securitisation can be redeemed before its expected or final maturity.
Original issue discount
A bond that is sold for less than its face value.
Original LTV ratio
The original amount owed on a mortgage loan divided by the value of the property secured by the loan. In the case of commercial mortgage loans, value is commonly understood to indicate the property's current appraised value.
Original valuation
The original monetary value assigned to the asset.
Originate-to-distribute (OTD)
The process of making Loans for securitization or syndication when the person who made the Loan doesn't plan to keep any or only a small interest in that Loan. By using the OTD model, an Originator can quickly take an asset off of its balance sheet, which lets it start more assets.
Originator
An entity that underwrites and originates loans; the obligations originating from such loans are owing to this entity prior to transmission to the SPE.] Also see Origination.
Out of the money
When the price of the underlying asset is below the strike or exercise price for a call option (an option to buy) or above the strike price for a put option, the option is said to be "out of the money" (an option to sell). The more an option is out of the money, the less likely it is that it will be used, so the price goes down. Options that are likely to end up out of the money can also be said to be "deeply out of the money."
Out of the pool
A part of a loan that is not part of the pool of loans that will be sold as a security.
Outstanding principal amount
The main amount that hasn't been paid.
Over-rented
A property is said to be over-rented if it has a lease or leases with rents that are higher than what could be gotten on the open market at the moment.
Over-the-counter (OTC)
A description of derivatives that are not traded on an organised exchange. Contracts for derivatives are made directly between the parties, so they can be changed to fit the needs of a certain transaction.
Operating expense escalation
Even though there are many different kinds of escalation clauses, they all have the same goal: to change rents based on things like published indices, negotiated wage levels, or costs linked to owning and running a building. In the last 30 years, it has become common for owners to keep the base rent for the leased space separate from the escalation rent. With this method, the landlord can make sure that the rising costs of running and keeping the property won't cut into the "nett" rent he or she is supposed to get from the lease. The landlord is likely to use a broad meaning of "Operating Expenses" that includes most of the costs of running the building. Most landlords pass on proper and customary fees, but if the landlord is too pushy, these clauses can be used to force the tenant to do things that they would not do freely or knowingly.