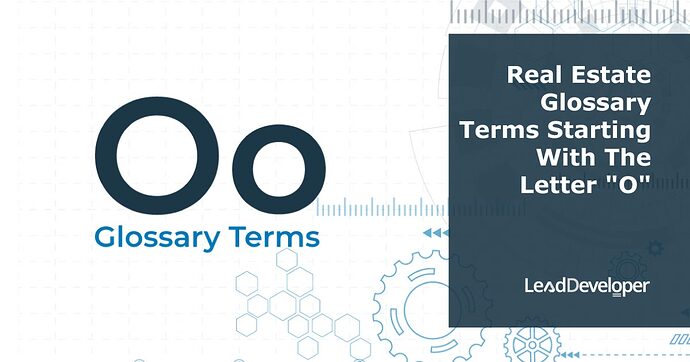 Continued from…
O.C. on center
Studs, rafters and joists are measured from the centre of one to the centre of the next in a building to determine the spacing between members.
Oakum
Pitch or tar-impregnated loose hemp used for caulking large seams or packing plumbing pipe joints is known as jute.
Oatmeal Paper
Adhesive-backed wall covering manufactured by sprinkling sawdust on top of a sticky base.
Obsolescence
Alluding to the fact that things have become inadequate, unused, obsolete, or nonfunctional as a result of the passage of time, shifts in customer preferences, or general deterioration through time (a factor considered in depreciation to cover the decline in value of fixed assets due to the invention and adoption of new production technologies, or changing consumer demand).
Property Finance Made Easy

We specialise in Development funding | Commercial finance | Construction loans | Portfolio refinancing & Property investment loans in Australia.
Occupancy
As defined by building codes, this phrase describes a building's permitted use.
Having control over something. Taking it with your hands and living there as a tenant or owner.
Occupancy cost
The amount of money the tenant paid to use the space. It can be shown in either dollars before or after taxes.
Office
Low-rise means that the building is less than seven stories high. Mid-rise: A building that is between seven and twenty-five stories high. High-rise means that the building is more than twenty-five stories high. [BOMA]
Office gap
What percentage of a given market's office space needs are actually being met by existing office buildings, broken down by property type, submarket, sector, or user categorization.
Office property
A type of commercial property that is used to run or live in business or professional offices. Usually, management and staff operations are done on these kinds of properties. Office can mean a whole building, a floor, a part of a floor, or an office park. Generic office space is sometimes used to describe office space that can be used for many different things. Class A, Class B, or Class C describe the type of office building. Class A properties are the most modern in terms of how they work. In the same market, Class B and Class C properties tend to have lower rents because they are older and need to be updated. They might not be as useful or efficient as Class A properties because their design or condition makes them hard to use.
You are missing out if you haven't yet subscribed to our YouTube channel.
Offset hinge
One or both legs of a hinge with a 90-degree offset, which is designed to change the door's pivot point.
Offsite construction
A building constructed in multiple locations other than the one intended for its intended use.
On site auction
Unlike auctions held at the auctioneer's home or in auction rooms, these auctions are held on the property that is being sold or on the items that are being sold at the owner's home.
Oneway concrete joist system
Closely spaced, reinforced concrete joists span between two parallel beams in this structural arrangement.
Open agency agreement
When more than one agent can try to sell the seller's home.
Open hole inspection
An engineer inspects the hole in the ground and analyses the soil to determine what sort of foundation should be used.
Openend Mortgage
A refinanceable mortgage that does not necessitate a new mortgage contract.
Openended listing contract
Without an expiration date, this contract is between a seller and a real estate broker.
Operating expense stop
A non-negotiable amount above which the owner stops paying for operating costs. It can also be thought of as the amount over which the tenant has to pay its fair share of operating costs.
Original basis
The total amount of money paid for a property, including the amount of cash and debt.
Original principal balance
The whole amount due on a mortgage before any payments have been made, in this case the principle.
Out-migration
The process by which people or households leave or leave a certain area to live somewhere else (an outflow of people or households from a certain area).
Outbuildings
Any building on a certain plot of land that is not the main building. For example, a garage, a shop, etc.
Outrigger
A rafter that extends beyond the wall's framing. Cornices and roof overhangs are often formed by attaching a smaller rafter to a bigger rafter.
Outside corner
The place where two walls meet and form an exterior angle, one that is usually walkable.
Oversupply
Oversupply in commercial real estate means that there are more of a certain type of commercial property on the market than can be sold at the current prices and market conditions (for example, excess supply). Also, a phase of the real estate market cycle that refers to the time when there are too many units on the commercial real estate market due to too much building.
Owner financing
The sale of a home in which the seller provides all or a portion of the financing to the buyer.
Owners corporation
The owners corporation, which used to be called the body corporate, is the group in a strata title building that runs the common property. The people who own each unit in the building are part of the owners corporation.
Ownership
The right to own and use property without anyone else being able to do so.
Ownership in severalty
Ownership of a property that is owned solely by one individual.
Owning
A way to get full economic use of a property for an unspecified amount of time by buying a stake in it.