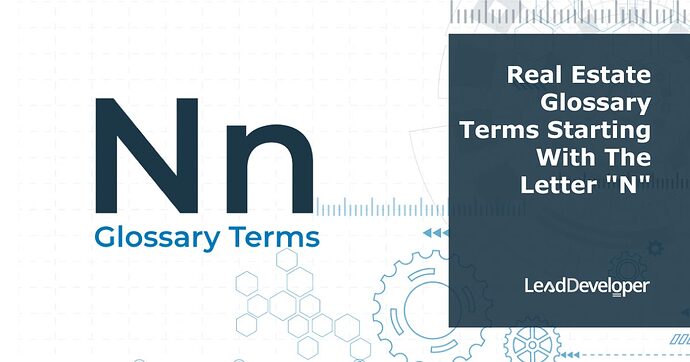 Continued from…
Nail inspection
After the drywall has been nailed and screwed up, a municipal building inspector will perform a final inspection.
Nailer
Mechanical fastening of roofing materials can be accomplished by attaching a wooden strip to a concrete, masonry, or steel deck.
NAMB
The National Association of Mortgage Brokers is a trade group in the United States that represents the needs of mortgage brokers.
Natural finish
A clear coat that leaves the natural wood's colour and texture untouched.
Property Finance Made Easy

We specialise in Development funding | Commercial finance | Construction loans | Portfolio refinancing & Property investment loans in Australia.
Natural Gas Meter
A finish that does not alter the wood's natural colour or texture.
NEC (National Electrical Code)
A collection of guidelines for the proper installation of electrical wiring.
Needle Beam
Threaded steel or wood beam used to sustain a bearing wall and its imposed loads during foundation underpinning.
Negative pledge
Condominiums often impose financing limits on unit deeds and trust agreements, which prevent owners from borrowing more than a predetermined sum to purchase a condominium unit.
Neighborhood center
This centre is intended to provide convenient shopping for the day-to-day needs of consumers in the surrounding area. According to the ICSC's SCORE publication, a supermarket anchors half of these centres, while a drugstore anchors about a third.
These anchors are supported by stores that sell pharmaceuticals and health-related products, as well as sundries, snacks, and personal services. A neighbourhood centre is typically laid out as a straight line with no enclosed walkway or mall area, though a canopy may connect the storefronts.
You are missing out if you haven't yet subscribed to our YouTube channel.
Neutral leverage
A type of investment in which the cost of borrowing money is the same as the return on the investment.
Neutral wire
This wire connects a wall socket to the main power supply.
Newel post
Starting point for a stair guard railing or balustrade that is attached to a huge starting post.
No money down loan
Loan amount is equal to the complete purchase price of a property, making this a mortgage loan.
Non-basic employment
Non-export-oriented employment is defined as work that is not associated with export-oriented activities. Non-basic employment is best defined by industries and activities that manufacture goods and services solely for local use or consumption.
Non-household population
This is the part of the population that isn't considered to be part of the local housing market. It is made up of people who live in dorm-like places (like military bases) or in institutions (such as students in residence halls).
Nonbearing wall
A wall that can bear no more weight than it does.
Nonrecourse note
A sort of loan in which the borrower is not personally liable for the repayment of the principal.
Notarize
To ensure that a signature on a legal document, such as a lease or a contract of sale, is genuine, the document must be notarized by a Notary Public.
Notch
A groove cut into the end of a board in a transverse direction.
Notice of Lis Pendens
One that informs everyone who cares about an asset's title that it is the subject of legal action, and that any judgement entered against the property will be attached to it.
Notice of termination
Either the landlord or the tenant can give notice at the end of a lease that they want to end the rental agreement and move out.
Nozzle
In a boiler, this is the component that sprays a fuel-air mixture into the combustion chamber for burning.
Continued at…
Real Estate Glossary N [Part 2]