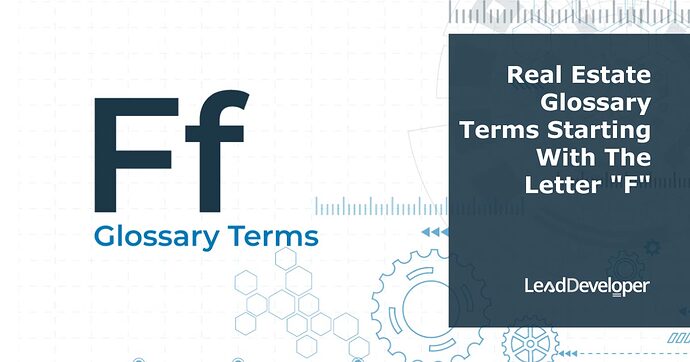 Continued from…
Fire resistance rating
Means the shortest amount of time that an element of a building can be expected to work properly during a standard fire test. This time is set by the relevant authority.
Fireproof construction
Designed so that all of the building's contents can burn to the ground without destroying the building's integrity.
Fireproofing
The use of materials that don't burn to protect the structural parts of a building so that it can withstand a total fire without losing its shape.
Property Finance Made Easy

We specialise in Development funding | Commercial finance | Construction loans | Portfolio refinancing & Property investment loans in Australia.
First refusal
The right to be the first person to buy or rent a piece of property, or the right to match any offer made by someone else.
Fixed floor coverings
Wall-to-wall carpet, linoleum in the kitchen, vinyl tiles, and so on. Loose rugs are not covered by this term.
Fixed mortgage
A mortgage where the principal doesn't have to be paid back until the end of the loan's term. During the life of a mortgage, the borrower usually pays interest at regular times, such as every quarter, half-year, or year.
Flat roof
A roof with just enough of a slope to allow water to flow off of it; the pitch is less than 20 degrees.
Foreign Investment Review Board (FIRB)
It looks over any plans for foreign investment in Australia and gives the government advice on how to handle those plans.
Facility audit
An audit of a building's physical and functional suitability, with a focus on the building's structure and building services, to help with a life cycle cost analysis, planning for short-term maintenance, and planning for the long term.
Facility cost
Can be written as either the initial capital cost to set up a facility or the annual cost to run and maintain a facility for as long as that facility is in use.
Financial modelling
The forecast of a business's or property's income or cash flow over time, which can be used to figure out its financial return. A financial model is used to make income or cash flow projections. This model takes into account how income, expenses, and capital have changed over time, as well as projections of these variables. Financial modelling can also be used as a management tool to see if property performance matches expectations, to test the reliability and stability of the DCF model, or to re-create the steps investors take when deciding whether to buy, sell, or keep a property or business.
Fitout costs
The cost of fitting out a building according to the fit-out contract, which includes the cost of any suppliers, consultants, or contractors hired because of the clause.
Fittings
Installed things that can be taken off of real estate without hurting the land, the building, or the way the property is used.
You are missing out if you haven't yet subscribed to our YouTube channel.
Floor churn rate
The total area affected by moves or changes, divided by the total area of the building or the area being looked at, and multiplied by 100. Check out Primary Churn, Secondary Churn, and Tertiary Churn as well.
Floor space ratio (FSR)
The ratio that shows how much development can be done on a site. A FSR of 2:1 means that you can build a floor area that is twice the size of the site. This number is called Floor Space Area (FSA).
Flood zones
Flood zones are places or areas that may flood as a result of weather, geography, or proximity to water.
Foreclosed property
When an owner's rights and title are taken away as a result of a failure to make required payments for the asset or property, the property is said to be in foreclosure.
Foreclosure start
The lender will inform the borrower of their missed loan repayment at the beginning of the foreclosure process, or foreclosure start.
Foreclosure timeline
A foreclosure timeline describes the length of time it typically takes to complete the foreclosure process.
Facility agent
The company in charge of the day-to-day management of a Loan on behalf of the Lenders.
Facility office
A Lender's office or branch where it fulfils its duties under a Loan Agreement.
Fast pay
A word used to describe a security or transaction structure that ensures principal payback on an expedited schedule.
Fatwa/Fatawah
A Sharia'a scholar or board's written confirmation. This has no legal force under secular law. Originally, this was a brief description of the ruling; more lately, these have been formatted similarly to Anglo-American legal opinions.
Feeders
Entities formed above the fund to meet the unique (typically tax-related) needs of one or more investors.
Feuhold
The Scottish term for freehold.
Finance documents
A collective name for the documents entered into by the Lender, the Borrower, and any Obligors. Before advancing monies to the Borrower, a Lender will require all Financial Papers to be signed. The Loan Agreement, Security Documents, Hedging Documents, Intercreditor Agreement, and fee letters are typically included in the Finance Documents. A violation of any Financial Document will usually result in an Event of Default under the Loan Agreement.
Finance lease
A lease in which the risks and rewards of a fixed asset are transferred but legal ownership is not transferred. The Lender (typically a finance company) purchases the asset and leases it to the Borrower (lessee). The lessee is expected to make Lease payments equal to the entire value of the fixed asset during the term of the lease and to provide a return on capital to the lender. The asset is handed to the lessee at the end of the Lease, providing the lessee has paid the Lender all payments owed to it.
Finance parties
In syndicated or securitised Loans, a collective word used to refer to those entities within the Lender group, which includes the existing Lenders, the Facility Agent, the Arranger, the Security Trustee, and any Hedge Counterparty. Obligors incur duties to all finance parties, hence the Security Trustee holds the Security in trust for all finance parties. Also known as the Secured Parties.
Financial covenants
Positive or negative responsibilities imposed on the borrower relating solely to financial problems, such as maintaining LTV at a given percentage.
Financial services authority (FSA)
A body in charge of overseeing the regulation of all financial service companies in the United Kingdom.
Financial stability board (FSB)
The FSB, which was established in 2009 during the G-20 summit in London, is an international agency that monitors and offers recommendations regarding the global financial system.
Financial stability forum (FSF)
The FSF was established in 1999 at the request of G7 finance ministers and central bank governors with the goal of identifying and addressing threats and vulnerabilities to the international financial system. In 2009, the FSF was supplanted by the FSB.
First loss piece
The most junior class of a CMBS that experiences losses from a mortgage pool before any other classes do.
Fixed charge
A type of security in which a company's asset or collection of assets is charged as security for borrowings or other liabilities. The chargor retains legal ownership of the asset subject to the Fixed Charge but is not permitted to act with it without the Lender's authorization. In the event of insolvency, a Fixed Charge shall take precedence over any Floating Charge in terms of payback.
Fixed charge receiver
A Receiver is appointed to deal with assets subject to a Fixed Charge.
Fixed income investor
An investor who seeks a fixed (and so predictable) rate of return on their investments.
Fixed rate interest
An interest rate that will not vary during the loan's term.
Floating charge
A type of security in which a company's asset or collection of assets is charged as security for borrowings or other liabilities. Until Crystallisation, the Lender's interest is attached to a fluctuating Pool of assets. A Floating Charge has the advantage of allowing the chargor to deal with charged assets during the course of a company's business without the authorization of the Lender prior to insolvency (e.g. by transferring or selling the assets). Fixed Charge, Crystallisation, and Qualified Floating Charge are other terms for the same thing.
Floating rate interest
An interest rate that may change during the loan's term. LIBOR and EURIBOR are two examples of typical floating rate interest rates.
Floating rate notes
A type of security with a variable (or floating) interest rate that is often higher than the market index.
Fonds commun de créance (FCC)
A closed-end mutual debt fund that is used as a fundraising vehicle for French securitisations.
Foreign account tax compliant act (FACTA)
FACTA is a US law aimed at improving tax conformity with regard to overseas financial holdings and offshore accounts. FATCA requires US taxpayers who have defined overseas financial assets in excess of certain criteria to report those assets to the IRS. FATCA will require foreign financial institutions to submit immediately to the IRS information regarding financial accounts held by US taxpayers or foreign entities in which US taxpayers own a significant stake.
Foreign court
A judicial or other authority with the competence to direct or supervise a Foreign Proceeding.
Foreign direct investment or FDI
A foreign corporation making a tangible investment in real estate in another country.
Foreign main proceeding
A pending Foreign Proceeding in the country where the Debtor holds their COMI.
Foreign nonmain proceeding
A Foreign Proceeding that is not a Foreign Main Proceeding and is pending in a country where the Debtor has a presence.
Foreign proceeding
A judicial or administrative procedure in a foreign nation, including an interim proceeding, under a legislation relating to insolvency or debt adjustment, in which the Debtor's assets and affairs are subject to control or supervision by a foreign court for the purpose of reorganisation or liquidation.
Foreign representative
A person or body authorised in a foreign action, including one appointed on an interim basis, to administer the reorganisation or liquidation of the Debtor's assets or affairs or to act as a representative of such foreign proceeding.
Forwards
A contract that calls for the future sale of an asset. The price and amount (along with other terms) of an advance are agreed upon by the parties at the outset.
FTSE 100
The London Stock Exchange's benchmark index. It is a market capitalization-weighted index of the 100 largest UK stocks.
FTSE NAREIT all REITs index
A stock market index that includes all qualifying REITs having common stock traded on the New York Stock Exchange or the NASDAQ National Market, regardless of minimum size, liquidity standards, or free float adjustments. The index is managed by FTSE Group, an independent corporation that began as a joint venture between the Financial Times and the London Stock Exchange.
Full service lease
A lease in which the Landlord pays all building expenses. A Gross Full Service Lease is also known as a Gross Rent Lease.
Fusion deals
A CMBS that includes a mix of conduit loans, small loans, and large loans.
Futures
Forwards that are highly standardised and exchanged on an exchange.
Face rental rate
The "asking" rent that the owner puts in writing.
Finance charge
The amount paid for the right to pay for goods or services later. This includes any fees that the buyer has to pay as a condition of the loan or fees that build up on above-standard tenant upgrades made by a landlord at the tenant's expense, which are paid back in rent.
First refusal right or Right of first refusal (Purchase)
A clause in a lease that gives the renter the first chance to buy a property at the same price and on the same terms and conditions as an offer from a third party that the owner is willing to accept.
First refusal right or Right of first refusal (to lease adjacent space)
A clause in a lease that gives the renter the first chance to rent any extra space that might become available on the property at the same price and on the same terms and conditions as a third party offer that the owner has said he or she is willing to accept. This right is usually limited to certain parts of the building, like rooms that are next to each other or on the same floor. See "Right of First Refusal" and "Right of First Offer" for more information.
Fixed Costs
Costs, like rent, that don't change based on how much the entity sells or makes. These costs would still be paid even if the entity didn't make or sell anything.
Full Recourse Loan
A loan for which the borrower or guarantor is personally responsible if the borrower doesn't pay, even if the value of the property used as collateral doesn't cover the debt.
Future Proposed Space
Space in a planned business development that is not yet being built or for which there is no set start date. Future Proposed Projects are all the projects that are waiting for a lead tenant, finance, zoning, approvals, or any other event that is needed to start building. This term may also refer to the next steps of a project that is being built in more than one phase.