Terms Beginning With - F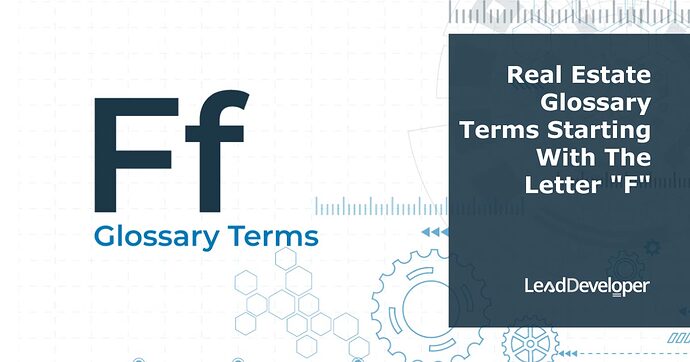 Property Development & Investment Glossary, Terms & Definitions
F tld
Whole tiles.
F/F or F/furn
Well equipped.
Facade
The front of a building's exterior.
The exposed or front face of a structure; frequently used to indicate an exterior with a distinctive architectural design or concept.
The main side of a house or other building that faces the street.
Face interest rate
The interest rate that is shown on mortgage paperwork.
Face nail
Setting nails in the bearing header or beam's vertical face.
Perpendicularly driven Nails can be used to secure.
Face rent
Rental payments are made without taking into account any lease incentives (for example, rent-free periods).
Face value
The amount payable when an instrument matures; the par value as indicated on its face, not the real or market value. Mortgage notes are frequently sold at a price lower than their face value.

The monetary value of insurance coverage.
Amount indicated in dollars on a paper.
Faced concrete
Concrete porches, steps, or patios can be completed by completing the front and all of the vertical sides.
Property Finance Made Easy

We specialise in Development funding | Commercial finance | Construction loans | Portfolio refinancing & Property investment loans in Australia.
Facilitator
A real estate licensee that aids a buyer and a seller in achieving a real estate transaction agreement but does not have an agency affiliation with either party. Several states have established legislation establishing statutory duties for a facilitator that differ from those of a dual agent; also known as a transaction coordinator, a middleman, or a transaction broker.
Facilities management
In charge of overseeing the physical care of properties as well as keeping records of income and costs related to their operation.
Facing brick
The outside of a wall is decorated with bricks that have been exposed.
Fact sheet
The information displayed in a real estate listing.
Factor of production
Goods or services that are designed to be used in the production of other goods or services.
Land and land-based resources (including raw materials); capital, which includes both real capital such as machinery, facilities, and infrastructure and financial capital to start or expand businesses; labour or human input (as defined in terms of labour hours or quality/productivity); and technology, which includes production know-how and methods, as well as management and operations skills.
Factory outlet
A shopping complex made up of manufacturer's retail outlet facilities where items are sold directly to the public in stores that the company owns and operates.
Factory-built construction
Any building product that is manufactured entirely or partially in a factory under regulated conditions. Trusses and prehung doors are two examples, as are completed buildings such as modular and manufactured houses.
Fair Credit Reporting Act (FCRA)
A federal statute intended to safeguard the public from false information reported by credit agencies, such as Choice Point, which collects data for the insurance sector. Individuals have the right under the legislation to inspect information in their credit bureau file, correct any inaccuracies, and append explanatory statements as a supplement to the file. The act also requires that if a real estate seller refuses to sell to a prospective buyer or a seller or lender refuses to extend credit to the buyer because of the buyer's credit report, the seller or lender must reveal the identity of the reporting credit bureau to the prospect. Congress revised the FCRA in 2005 to mandate each agency to give one free credit report per year and to provide customers with access to their credit scores for a reasonable charge. Other improvements make it easier to prevent identity theft and limit the use of credit report information by credit bureaus. After seven years, the majority of negative information about a debtor is removed (except bankruptcy information, which is held for ten years).
Fair Debt Collection Practices Act
A federal regulation that governs debt collectors' activities when collecting consumer debts, which are debts incurred by a natural person to receive money, property, insurance, or services principally for personal, family, or household debts. A debt collector is anybody whose primary business is debt collecting or who (directly or indirectly) frequently collects or attempts to collect debts owed to another person or entity, including property managers and attorneys who collect debts on behalf of their clients. The law protects customers from illegal and unethical debt collection practices, specifies what information debt collectors can gather, establishes precise standards for communicating with clients at home and at work, and specifies the types and timing of notices required prior to collecting debts. Primary enforcement is now with the Consumer Financial Protection Bureau, along with the FTC and other government authorities, as mandated by the Dodd-Frank Act.
Fair Housing Act of 1968
Title IX of the Civil Rights Act of 1964 prohibits housing discrimination based on racial, ethnic, religious or national origin.
Fair Housing Amendment Act of 1988
An amendment to the federal Fair Housing Act that went into effect on March 12, 1989, included two new protected classes: the physically and mentally handicapped, and households with children under the age of 18. ("familial status").
Fair market rent
The amount of rent a property may command at any particular moment, if available.
Fair market value (FMV)
The current market worth of a property.
The price at which a buyer and seller have agreed upon the sale of a property.
To put it another way, it is a term used to describe the most likely price that a property would bring in terms of money to a seller who is willing but not compelled to sell from a buyer willing but not compelled to buy, both parties fully informed of all the purposes for which the property is best adapted and ways it is capable of being used. The phrase "market value" has come to be widely recognized in today's jargon. (Consider the price at which anything is currently selling.) misrepresentation of products False or misleading claims made in advertisements. It is illegal for a seller to misrepresent a product in order to get a buyer to back out of a contract to acquire it. False advertising may be construed as fraud in some situations, and a court may grant a monetary judgment to compensate consumers for their losses. If found guilty of misleading advertising, a real estate licensee faces suspension or revocation. If a non-licensee makes misleading assertions about a subdivision, he or she may be prosecuted for criminal offenses.
Fair rent
The most likely rent that a property could get on the open market, based on how much rent is being paid for similar properties right now. When there are laws about rent control, a fair rent can be set arbitrarily by looking at things like limits on returns, etc.
Fair value
That is, a value that makes sense and fits with what is known.
Fair value of an asset (or liability)
The price at which the asset (or liability) could be bought (or incurred) or sold (or settled) in a current transaction between willing parties, other than in a forced or liquidation sale. (Standards for Real Estate Information)
Fallout risk
Borrowers may be lost from the origination pipeline if mortgage interest rates fall after loan commitment but before loan closing, causing borrowers to choose not to complete ("take down") the loan.
Familial status
A protected class specified under the Fair Housing Act as one or more individuals under the age of 18 living with a parent or legal guardian or another person given written consent by a parent. Pregnant women, anyone in the process of obtaining legal custody, and foster parents are all specifically included.
Family
Persons linked by blood or marriage in the conventional sense. In a more modern sense, the term "family" is interpreted broadly to embrace various atypical living situations. Check local zoning rule definitions to verify if "single-family residences" allow unmarried, unrelated people such as the elderly or disabled to live together.
Family room
A less formal living room than the formal living room. It is usually where family activities happen.
Fannie Mae (Federal National Mortgage Association or FNMA)
Government-sponsored enterprise; one of the leading secondary market purchasers of home mortgages.
A player in the secondary mortgage market. Fannie Mae (originally the Federal National Mortgage Association [FNMA]) is a government-sponsored enterprise (GSE) created by Congress that purchases mortgage loans in the secondary market to ensure that mortgage funds are readily available. In the primary mortgage market, Fannie Mae is not permitted to create loans or lend money directly to consumers.
Fannie Mae was founded in 1938 to purchase FHA loans from loan originators in order to provide liquidity for government-insured loans in a depressed economy when few lending institutions would make such a loan. VA loans were included to Fannie Mae's buying programme in 1944. Congress divided Fannie Mae into a continuing government entity known as Ginnie Mae, the Government National Mortgage Association (under the Department of HUD), and granted Fannie Mae a federal charter to operate as a private corporation in 1968. Fannie Mae continues to keep funds moving into the mortgage market, to assist troubled homeowners, and to encourage sustainable housing as the market recovers from the 2008 housing crisis.
Both Fannie Mae and Freddie Mac (FHLMC) limit the quantity and type of loans they buy, which must meet particular criteria. To make these criteria easier for loan originators, these agencies have introduced a new type of conventional loan known as a "conforming loan."
Fannie Mae purchases mortgage loans and mortgage-related assets, then securitizes them into Fannie Mae mortgage-based securities (Fannie Mae MBS). Funds are raised via issuing debt securities in domestic and foreign capital markets, as well as through other investments aimed at increasing the availability of affordable housing. The Federal Housing Finance Agency (FHFA) is the primary regulator of Fannie Mae."
The Federal National Mortgage Association is also known as the Federal National Mortgage Association (FNMA).
A privately held corporation that buys FHA, VA, and standard mortgages.
A quasi-private US organization that buys and pools conventional mortgages, then uses them as collateral to produce securities. Fannie Mae certificates come with a guarantee that the principle and interest will be paid in whole and on schedule.
FAR (floor/area ratio)
The floor area to land area ratio, given as a percentage or decimal, is calculated by dividing the total floor area of the building by the area of the lot. Typically used as a formula to control the volume of a construction.
Farm area
A word used by a real estate licensee to describe either a specific geographical area or a group of people from whom a real estate salesperson pays special attention and study. A good salesperson knows everything there is to know about a certain geographic area, including all recent comparable sales, and attempts to recruit real estate business, particularly listings from this community. Licensees seek business from their "people farm" in the same way.
Farm assets
A ranch's or farm's component assets, such as farmland; personal dwelling; other residences and structures utilized in the farming or ranching industry; vines, trees, pipelines, fences, irrigation systems, and cattle; and unharvested crops sold to the purchaser.
These assets are subject to special income-tax treatment under the Internal Revenue Code and the Internal Revenue Service's rules. As a result, price allocation is critical when selling, exchanging, or leasing the entire ranch or agricultural land, or a portion of it.
Farm Credit System
A federal programme established under the Federal Farm Loan Act of 1916 to meet the special financial needs of farmers, ranchers, agricultural product producers and harvesters, rural homeowners, and owners of certain farm-related enterprises. The 50 states are organized into 12 Farm Credit Districts, which operate independently but are overseen by the Federal Farm Credit Administration.
Farmer Mac
The Federal Agricultural Mortgage Corporation's abbreviation.
Farmers Home Administration (FMHA)
A federal agency inside the United States Department of Agriculture that was created to manage emergency farm funding and to route loans to farmers, rural inhabitants, and communities. The FmHA was superseded by the Rural Housing Service (RHS) and was completely phased out in 2006.
A federal body that administers aid to buyers of houses and farms in rural regions and is part of the United States Department of Agriculture.
Farmland
Land used only for agricultural purposes, such as crop or livestock production. Also, land dedicated for agricultural reasons in zoning laws.
Fascia
The part of a soffit that is visible from the outside.
A piece of wood that holds a gutter around the eaves of a building.
Fashion-oriented/specialty center
A shopping mall with a high concentration of fashion stores, boutiques, and handicraft stores that sell hand-picked products of excellent quality at a premium price. A modest specialty department shop might be included. Usually found in a high-income neighborhood.
This type of shopping centre is mostly made up of high-end clothing stores, boutiques, and craft shops that sell unique or high-quality fashion items. Anchors aren't necessary for these centres, but sometimes restaurants or entertainment can be used to draw people in. The design of the centre is very high-end, with a focus on a rich interior and good landscaping. These centres usually are found in trade areas having high-income levels.
Fast-track construction
A construction method in which real construction begins before the design and building specifications are completed.
A building approach in which construction begins under a negotiated contract before all designs and specifications are finalized. The building is progressing as blueprints are completed.
You are missing out if you haven't yet subscribed to our YouTube channel.
Feasibility analysis
An examination of the chances of success of a given recommended course of action.
Evaluation is the process of looking at a proposed project to see if it will meet the goals set by the people involved (including owners, investors, developers, and lessees).
Feasibility study
A cost-benefit analysis of a suggested course of action to estimate the possibility of meeting project objectives within the context of defined restrictions and available resources. A plan is deemed realistic if it has a fair chance of meeting defined objectives. A financial feasibility analysis investigates whether the suggested course of action would satisfy financial goals.
A form of planning study aimed at determining the best use of a place.
A report that determines the viability of a project based on market analysis findings and financial modeling.
A report that considers a variety of aspects in relation to an investment and expresses a judgment on the likelihood of success.
An examination of a proposed subject or property with a focus on the potential income, potential expenses, and most advantageous use and design. A feasibility study is frequently used by a developer to persuade investors to put up the initial capital for a proposed venture. Some mortgage investors and lending institutions require such a study before making a loan commitment. It is a great sales tool in addition to being a decision-making tool for the developer and lender. It differs from marketability research, which is more focused with demand for the proposed usage. A feasibility study's objective is to evaluate the rate of return on a specific project and to establish whether the proposed project is economically feasible.

An assessment of an urban region utilizing government monies to examine whether an urban revitalization project inside that area is feasible.
Federal Agricultural Mortgage Corporation (FAMC)
It's a separate federal agency under the Agricultural Credit System set up in 1987 by the Agricultural Credit Act to create a secondary market for farm real estate loans. Farmers Mac is a stockholders owned, government-sponsored business (GSE) that buys and guarantees qualified loan-backed securities called AgVAntage® bonds through three programmes: Farmer Mac I (Farmer Mac I), Farmer Mac II (Farmer Mac II), and Rural Utilities (Rural Utilities).
Federal Deposit Insurance Corporation (FDIC)
An independent federal organization that guarantees deposits in all national banks and state banks that have been approved as FDIC members up to a specific sum.
It was founded in 1933 as a public business. In most commercial banks, it guarantees each depositor up to $100,000.
Congress established an independent organization to cover the deposits of all banks eligible for federal deposit insurance. Individual accounts are covered up to $250,000 for each account ownership category, per depositor, each insured bank. Premiums paid by banks and thrift institutions finance the FDIC.
Federal Deposit Insurance Reform Act (FDIRA)
A federal statute that raised deposit insurance to $250,000 while indexing it to inflation and consolidated two deposit insurance funds, the Savings Association Insurance Fund (SAIF) and the Bank Insurance Fund (BIF), into the Depositor Insurance Fund (DIP). FDIRA also authorizes the FDIC to provide rebates to the banking industry if the deposit insurance fund exceeds 1.5 percent of total insured deposits.
Federal Emergency Management Agency (FEMA)
A federal agency in charge of catastrophe preparedness, response, and recovery planning. FEMA is a component of the United States Department of Homeland Security (OHS), and its ongoing objective is to lead the effort to prepare the nation for all dangers and to efficiently manage government response and recovery operations following any national federal fair housing law catastrophe. FEMA also launches proactive mitigation efforts, trains first responders, and oversees the National Flood Insurance Program and the United States Fire Administration.
Federal fair housing law
Title VIII of the Civil Rights Act, adopted in 1968 and later amended, is known as the federal Equal Housing Act, and it established a national policy of ensuring fair housing throughout the United States (reference Sections 3601-3631 of Title 42, U.S. Code). Discrimination is prohibited in the sale or rental of most homes (including time-sharing units) and any unoccupied property offered for residential construction or use based on race, colour, sex, familial status, handicap, religion, or national origin. Other forms of real estate transactions, such as those involving commercial or industrial assets, are not prohibited by the law. The law is enforced by the Office of Equal Opportunity (OEO), which reports to the Secretary of Housing and Urban Development (HUD).
The statute, as revised in 1972, mandates equal opportunity posters (11 inches by 14 inches) to be displayed in real estate brokerage firms, model home sites, mortgage lender's offices, and other connected areas. If a broker who does not display the sign is examined by HUD on grounds of discrimination, failure to display the poster provides prima facie proof of discrimination. The poster must have the following slogan: Equal Housing Opportunity. It must also include the following statement about equal housing opportunity: "We are committed to the letter and spirit of US policy in order to achieve equal housing opportunity throughout the country. We advocate and support an affirmative promotion and marketing approach in which there are no impediments to housing acquisition based on race, colour, religion, sex, familial status, handicap, or national origin." The following logo for equal housing opportunity must also be featured on the poster:
The fair housing law protects people from discrimination based on their race, colour, gender, familial position, handicap, religion, or national origin.
Refusing to sell or rent to, interact with, or negotiate with anyone → Misrepresenting terms or conditions for buying or renting housing → Advertising that housing is only available to people of a particular race, colour, sex, familial status, handicap, religion, or national origin (such as placing Sold signs when the property in fact is not sold)
Claiming that housing is not available for inspection, sale, or rent when it is (includes a practice called steering, whereby certain brokers may direct members of certain minority groups away from some of their listings in racially unmixed areas)
Blockbusting, a practice in which a broker attempts to earn by convincing property owners to sell or rent their homes by informing them that minority groups are migrating into the neighborhood; also known as panic peddling.
Refusing or requiring different terms or conditions for home loans made by commercial lenders such as banks, savings and loan associations, and insurance companies → Refusing or requiring different terms or conditions for home loans made by commercial lenders such as banks, savings and loan associations, and insurance companies
The Fair Housing Act covers the following situations:
Single-family housing owned by private individuals when a broker or other person in the business of selling or renting dwellings is employed (includes use of MLS) and/or discriminatory advertising is used
Single-family housing owned by development corporations
Single-family housing owned by a private individual who owns more than three such dwellings or sells more than one dwelling in any two-year period
Exceptions: The following scenarios are exempt from the Fair Housing Act (but are covered by the post-Civil War anti-discrimination civil rights law of 1866, if based on race):
The sale or rental of single-family housing without the use of a broker or discriminatory advertising, and no more than one dwelling in which the owner was not the most recent resident is sold in any two-year period.
The rental of rooms or units in owner-occupied multiple dwellings for two to four families without the use of discriminatory advertising (the "Mrs. Murphy exemption" in which Mrs. Murphy represents the small investor living in one of her own units)
The sale, rental, or occupation of dwellings owned and operated by a religious organization for noncommercial purposes to persons of the same religion, provided that membership in that religion is not restricted on the basis of race, colour, sex, or national origin; the religious organization may give preference to its members (e.g., it could levy a surcharge on nonmembers)
The restriction of a private club's accommodations owned or operated for non-commercial purposes to rental or occupancy by its own members.
The federal Fair Housing Act modifications of 1988 prohibit discrimination based on handicap or familial status of the buyer or renter or anybody associated with the buyer or tenant. "Handicap" refers to a physical or mental impairment, such as cancer, AIDS, or alcoholism, as well as a speech, vision, or hearing handicap (but not including illegal drug use). The landlord must allow tenants to make reasonable changes to existing premises at their own expense. Discrimination also includes failing to make reasonable accommodations in rules, regulations, procedures, or services to allow a disabled person equal access to or enjoyment of a home.
The law prohibits housing discrimination based on the presence of minors (under the age of 18) in the family, including pregnancy or a pending adoption. Under governmental and private regulation, the law still allows for appropriate limits on the number of inhabitants per unit (a child under 2 years is not counted as an occupant). Housing for older people is exempt from the familial status prohibitions under the Housing for Older Persons Act of 1995 (HOPA) if (1) the building is occupied solely by those 62 years of age or older, or (2) at least 80 percent of the dwellings are occupied by at least one person 55 years of age or older. (See the Housing for Older Persons Act [HOPA] for further information.)
There are two options for redress, one administrative and one judicial. Whether or whether a verified complaint has been filed with the secretary of HUD, an aggrieved person may file a complaint directly with a U.S. district court within one year of the claimed discriminatory activity. However, in places where antidiscrimination judicial rights and remedies are equal, such a claim would have to be filed in state court. The complainant bears the burden of proof. The court has the authority to provide permanent or temporary injunctions, interim restraining orders, or other suitable measures, as well as actual and infinite punitive damages. The parties can agree to have an administrative law judge decide the case.
Criminal sanctions are established for individuals who compel, intimidate, threaten, or interfere with a person's ability to buy, rent, or sell housing; anybody filing a discrimination complaint; or anyone exercising any rights under this legislation. In order to defend themselves against any discrimination charges, licensees should keep complete records of all transactions and rentals.
Violations are commonly proven using "testers," and courts have found that there is no necessity that the testers be genuine customers or renters.
Certain terms should be avoided, according to HUD, because they may communicate discriminatory intent. White, Black, Colored, Catholic, Jew, Protestant, Chinese, Chicano, Irish, restricted, ghetto, disadvantaged, private, membership approval are a few examples.
Unless the sharing of living quarters is involved, advertising shall never express or imply that the leasing of separate units in a dwelling is restricted to persons of just one sex.
Even directions to real estate for sale may be discriminatory, such as allusions to synagogues or "near Martin Luther King Memorial," or proximity to a specific country club or private school catering to specific racial, religious, or ethnic communities.
The selective use of advertising medium or content for ethnic reasons may be regarded as a violation of the law's aim. One example would be the exclusive usage of an English-language newspaper in a city such as Miami, Florida, where there are numerous Hispanic periodicals. Although an advertiser cannot be required to advertise in minority media, such failure will be considered in a discrimination tribunal, as will a policy of using only members of one sex, ethnicity, or other group as human models (it is not necessary, however, to have an exact percentage of the various groups in the local population).
Discrimination in federally subsidized housing projects is prohibited under Title VI of the Civil Rights Act of 1964, which states that "no person in the United States shall be excluded from participation in, denied the benefits of, or subject to discrimination under any programme or activity receiving federal financial assistance on the basis of race, colour, or national origin."
Federal Financial Institutions Examinations Council (FFIEC)
In order to ensure that commercial banks, savings associations, and credit unions operate in a consistent manner, a council of federal regulatory agency representatives was formed. The Federal Reserve System, Office of the Comptroller of the Currency, FDIC, Office of Thrift Supervision, and National Credit Union Administration are all members of the Federal Deposit Insurance Corporation.
Federal Home Loan Banks (FHLB)
In 1932, a class of federally licensed savings societies was founded as 12 regional Federal Home Loan Banks to provide a credit reserve for its members. The banks were overseen by the Federal Home Loan Bank Board until 1989, when it was abolished and replaced by the Federal Housing Finance Board.
Federal Home Loan Mortgage Corporation (FHLMC)
A company that purchases mortgage debts.
Continued at…
Real Estate Glossary F [Part 2]