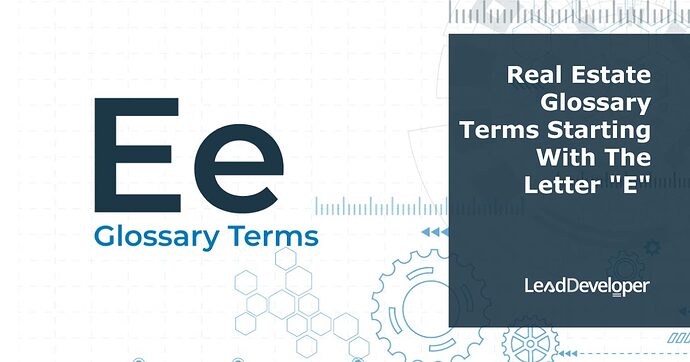 Continued from…
Edwardian residence
Style of building that was popular from 1901 to 1916. The style is characterised by buildings that are solid, small, and made of common red bricks. The floors have strong horizontal lines, and the cornice and parapets are plastered and painted in flat planes. Verandahs were taken down and walls were moved up to make parapets, which showed how bare the building was. No kind of cast iron was used.
Effective date
The start or end date of something. The date it was made.
Environment impact study
An investigation that tries to figure out how a proposed land use will affect the environment in the long run.
Property Finance Made Easy

We specialise in Development funding | Commercial finance | Construction loans | Portfolio refinancing & Property investment loans in Australia.
Equitable Interest
The legal interest of a trust beneficiary as opposed to the trustee's legal interest (s). A beneficiary is said to have equitable title, whereas the trustee has legal title (s).
Estate agent
One who works on behalf of clients to negotiate the sale, purchase, or lease of land and buildings, set up mortgages, and give advice on market values and other property issues.
Evaluation
To figure out or set the value; to guess.
Exclusive agency agreement
A contract that says that only one agent can sell the property.
You are missing out if you haven't yet subscribed to our YouTube channel.
Existing mortgage
A loan of money that is backed by a property that has a registered mortgage on it. Most of the time, the mortgage is paid off when a property is sold or given away in some other way. In some cases, the new owner may take over the mortgage.
Existing use rights
Rights established by planning legislation that allow the lawful use of land or buildings to continue following the implementation of a new planning scheme or controls.
Extension of lease
A contract that extends or renews a lease for a period of time after it has run out.
Extension of time
A contract extension granted to a contractor to allow for work delays caused by factors over which the contract has no control. The specific reasons for a time extension are specified in the general contract conditions and typically include inclement weather and delays caused by the principal, such as changes in the scope of work.
External management structure
Where the Responsible Entity is not the same as the person in charge of the entity's assets.
EFTA
The European Free Trade Union.
EMEA
Europe, the Middle East, and Africa are designated as regions.
End user
An entity that enters into a derivatives contract in order to keep the position for hedging, speculation, or arbitrage purposes rather than market creating.
Enforceability opinion
A legal opinion asserting that, subject to certain common assumptions and qualifiers, the obligations imposed on a party by an agreement will be legal, valid, and enforceable on that party in line with its terms.
Enforcement
The procedure by which the lender obtains possession of the collateral, including the cash flow generated by the mortgaged property.
EPF
The European Property Federation is a non-profit organisation.
Equitable mortgage
Beneficial ownership, as opposed to legal ownership, is transferred in an equitable transfer. This is common in European RMBS.
Equitable transfer
The transfer of beneficial ownership of property, as opposed to legal ownership. This is common in European securitisation transactions since it is often much less expensive to organise than a legal transfer.
Equity finance
Money in the form of share capital made available to a firm, typically for a specific initiative such as a development where the subscriber, as part of the contract, becomes entitled to a share of any profit, whether or not in receipt of dividends.
Equity release
Retail financial product, typically in the form of a lifelong mortgage or home reversion plan, that allows homeowners to realise some or all of their equity while continuing to live in their home.
Equivalent yield
The percentage return on an investment derived by dividing the average income by the value/purchase price.
Establishment
Any location where the Debtor conducts non-transitory economic activity in the context of cross-border insolvencies.
Estimated rental value
The rent that a property could reasonably attract in the free market at a given moment, according to the provisions of the applicable Lease.
EU
The European Union (founded in 1993) is a political and economic union of sovereign states with the goal of preserving free trade and building a community of legal and economic frameworks.
Eu insolvency regulation
On May 31, 2002, the EU Insolvency Regulation (1346/2000) went into effect. The principal purpose of the rule is to formalise how a member state determines whether it has jurisdiction to initiate insolvency proceedings.
Euro interbank offered rate (EURIBOR)
The interest rate offered by one prime bank in the eurozone to another prime bank in the eurozone on interbank term deposits denominated in Euros. EURIBOR is determined by a panel of approximately 60 European banks. EURIBOR rates, like LIBOR rates, are available for various maturities of deposits.
Euroclear
One of the two primary clearing systems in the Eurobond Market, similar to the Depository Trust Company in the US market. Euroclear was founded in 1968, is headquartered in Brussels, and is administered by Morgan Guaranty Bank.
European communities regulation on CRA's
This came into effect in 2009, and it established a registration system for credit rating agencies as well as a harmonised approach to the regulation of credit rating operations in the European Union.
European insurance and occupational pension authority (EIOPA)
An independent advisory body to the European Parliament, European Council, and European Commission that analyses and detects trends, as well as potential risks and vulnerabilities arising from microprudential policies across borders and sectors.
Event of default
A defined occurrence in a commercial agreement that allows a non-defaulting party to cancel the agreement. In the context of debt finance and securitisation agreements, an Event of Default entitles the Lender or Noteholders (respectively) to declare any sums owed by the Borrower or Issuer (as applicable) as immediately due and payable, allowing Enforcement. Nonpayment of interest or principal, violation of representation, breach of covenant, cross-default, major adverse change, and insolvency are all examples of default events.
Event risk
Some catastrophes (for example, a natural disaster, an industrial mishap, or a takeover) cannot be forecast using normal credit analysis methods. The event risk is the danger that such events pose to an issuer's ability to make debt service obligations.
Excess interest/Excess spread
Interest or other income obtained by a Securitisation Issuer that exceeds the stated amount of interest due to be paid on the various classes of Security.
Excess servicing fee
In a securitisation arrangement, the fraction of interest charged to underlying obligors that exceeds the interest part of debt service payments or the normal servicing fee.
Excess spread
Interest or other income obtained by a Securitisation Issuer that exceeds the declared amount of interest payable on the various classes of Security.
Exchange controls
Limitations imposed by a country's government on currency conversion in order to enhance its balance of payments position.
Exit value
The worth of a property on a specific date, either at the end of an agreed-upon Loan term or when an investor intends to sell an investment in the future.
Expected maturity
The date on which securities are projected to be fully repaid based on a defined assumption about the underlying assets' repayment rate.
Exposure at default
The lender's exposure at the time of default is equal to the outstanding principal and interest on the loan at the time of default.
Extend and amend
This is a loan maturity date extension usually in exchange for a higher margin or a more punitive amortisation profile.
Extension adviser
A third party who has the authority or responsibility to accept loan extensions or notifications advised by the master or special servicer.
Extension risk
The probable inability to refinance balloon mortgages in a timely manner, resulting in the security's life being extended beyond its projected life.
Extension/extension option
A grace period granted to a borrower following the contractual termination date to repay a loan (through refinancing or sale). Used to avoid foreclosure and the associated costs that come with it.
External credit enhancement
Credit support offered by a highly rated third party to improve the securitisation structure's rating.
Efficiency factor
This number shows how much of the building's Nett Rentable Square Feet are used for shared areas like lobbies, bathrooms, and hallways. This factor can be worked out for the whole building or just one floor. It is determined by dividing the rentable square footage by the usable square footage. It is also called a Core Factor or Rentable/Usable (R/U) Factor.
Exclusive right to sell or lease
A broad type of exclusive listing between an owner and a broker in which the owner must pay a commision to the listing broker if a tenant or buyer is found by the broker, the owner, or anyone else (including another broker) during the time of the listing.
Exclusive use clause
A clause that can be in a lease (usually for retail space) that says the tenant's business is the only one allowed on the land and that no other tenant with the same or a similar business can rent space there. This clause helps service-based companies like a travel agency, deli, and other retail uses that want exclusive access to the building's residents.