Real estate glossary terms starting with "A".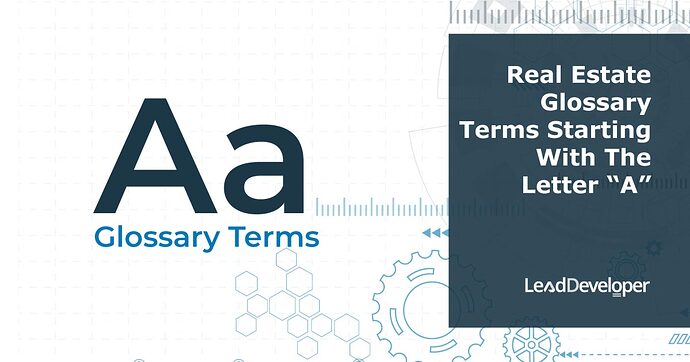 Property Development & Investment Glossary, Terms & Definitions
People who live in this kind of house have an outside design that looks like the letter A.
Abacus
The horizontal slab atop a capital that supports the architrave.
Abandonment
The act of abandoning or the state of being abandoned.
Voluntary surrender of property, whether owned or leased, without naming a successor as owner or renter.
The act of giving up or letting go of real property without giving this right to anyone else. An overt act is usually needed to show that someone has given up on their home, like not paying their property taxes. Each case of possible abandonment must be looked at to see if the property has been legally left behind. The fact that someone doesn't use the property isn't enough to show that they won't take it back. For example, the owner of an easement footpath across a neighboring property might show that they don't want to keep it by building a fence between the two properties. When a condemning authority gives up an easement, the fee owner (condemnee) is the only person who owns the land.
This is different from "surrender," which must be agreed to by both the lessor and the lessee, and "forfeiture," which happens without the owner's permission. It happens when someone gives up a right to do something that isn't allowed under the current zoning rules. See forfeiture and surrender.
A tenant who moves out of leased property because they no longer want to follow the terms of the lease is "abandoning" the property. The landlord then takes full ownership and control. The lessee is still responsible for paying rent until the lease is over. It is called a surrender if the landlord agrees to end the tenancy. If the landlord doesn't, the tenant doesn't have to pay future rents.
There is a law in many states that says that landlords must make "reasonable efforts" to rent out abandoned property at a fair price. See the Uniform Residential Landlord and Tenant Act (URLTA) for more.
People who want to give up their homestead in states that recognise homestead rights must file a declaration of abandonment in the public record. A person's homestead rights will not be officially lost if he or she just walks away from these places.
There may be income tax consequences if you don't pay. People who own property and then leave it may be able to treat it as though they sold it for nothing, even though they didn't get any money for the sale at all (other than relief from any mortgages or liens). As a result, the taxpayer can claim a loss in this case, up to a certain amount.
Most states have laws that outline the rights and responsibilities of the government and other people when they can't find or don't want their own personal property. Landlords of mini warehouses, for example, should think very carefully about what could happen if they throw away unclaimed property at the end of a rental.
Abatement
Reduce or decrease in the number of things that are the same amount, intensity, or value There are many situations in which a lessee can get a break on the rent because of fire, flood, or other acts of God. Some landlords may also cut rent if they don't give a tenant possession when they say they will.
People who buy real estate can get their money back if they find a flaw in the title of a seller and they don't fix it before they close. This is called "specific performance." For example, a buyer signs a contract to buy a $100,000 house. Title checks before the closing show that sellers haven't paid $5,000 in property taxes, which means they won't be able to sell their home. In this case, the sellers don't want to pay the taxes, so they decide not to sell the house. An action for specific performance could be used by the buyer to deposit $95,000 in court and force the sale of the home. In order to get clear title to their home, the sellers would pay the state the $5,000 in unpaid taxes that had been left unpaid.
Tax abatement happens when there is a reduction in taxes or a halt to taxes on an initial assessed value, like when there was an error in the taxes.
When a court orders the destruction of unsafe or damaged buildings, this is called a "summary abatement."
If a property owner is keeping a nuisance, such as a chemical plant that emits harmful fumes, an abutting owner can file a lawsuit to get rid of the nuisance.
An asbestos abatement plan lays out how to deal with asbestos in a home. How to get rid of asbestos is done by people who have been trained to remove it. They can also encapsulate it so that the fibers can't be released, wrap it in a protective jacket, or seal off a place that has asbestos, like a crawlspace.
A discount, allowance, or rebate. A pro rata abatement is a proportionate reduction in the amount of a debt or claim when an asset or estate is insufficient to repay the entire debt in full.
Property Finance Made Easy

We specialise in Development funding | Commercial finance | Construction loans | Portfolio refinancing & Property investment loans in Australia.
Able
Financial ability is used in the phrase "ready, willing, and able buyer," which is used to see if a broker can get paid. It doesn't mean that the buyer must have all the money needed to buy the house. It means that the buyer must be able to get and set up the financing in the time frame set out in the purchase agreement.
Abnormal Sale
This is a real estate sale that isn't typical for the market. To be used as a reliable comparison, the appraiser needs to think about things like whether the sellers sold their home to their kids for less than market value.
Abrasive Paper
Heavy paper coated on one side with sand or another abrasive substance and used to smooth surfaces.
Abrasive Surface Tile
Roughed-up floor tile prevents slipping and sliding.
Absentee Landlord
A landlord who doesn't live in the building.
A landlord who does not reside in the area from which he obtains rental revenue from his real estate holdings.
Absentee Owner
A property owner who does not live on the premises or manage it.
A non-residential property owner who frequently defers management of the investment to a property manager.
Federal tax laws apply to ownership of depreciable real property when the owner is away for the majority of the year but occupies the property during vacations or other periods. These improvements are intended to mitigate the tax benefits associated with an absentee owner's use of the property as a second home. For detailed details, consult an experienced attorney.
Numerous states now require sellers to provide a property condition report to the buyer. This creates complications for absentee owners. Alternatively, the absentee owner may wish to provide a report from a professional property inspector to the buyer. The absentee owner is excused from providing the report in several states.
Absolute
Absolute and unrestricted, as in a fee simple absolute estate, an absolute transaction, or absolute obligation (strict liability).
Absolute Monopoly
A market in which there is just one supplier of an item or service for which no reasonably acceptable substitutes exist.
Absolute Title
The complete ownership of land or property, with no way for someone else to prove they have a right to it.
You are missing out if you haven't yet subscribed to our YouTube channel.
Absorber
A solar heat collector's covered panel that absorbs solar radiation and transmits it through absorber fluid passageways to be transformed to heat energy.
Absorption Bed
This is a shallow trench that has a distribution pipe in it. The septic tank effluent flows through the pipe and into the soil.
Absorption Rate
The rate at which homes are sold in a certain area.
The expected time it takes to lease properties in an area.
The rate at which a property is sold or leased. Absorption is typically represented in terms of units sold or leased per month for apartments or for-sale homes. The metric for office or retail space is square feet leased per quarter or year.
A forecast of the annual sales or occupancies of a certain type of space, such as new office space, new homes, or new condominium units. This rate is frequently predicted as part of a feasibility study or evaluation conducted in conjunction with a loan request.
The pace at which a product is "absorbed" by the market; the rate at which units are purchased.
Abstract And Opinion
A statement of the chain of previous title transfers for real estate, as well as an attorney's written judgment that the title is free of defects.
Abstract Of Judgment
This is the document that is utilized to enforce a judgment lien. Must be filed in any county in which the judgment debtor owns real property.
Abstract Of Title
A synopsis of each documented document related to title to a certain tract of land.
A comprehensive overview of all sequential grants, conveyances, wills, records, and judicial procedures affecting title to a particular tract of real estate, as well as a listing of all documented liens and encumbrances affecting the property and their current status. The abstracter searches the title as it is recorded or registered with the county recorder, county registrar, circuit court, and/or other official sources. The abstractor compiles a list of all documents impacting the property and arranges them chronologically, beginning with the grant of title.
The abstract offers a list of public records that were accessed and those that were not accessed during the report's development. When summarizing a deed in the chain of title, the abstractor may include the book and page number of the recorder's book, the date of the deed, the date of recording, the names of the grantor and grantee, a brief description of the property, the type of deed, and any conditions or restrictions contained in the deed.
The abstract of title in no way guarantees or ensures the validity of the property's title. Rather than that, it is a condensed history that discloses just those facts concerning the land that are public record; it does not disclose encroachments or forgeries. As a result, abstractors are typically only accountable for damages resulting from their own negligence in examining public information.
Abstracter
A person who draws a title abstract. Additionally spelled abstractor.
Abstracter's Certificate
An abstractor's warranty that an abstract contains all public records affecting title to a particular plot of property.
Abstraction
An assessment technique in which the appraiser determines the land value of any developed property by subtracting the value of any site improvements from the property's overall sales price. The remaining sum represents the land's projected sales price, or indicated value. Additionally referred to as the allocation or extraction procedure.
Abutment
A building built to hold an arch.
A section of a wall or pier that is pressed by an item, such as the supports at either end of a bridge.
The portion of a wall or pier against which an object presses or abuts. For instance, in certain property locations, it could be the portion of the structure that receives pressure from a bridge's arch or strut.
Abutting Owner
A landowner whose property is adjacent to a public road or any other contiguous property. The primary source of contention between adjacent owners is encroachment, party walls, access, light and air easements, and lateral support. The rights of an adjoining neighbour include the right to see and be seen from the street.
ABX Index
A made-up index that can be traded and is based on a group of 20 subprime mortgage-backed securities.
Continued at…
Real Estate Glossary A [Part 2]