Continued from…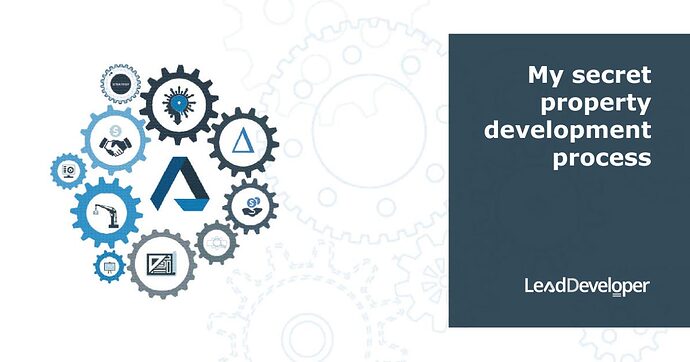 Design And Product Fit
These days, almost all living / working spaces get designed keeping in mind the environmental sustainability cost effective design. Your property development team will be able to guide you through this process.
There are certain minimum standards that must achieved for by your development team in order to comply with various regulations.
Here is the 3rd Video that continues to explain the complete Property Development Process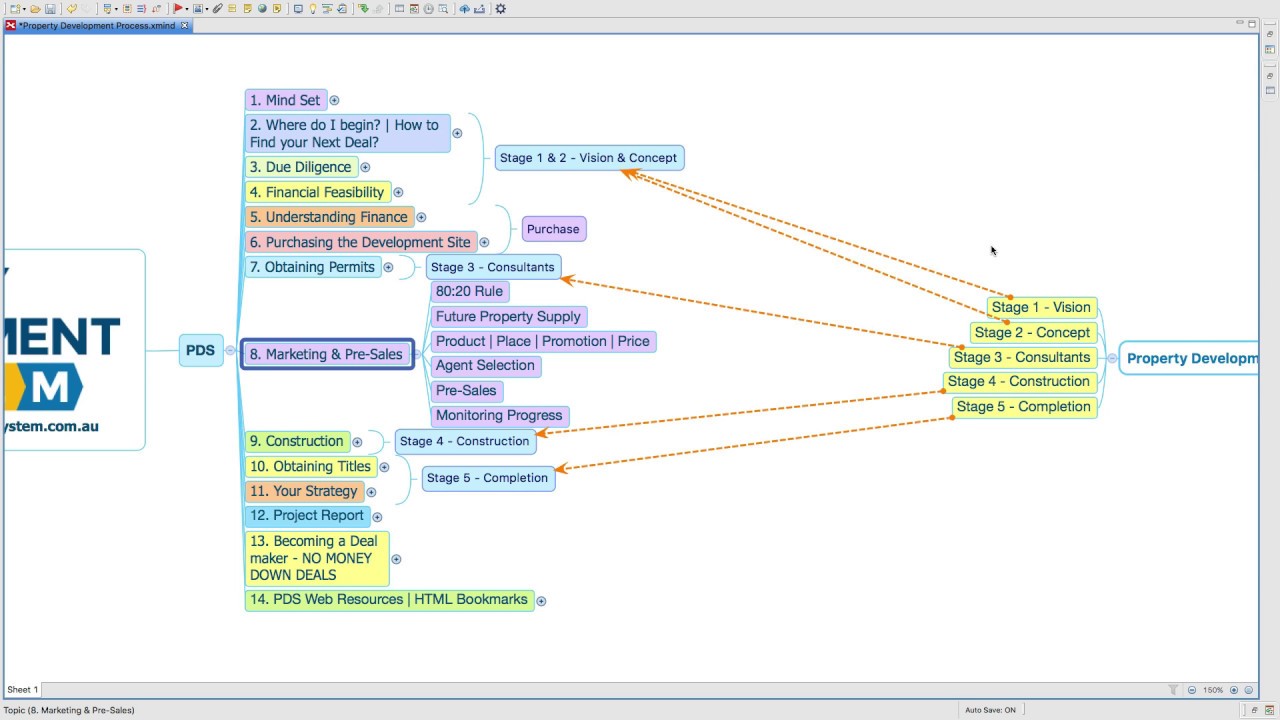 Marketing And Sales
Marketing is very important specially post GFC, the rules of property development have changed.
These days lenders and banks want to transfer all the risk to the borrower and or make sure that their worst case scenario is never a loss situation.
To achieve this, lenders will often force pre sales upfront. Marketing can commence after you've got your planning permit or development approval.
It has to kick in early, because banks will not fund the construction loan, unless a certain percentage of their debt is covered by pre-sales i.e. actual signed contracts.
You are missing out if you haven't yet subscribed to our YouTube channel.
Construction
You don't have to be construction contractor or a builder to be property developer.
All you need to have a thorough understanding of the types of contracts, how to select different contractors, the tender process, what should be included & or excluded from the building contract, your obligations before construction commencement, during construction and post construction.
What you can't miss is understanding the logic behind the cost of construction.
Cost of Construction
The cost of construction usually depends on several factors such as size, design, quality of materials, type of building and many more. You may face an increase in your development cost if there is a need to improve site access.
At this point in the property development process, construction costs are often analyzed through comparison.
Some online databases and sourcebooks distil costs from previous building contracts for various types of buildings.
As a result, a construction cost per square metre can be calculated and applied to the gross interior floor space of the structure envisaged (measured between the internal faces of external walls).
Things You Need To Do During Construction?
You need to understand, how to file progress claims, deal with retention clauses, builders and defects liability period, insurances required by you etc.
There are so many different things involved here because when the construction kicks in and there are progress claims, you will need to deal with a Quantity Surveyor appointed by your lender.
Obtaining Titles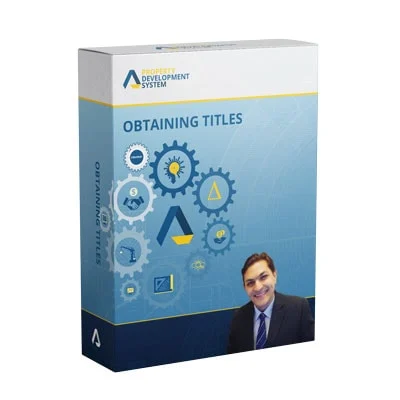 The other thing that's very important while the construction is still going and it's not complete yet is to be able to get your title ready in time because ideally, you want your titles to be ready.
Say for example you are building nine apartments and your construction is expected to complete in three months time.
You've got to get in touch with your land surveyor or certifier or an authority that is in-charge of issuing titles on new developments.
You will need to have this processes initiated in time so that as soon as your development is complete, your titles for the newly developed units are ready to allow your pre sales to settle ASAP.
You need to stay on top of this process, mainly because at the end of construction, you've drawn down 100% of your construction loan, which in our example of 9 apartments, is a big amount and your daily interest can range from $400 to $600, to $1,000 a day, depending upon the size of your development.
So you need to make sure that your pre-sales can settle as early as possible to minimize interest costs and pay down the debt.
Property Development System
This is where the conventional property development process ends. However, I found that for property investors, there are some extra steps that are required.
From my own experience, I have found that these in between steps are not just important, they are CRUCIAL to get an understanding of the property development process.
Here's the final video explaining the extra phases in Property Development Process over and above the conventional development process.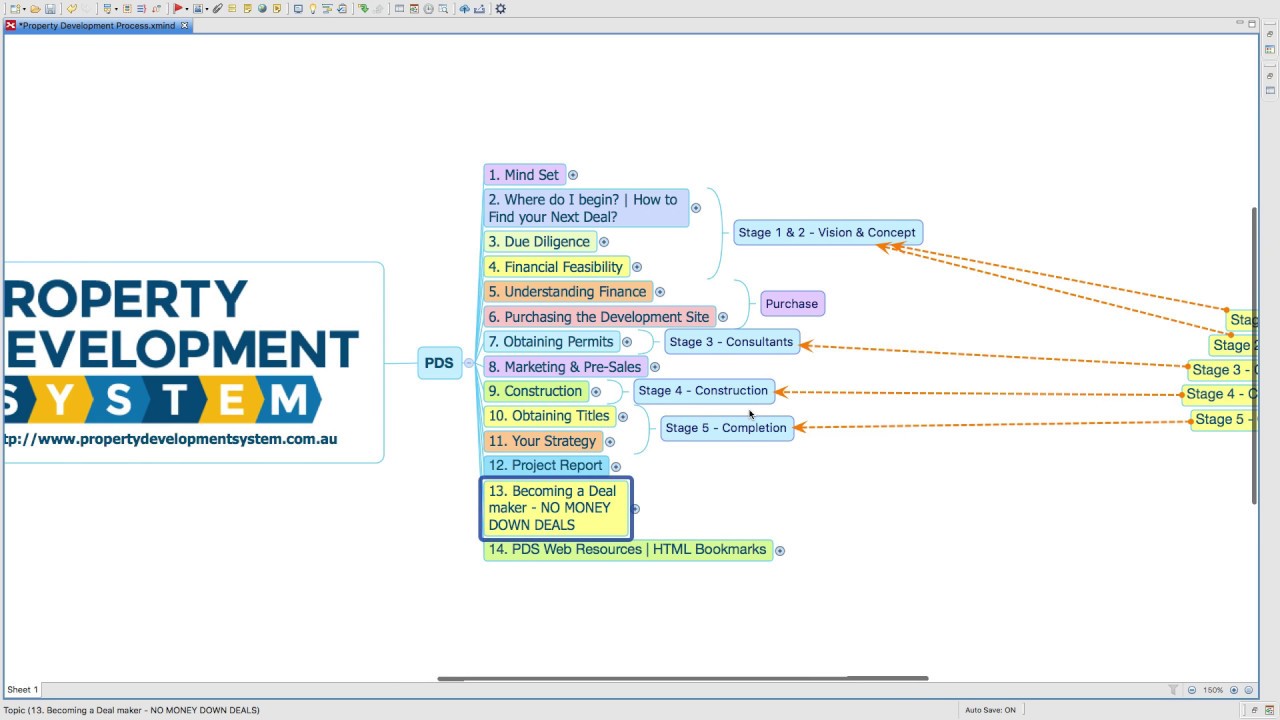 What's Your Property Investment Strategy?
Before You Can Think About Your Property Investment Strategy, Let Me Explain My Thumb Rules For Property Investment:
Never buy an investment property at retail price. If you are a developer, you have the skills and knowledge required to get your investment properties at cost i.e. not paying for someone else profit margin.
For me to hold a property or a townhouse or an apartment after I've developed it, it must be either neutral or positive. I don't believe in carrying on unnecessary debt, specially for investment stock. Your investment property should not cost you anything out of your pocket to hold it.
As a property developer you can roll your profit as equity, hold it, get the property refinance, or get a line of credit on it, and so on.
So that you can use equity again for another project and then you can come back and repeat the process all over again. So, this is what strategy is and this is what I cover in my course in the Property Development System.
Property Development Feasibility Study Bundle

Download Free

Includes 5 x detailed eBooks (193 pages)

✓ Property Development Feasibility Study [THE KEY] - (45 pages)
✓ Real Estate Development ProForma - Ultimate Guide - (39 pages)
✓ Residual Value Of Land Vs Profit Margin - The Winner - (24 pages)
✓ Preliminary Development Feasibility Assessment - (35 pages)
✓ How To Choose a Property Development Feasibility Template? - (50 pages)

Download Free
Project Report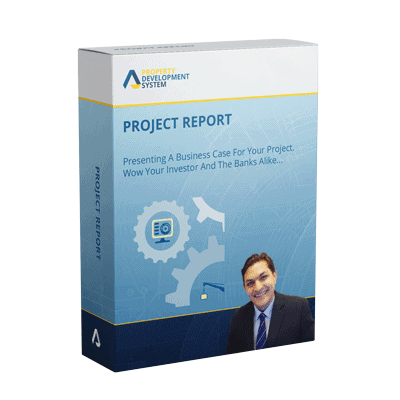 Three reasons you need a Project Report for your Development
It serves as a checklist for me to make sure that I have a business case for my property development project. While putting it together as a business case, I am forced to back all my assumptions with facts and figures.
The report tells me lender that I am thorough with my research and business case, giving them the confidence that I know and understand the complete property development process.
It helps to attract property investors who are looking to invest in property development projects.
This is all part of doing no money down deals or creative deal making. In my No-Money Down property development course, I explain how I started as a property developer doing no money down deals.
In fact, the five deals that I've done in the past, I've only had one project where I actually put my own money, and all the projects were in some way, shape or form we no money down deals for me.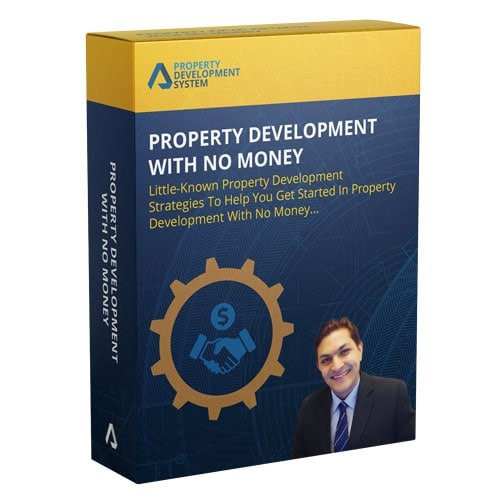 In my No Money Down Property Development Course, I talk about how you can acquire the skills, resources and education so that you become that go-to person with whom everybody wants to make a deal.
Everybody wants them to work on the project because they know that they have the skills and the ability to deliver the development project.
There are no clever strategies because all the different kinds of strategies that used to work in the past don't anymore.
All strategies that I teach about doing no money down deals is about you becoming that person and having that knowledge and access to the resources and the skills and the tools so that your investors know what you're talking about and they want your to develop with them or for them.
FAQs

What is the development process in real estate?

Property development, often known as real estate development, is a commercial process that includes renovating and re-leasing existing structures to purchasing raw land and selling developed land or lots to others.

Do developers buy properties?

Some developers may buy a portion of your property in exchange for a price reduction on your new home.

Selling to a developer may be an appropriate option if you have a large yard, outbuildings, or an extension.