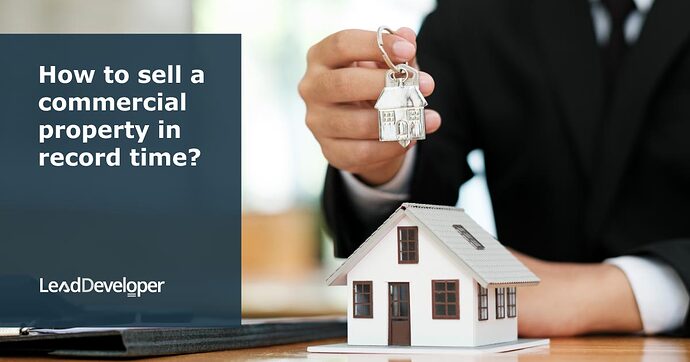 Continued from…
Mistakes to avoid while selling commercial property
When it comes time to sell your commercial property, there are a few things you should avoid doing at all costs. I've outlined the biggest mistakes below, so you can make sure to steer clear of them!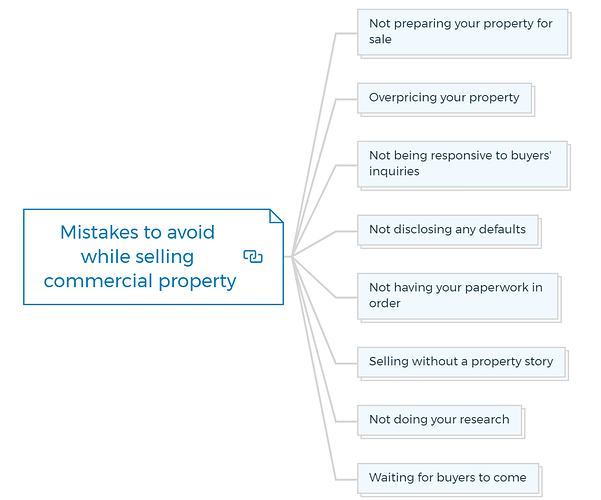 Not preparing your property for sale
One of the biggest mistakes sellers make is not adequately preparing their properties for sale. It means ensuring that the interior and exterior are in excellent condition and that all necessary paperwork is in order.
If you're not prepared, potential buyers may be turned off by your property and choose to buy from one of your competitors instead.
Overpricing your property
Another common mistake that sellers make is pricing their property too high. It can often lead to a more comprehensive sale process, and it may end up selling for less than if it had been priced correctly from the beginning.
It's important to remember that buyers are looking for the best deal possible, so pricing your property too high will likely turn them away.
Not being responsive to buyers' inquiries
Finally, one of the worst things you can do as a seller is not responsive to buyers' inquiries. If potential buyers are interested in your property, you should respond to their questions as quickly as possible to keep them interested.
Failing to do so could lead to them losing interest and buying from one of your competitors instead.
You are missing out if you haven't yet subscribed to our YouTube channel.
Not disclosing any defaults
When you're selling a property, it's essential to disclose any defaults that may exist. It includes things like outstanding loans or leases that are in place.
If you fail to disclose any of this information, it could lead to commercial real estate investors backing out of the sale or suing you after the fact.
Not having your paperwork in order
It means making sure all of your Title Deeds, Encumbrances, and other legal documents are up to date and ready to go. If not organised, it could cause delays in the sale process and lead to potential clients losing interest.
Selling without a property story
When selling commercial properties, it's essential to have a good story to tell potential buyers. It means highlighting all of the positive aspects of your commercial real estate and making sure that it stands out from the competition.
If property owners can't sell their property with a good story, it will be harder to find someone interested in buying it.
Not doing your research
Finally, sellers' most significant mistake is not researching before putting their commercial real estate properties up for sale. Meaning that you are learning as much about the current market conditions and what buyers are looking for.
By doing your research, you'll be able to price your property correctly and make it more appealing to prospective buyers.
Waiting for buyers to come
Many sellers mistake waiting for buyers to come to them instead of actively pursuing potential buyers. It often leads to a more comprehensive sale process and can cause property owners to miss out on potential deals.
It's essential to be proactive and reach out to as many likely buyers as possible to find the right buyer for your property.
By avoiding these mistakes, you'll put yourself in a much better position to sell your commercial real estate quickly and for the best price possible.
Property Development Feasibility Study Bundle

Includes 5 x detailed eBooks (193 pages)

✓ Property Development Feasibility Study [THE KEY] - (45 pages)
✓ Real Estate Development ProForma - Ultimate Guide - (39 pages)
✓ Residual Value Of Land Vs Profit Margin - The Winner - (24 pages)
✓ Preliminary Development Feasibility Assessment - (35 pages)
✓ How To Choose a Property Development Feasibility Template? - (50 pages)
Tips to craft your selling message
To sell properties well, you need to put some thought and work into it. To sell at the best price possible, you need to come up with a great value proposition and then tell everyone about it. You can't sit around and wait for people to find you.
When I say, "Tell the world about it," I mean make a sales message that gets people's attention, gets them interested, makes them want it, and makes them want to do something about it.
CAUTION

How will you reach this goal? Use the 10 guidelines below:

Use a catchier lead or title
Reiterate and explain
Add more of the most popular benefits
Build your reputation
Look at what else is out there
Arouse emotions
Lower perceived risks
Make it easy for people to respond
Give people reasons to act now.
Follow up
You might say, "Wait a minute!" "How can I put all of that information into a sales message? I just want a four-line ad in the paper." You could also say, "I'm not going to sell "by the owner." I'll leave advertising and sales to my real estate agent." True, most sellers don't say much about their property in their print or online ads.
Instead, they just list a few facts and hope that people will call to find out more. But in a sea of ads, yours needs to stand out, make the prospect want to call, and then you need to know what to say when the phone rings. "Just the basic facts" is not usually a good way to sell.
It probably won't get you an offer that's as good as what you could get if your sales message was more convincing. When it comes to working with sales agents, you should never forget that it's your job to oversee, direct, and give feedback on their sales efforts. Even sales people who make a lot of money don't always make good sales presentations.
What makes sense makes sense in the real world. When you make your sales message (ads, flyers, brochures, personal selling, networks, word of mouth, etc.) with all 10 principles of effective selling in mind, you will close more deals on better terms.
Bottom line
The bottom line is that if you own a commercial property, there may come a time when you need to sell it. When that time comes, it's essential to know how to do it to get the best return on your investment property.
Luckily, I've outlined the above simple steps for doing just that and some major mistakes to avoid.
For the successful marketing of your commercial properties, you'll need a knowledgeable agent. Ensure that your sales representative understands the market thoroughly and is well-versed in the most cutting-edge marketing strategies.
You may not be able to afford to buy a retail centre or commercial building on your own, but joining a private property syndicate will put you in the 'big league.'
Did you find this blog post helpful? Be sure to check back for more helpful articles related to commercial real estate property.
FAQs

How do you sell a commercial property?

There are a few things you need to do to sell a commercial property:

Make sure you have a realistic asking price. You don't want to ask too much or too little for your property, as this will either scare away potential buyers or leave money on the table.
Make sure your property is in good condition and is ready for sale. You'll want to clean it up, paint it, and make any necessary repairs before putting it on the market.
Be sure to market your property aggressively and get the word out to as many people as possible.

There are several ways to do this, including online listings, real estate agents, and ads in local newspapers and magazines.

How do you determine the selling price of a commercial building?

The price of a commercial building depends on several factors, including the property's location, size, and condition. Other important considerations include the potential for the property to generate rental income and the amount of existing or potential competition in the area.

What are the best tips for selling a commercial property?

There are a few key things to keep in mind when selling a commercial property:

Price it realistically - don't overprice it in the hopes of finding a buyer who will pay more than it's worth, as this will only result in longer sale times and may even lead to the property being taken off the market entirely.
Make sure the property is in good condition - Complete all the repairs before putting the property on the market.
Have accurate information about the property ready - potential buyers will want to know details like how much office space is available, the type of HVAC system, etc.
Market it well - use all available channels.

Are there any mistakes that sellers often make when selling a commercial property?

Sellers can make a few mistakes when selling commercial property. One of the most common mistakes is pricing the property too high. Another mistake is not preparing to negotiate or being inflexible on price.

Additionally, not having all necessary paperwork and documentation ready can also slow down the sale process. Finally, unrealistic expectations about what the property is worth or what kind of offers to expect can also lead to problems.
Property Finance Made Easy

We specialise in Development funding | Commercial finance | Construction loans | Portfolio refinancing & Property investment loans in Australia.