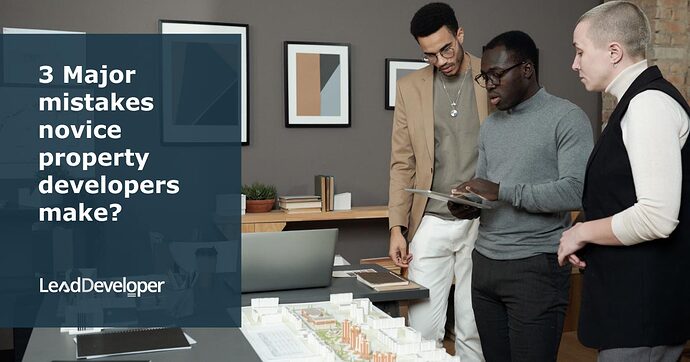 Property development mistake 1: Following the herd
Have you ever noticed a newbie say, "Everyone is developing here, so should I". Or "Everyone is buying here and so should I". That's how novice property developers make decisions.
It's the herd mentality and it only works in the short term, only for as long as the property market is in an upward trend.
This approach, however, does not work over a long period of time or in other words, if you wish to be able to continually keep developing as your source of income, you need to take this to the next level and have a system behind it.
If you don't have a replicable system behind your systematic property research, you will never know where to start in property development.
Why do you plan on developing in Melbourne, Sydney or Brisbane and why aren't you developing in Perth, Adelaide and so on. The answer to this question shouldn't simply be, "because I live here".
You are missing out if you haven't yet subscribed to our YouTube channel.
For example, I am from Melbourne, however, my first development was in Brisbane and it was based purely on my market research and nothing else.
You have to dig deep on the macro level, choose the state first, then zoom in further to suburb level, and then finally to street level.
Most novice developers cannot back their answers with market research and facts.
And over the years in my property development career, the more I have based my decisions on research and numbers, the more successful my projects have been and the more detached I have been from the projects I undertook.
So everything I did during the project contributed straight towards the bottom line of the project.
Learn More
Property Development Books - "Starter-Pack"

18 Property Development Books To Get You Started Now

Yes! I'm ready to start now

Includes 18 x detailed eBooks

✓ Property Development Checklist - 6 Pages
✓ How To Finance Your Property Development Project? - 13 Pages
✓ Property Development Team - 19 Pages
✓ Site Acquisition Process - 14 Pages
✓ The Ultimate Guide To Getting Started In Property Development - 42 Pages
✓ My Secret Property Development Process - 28 Pages
✓ How To Nail Your Next No Money Down Deal? - 29 Pages
✓ Industry Insiders Guide To Managing Risks In Property Development - 26 Pages
✓ How To Become A Property Developer? - 41 Pages
✓ Do You Have What It Takes To Be A Property Developer? - 12 Pages
✓ 7 Common Mistakes Made By Property Developers & How To Avoid Them? - 12 Pages
✓ 5 Reasons, Buy & Hold Property Investors Fail At Property Development - 16 Pages
✓ 10 Financial Mistakes Made By Property Investors & Developers - 54 Pages
✓ My 26 Question Due Diligence Checklist - 21 Pages
✓ Property Development 101: The Feasibility Study - 34 Pages
✓ Property Development 101: Construction Guide - 55 Pages
✓ Property Development Blueprint - 66 Pages
✓ Your Definitive Guide To Property Options - 36 Pages

Get Starter Pack
Property development mistake 2: Listening to negative media
The second mistake, novice developers make, when getting into property development, is to listen to negative media.
There are two things that you must always remember, 1st only "Bad news sells" – so everyone talks down the property market. 2nd you must not pay attention to the news sites who hire content writers to spin negative stories.
Their job is to amplify the negativity. Because, I assume, you are going to be into property development for a long time, you need to have a property research system that you can fall back on so you are making decisions based on facts not just negative media.
Property development mistake 3: Blindly believing the economists
Have you ever seen a rich Economist? – I haven't, & I don't think they even fall in the top 100 disciplines that make people rich.
Have you seen a rich property developer? I am sure you have and I am pretty sure I have too.
Learn More