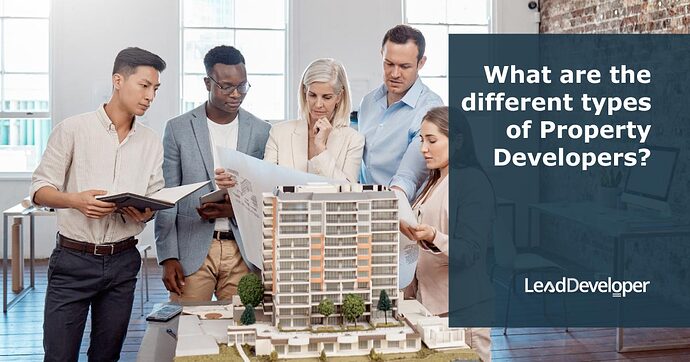 If you're serious about pursuing a career in property development, grasp a thorough understanding of all the different types of property developers.
You can pick one or enrol in my FREE Property Development Courses to get started.
Yes, with my comprehensive course and detailed videos, you can handle any property development project. But first and foremost, get yourself aware of different types of property developers.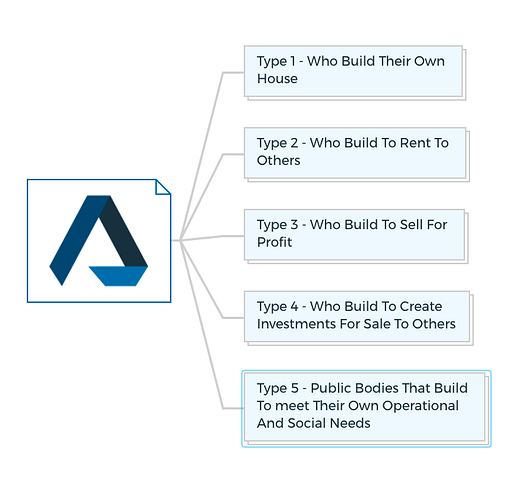 Property Developers Type 1 - Who Build Their Own House
The type 1 property developer who builds their own house has a primary objective to ensure that the development is perfectly tailored to their requirements.
Whether the development is for their own needs, they ensure that the design has a good market appeal. These types of property developers include companies that build for their own operating needs and people that make dwellings for their own occupation.
You are missing out if you haven't yet subscribed to our YouTube channel.
Property Developers Type 2 - Who Build To Rent To Others
The property developers who develop a property to rent to others are expected to be heavily influenced by the type of property preferred by most renters.
As a result, depending on market conditions, they may choose to build to a very high grade of design and construction or to build to a more fundamental level of the design if those desiring to rent a property have limited finances.
Keep an eye on the 8 critical aspects of the property market cycle to gain a thorough grasp of the market.
These property developers must perform exhaustive market research to determine what the market wants, referred to as demand-led development. It is the development that happens when the market's actual unfulfilled demand is identified.
On the other hand, when a real estate developer tries to predict what "the ordinary person in the market" (if such a person exists) would like to rent or buy, and create such buildings with stringent cost restrictions to control the project's potential "down-side." This development is referred to as supply-led development.
If you want to be a type 2 property developer, ensure you access advanced property development software. The most popular tools for accurately examining property development systems are the Smart Feasibility Calculator and One Minute Feaso.
Property Developers Type 3 - Who Build To Sell For Profit
Real estate developers who develop to sell for profit naturally strive to make the most money possible from a quick sale. Short-term considerations may have a more significant influence on them than long-term considerations. The latter is more effective for those who keep holding their properties as assets.
Increase your profit by hitting the no-money-down deals with just 3 ingredients.
Property Developers Type 4 - Who Build To Create Investments For Sale To Others
Such property developers will have to take into account not only the needs of potential lessees but also those of long-term investors. They'll start a project and rent it out before selling it to a long-term investor.
Suppose they want to attract a long-term investor. In that case, they must ensure that the development's design and quality of construction, the tenants to whom the property is rented, and the lease conditions are all likely to be acceptable to an investor.
Before starting a scheme, such a developer should try to find an actual investor-purchaser and construct the scheme as precisely as possible to meet the investor's needs.
Property Development Books - "Starter-Pack"

18 Property Development Books To Get You Started Now

Yes! I'm ready to start now

Includes 18 x detailed eBooks

✓ Property Development Checklist - 6 Pages
✓ How To Finance Your Property Development Project? - 13 Pages
✓ Property Development Team - 19 Pages
✓ Site Acquisition Process - 14 Pages
✓ The Ultimate Guide To Getting Started In Property Development - 42 Pages
✓ My Secret Property Development Process - 28 Pages
✓ How To Nail Your Next No Money Down Deal? - 29 Pages
✓ Industry Insiders Guide To Managing Risks In Property Development - 26 Pages
✓ How To Become A Property Developer? - 41 Pages
✓ Do You Have What It Takes To Be A Property Developer? - 12 Pages
✓ 7 Common Mistakes Made By Property Developers & How To Avoid Them? - 12 Pages
✓ 5 Reasons, Buy & Hold Property Investors Fail At Property Development - 16 Pages
✓ 10 Financial Mistakes Made By Property Investors & Developers - 54 Pages
✓ My 26 Question Due Diligence Checklist - 21 Pages
✓ Property Development 101: The Feasibility Study - 34 Pages
✓ Property Development 101: Construction Guide - 55 Pages
✓ Property Development Blueprint - 66 Pages
✓ Your Definitive Guide To Property Options - 36 Pages

Get Starter Pack
Property Developers Type 5 - Public Bodies That Build To meet Their Own Operational And Social Needs
Their primary objective is to satisfy their operational and social needs. Although the profit motive may not be a factor, they will almost certainly need to develop to keep their expenditures within an acceptable budget.
In some cases, public agencies may undertake development to increase employment in a given area.
The reduction of the social costs of unemployment might be a profit component of such a venture. They'll have to operate the same way commercial developers do to identify and satisfy average market demand.
Property Finance Made Easy

We specialise in Development funding | Commercial finance | Construction loans | Portfolio refinancing & Property investment loans in Australia.